Greetings,
Spring has sprung, and while the daffodils and crocuses won't be popping up here in South Florida, there are many exciting happenings throughout Broward County. Keep reading to find out about some of the items "blooming" in Broward this month!


Mayor's Roundtable
The Broward County Metropolitan Planning Organization (MPO) hosted a Mayors' Roundtable on Transportation made up of elected officials from across Broward County. They joined together to discuss transportation projects and improvements they want to see in each of their cities. Gridlock remains a persistent problem in Broward County. Residents do not want to wait so long in traffic, or for the next bus. That's why we are working with our city partners on a comprehensive, countywide plan for transportation improvements and enhancements in our County. In the coming weeks, the County will present our long-term transportation plan to all elected officials and to the public. You can check out the plan here. These projects are all great ideas, but they need a dedicated funding stream to become a reality.
I enjoyed speaking to a packed room at the Mayor's Roundtable on Transportation.

New Website
Broward County has launched its new website! The new Broward.org moves our web platform into 2018 with a modern, sleek design and more interactivity. The website is also specifically deigned to be mobile-friendly. Improvements continue to be made, but for now, I encourage you to head over and check it out. Click on different links to explore what is happening in Broward, or just scroll down the home page to enjoy our new streamlined design!
Log on to Broward.org and check out the new site!

Terminal Modernization
The Broward County Aviation Department has announced plans for further terminal improvement and modernization at the Fort Lauderdale-Hollywood International Airport. FLL is one of the fastest growing airports in the world in terms of passengers, so it only makes sense that we invest in making it a world-class experience for all customers. I can't wait for you to see the state-of-the-art improvements designed to make our airport even better! The Aviation Department will be unveiling their complete master plan at our Budget Workshop on May 15th at 10AM at the Broward Governmental Center, 115 S. Andrews Avenue, Room 430, in Fort Lauderdale.
A preview of some of the investments being made to all four terminals at FLL.

Broward League of Cities - School and Community Public Safety Taskforce
In response to the tragic shooting at Marjory Stoneman Douglas, the Broward League of Cities has put together a School and Community Public Safety Taskforce comprised of agencies from all around the County, including law enforcement, school board, and municipal officials. I serve as co-chair alongside Mayor Mike Ryan of Sunrise. The experience has provided me with insights about where we can coordinate better and what next steps we need to take to make our schools and communities safer. We have heard presentations from various agencies such as the Children's Services Council and the Broward School Board. The information gained from these presentations will help us produce conclusions and recommendations for our final report. We anticipate that the report will be completed in May. I will continue to keep you updated on what the Task Force is doing and when our report is available.

Inconvenient Truth
Climate change is a real and persistent problem facing the future of South Florida. This month, I was pleased to speak at a screening of "An Inconvenient Sequel" for high school students in Broward County, hosted by the School Board of Broward County and the Broward County Democratic Environmental Caucus at Cinema Paradiso. It is important that our young residents know about the dangers of climate change. We've seen many students over the past couple of months rise to the occasion and stand up for what they believe in. I believe that they will continue that activism with other issues, like climate change.

Thank you to Savor Cinema for hosting this terrific event for high school students.

Workshop
The Broward County Commission met for a Workshop on April 17th to discuss the critical issue of affordable housing. It is no claim to fame to be numbered last in affordable housing in the United States. There ARE places in Broward County that are affordable, but they are not necessarily where people want to live. We should encourage both home ownership and housing rehabilitation in those areas so we can improve the neighborhoods and the affordable housing crisis at the same time. At the Workshop, solutions were proposed, including considering dedicating money from expiring CRAs to go toward those areas that fall below the poverty line in an effort to address both safe neighborhoods and affordable housing.
Some of the options to fund and improve affordable housing in Broward.

Holocaust Survivor at Century Village Pembroke Pines
It was a moving experience this month at Century Village Pembroke Pines where I had the opportunity to speak at the Holocaust Remembrance and Survivor Ceremony. A recent study reported in the Washington Post found that one in four young people surveyed do not know basic facts about the Holocaust, like what Auschwitz was. As time passes, we must make sure that we take time out every year to remember those who were lost, and to pledge that what happened then will never happen again. Thank you to leaders at Century Village Pembroke Pines for your great work planning the event, allowing us to pay a solemn tribute to those lives so tragically destroyed by hate, and recognizing the incredible strength in those who survived and who continue to inspire us.
Thank you to Sophie Bock, Ari Fuhrman and all the people involved in planning this moving event.

Earth Day
April 22nd marked Earth Day across the world. With the ever-growing threat of climate change, Earth Day is more important than ever. We have a responsibility to be environmental stewards who look out for the next generation. This means actively preparing for a future with clean energy and sustainable infrastructure. To discuss some potential solutions in Broward County, I will be hosting the Mayor's Climate Roundtable on Thursday, May 24th at 9AM. The Roundtable will bring together elected officials, senior municipal staff, and business leaders from across the County. I look forward to collaborating together to build on the challenges we have already conquered to improve our region's future sustainability.
I look forward to speaking with my fellow elected officials next month!

Yo-Yo Ma
The Kennedy Center for the Performing Arts brought their Arts Across America program to Broward County, and one of the world's most famous musicians along with it! Yo-Yo Ma brought his legendary sound to Parker Playhouse and other locations across Broward County during an exciting tour designed to bring arts to communities that might not otherwise have them. These Cultural Conversations are a benefit to all who attended, and I was glad to participate. Thank you for visiting and we hope to see Yo-Yo Ma back in Broward soon!
Thank you for coming to Broward, Yo-Yo Ma!

Countdown to Kindergarten
Broward's youngest generation is about to take the next step! This month was the always exciting Countdown to Kindergarten event. I had a really great time welcoming Pre-K students and their parents to Parker Playhouse as they prepared to set off for that incredible journey called the start of elementary school. The students watched a production of The Three Little Pigs and got to meet some real-life little pigs at the event! The kids of the class of 2031 were really fired up and excited, and if they're nervous, they aren't showing it. Thank you to Broward County Public Schools and all the partners involved in planning the event.
Met a new friend at Countdown to Kindergarten!

National Library Week
This April marked National Library Week, which honored the incredible work libraries and librarians do in service to our community. At our April 10th meeting, the Broward County Board of County Commissioners presented a proclamation to the Friends of the Library in honor of National Library Week. A great library system is a bedrock for any county, and we are lucky to have such a great team in Broward providing world-class library services to all patrons. As a former librarian, I am always overjoyed when I see residents using the great programs and resources including our new "Library for Life Card".
Presenting Library Day Proclamation to Members of Friends of the Libraries, President Mimi Hirshanson,
Bridget Wilson, Andrea Cohen, Barbara Correll, as well as Broward County Library Director Kelvin Watson.

Parking on Beach "How To"
Do you live in Hollywood, and want to park on the beach for a more affordable rate? Then register as a resident and you can park at a big discount! Bring your driver's license, vehicle registration, and a utility bill to the Parking Office in the City Hall West Annex Building, 2600 Hollywood Boulevard. You will be given a "resident rate code" that you can enter at MasterMeters on the beach for a discounted rate! For more information visit the registration website.

Pines Day
Happy Birthday to the city of Pembroke Pines! Pembroke Pines celebrated its 58th birthday with the annual Pines Day celebration. It was a day of fun with a carnival theme at the Charles F. Dodge Center with live performances, booths, and rides! Pembroke Pines is looking better than ever at 58!
The Pembroke Pines City Commission celebrates with a delicious birthday cake!

Pembroke Pines State of the City
Are you curious about what's happening in the City of Pembroke Pines? Then join Mayor Frank Ortis for the 2018 State of the City Address where he will review the past year in Pembroke Pines and look forward to upcoming projects. There will also be a town hall portion if you are interested in asking questions to Mayor Ortis. The event will be held Monday, May 14th at 7PM at the Charles F. Dodge City Center, 601 City Center Way.
We hope to see you for the State of the City!

Ingalls Park
Hallandale Beach has broken ground on the new Ingalls Park which will provide another great family option for residents! The 4.6-acre park will feature a waterway, open spaces for games, gazebos, and a multipurpose room with a kitchen for events. Check out the park when it opens – it is going to be a beautiful addition to the city.
A blueprint for Ingalls Park in Hallandale Beach.

Cafecito with the Mayor
I had a wonderful time at the second "Cafecito with the Commissioner" event! Thank you to Jorge Rios of Senor Café and to the Broward Latin Entrepreneurs for making this event possible. Join me next time on
May 18th at 7:30AM! Location to be announced.

Contact Us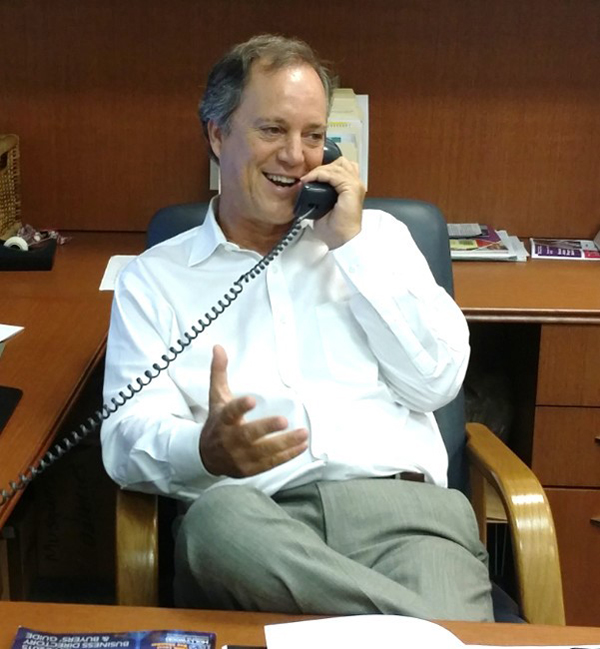 Our District office is conveniently located in the lobby of the Hollywood Branch of the Broward County Public Library at 2600 Hollywood Blvd, next to Hollywood City Hall. This office is open for your convenience Monday through Friday from 10AM to 4PM. If you would like to schedule an appointment, or you have a great idea, suggestion or an issue that needs my attention, feel free to call me at 954-357-7790 / 7006 or send me an email at bfurr@broward.org.
County Commissioner Beam Furr District 6
Broward County Commission | 115 S. Andrews Ave. Room 412 | Fort Lauderdale, FL 33301
Email - BFurr@Broward.org | Website - Broward.org | Phone: 954-357-7006