Greetings,
Summer is winding down, students are back in school, and the Broward County Commission has ended its summer recess. We are busy at work sorting through the FY19 budget and following up on important issues. Consider this your "syllabus" for exciting items happening in August!

Elections
The primary election is here! If you have not voted early or submitted a ballot by mail, you can vote in person on Tuesday, August 28th from 7AM to 7PM! Double check the address where you are registered to vote, and then click here to find your polling place. Make sure to bring a photo ID. Lines should move quickly, so voting is easy! Voting is what makes our democracy work, so I hope that everyone exercises their right to vote. See you at the polls!
See you at the polls!

National Night Out
I have a great time every year at National Night Out, and this year was no different! The National Night Out Against Crime is an annual event where communities around the nation gather for block parties and public events to show their neighborhood solidarity and build connections between citizens and law enforcement. It was great seeing so many people out and cookin' in neighborhoods like Driftwood, Washington Park, Lawn Acres, and Highland Gardens. Thank you to all of our law enforcement and first responders who attended. We thank you for your service.
It was an honor meeting with members of Hollywood Police and Fire Rescue at the 2018 National Night Out!

Back to School
Broward County students are back in school and ready for a great new year! This year, the beginning of school might be a little bit tough for our students. The tragedy at Stoneman Douglas is fresh in our minds, and new changes to security at schools can be intimidating. We are on hand to provide any assistance you need, so do not hesitate to reach out for help. Our students are as bright and talented as any in the country. I know they are going to have an incredible year. If you want to doublecheck a checklist of what you need, click here.
Welcome back to school! Get ready for a great 2018-2019 school year!

Bob Graham
It was my privilege to present a proclamation honoring Senator Bob Graham this month at a wonderful tribute at Savor Cinema. Senator Graham is one of the best advocates Florida has ever had – as a Governor and as a U.S. Senator, he dedicated himself to improving the lives of Florida residents and making life in our state the very best it could be. August 8th became "Broward County Lifetime Achievement Day for Senator Bob Graham" throughout Broward County. No one is more deserving. Congratulations on the wonderful tribute, Senator Graham!
Congratulations, Senator Graham

Gold Seal Legislation
On August 14th, the Broward County Commission passed an ordinance that added QUALITY to the Broward County Childcare and Licensing checklist. This law means that Broward County will be making the most of its unique licensing role to encourage more employee training, lower teacher ratios and a targeted curriculum – in addition to our continued work ensuring the best standard of health and safety. This law will provide incentives for those child care centers seeking accreditation. Currently, only 22 percent of our centers are accredited. Receiving accreditation means these facilities provide high-quality education resources at this critical stage of development. We need the best possible preschool and early childhood education. They are among the most effective tools for economic development, and deliver significant social benefits for the community. This new ordinance is a good start to making sure our kids have the best possible care!
We need more great kids like these to be graduating from high-quality preschools!

Living Wage
Broward County is taking important steps to make sure all of our workers are paid the wage they deserve. On the August 14th agenda, the Board of County Commissioners voted to direct the County Attorney to prepare an ordinance that would raise the living wage, increase the health benefit amount offered to employees, and change our index so that the living wage rises more appropriately with time and inflation. Workers at places like Broward's Fort Lauderdale-Hollywood International Airport and Port Everglades are the backbone of our County, and we owe it to all to pass legislation that treats workers fairly and keeps our economic engines humming. Stay tuned for more information on this important issue in the coming months!
The current rights under the living wage ordinance.

BECON TV- County Line
County Line is an educational program on BECON TV that educates Broward residents and students on the most important issues facing our County. I had a great time appearing as a special guest on County Line in August, and I appreciate having the chance to talk about some of the County's upcoming priorities and challenges! This includes revolutionizing our solid waste system, transforming our transportation, and providing more affordable housing options. You can check the interview out here!
Thank you to Frank Loconto for having me on County Line!

Algae and Water Quality
Across the state, we are witnessing the sad results of years of short-sighted wastewater treatment. The blue-green algae in the Caloosahatchee, the fish kills on the west coast, and the coral diseases in South Florida all have a common culprit, and that would be US. These man-made disasters should be setting off alarm bells and red flags to our legislature. Our economy, our environment and our quality of life is at stake. Advanced water treatment technology exists, and we should figure out how to incorporate it into our infrastructure. It would be wise to use Amendment 1 funds for these improvement efforts.
This should not be the future of our water in Florida.

Fill The Boot
Every year, thousands of firefighters from across the country participate in the "Fill the Boot" fundraiser to combat Muscular Dystrophy. Broward Sheriff Fire Rescue and local firefighters from around the County are teaming up to raise funds that will help research this disease. They will be coming around to "Fill the Boot" at local events in your area, so make sure to say hello and take part! You can learn more about "Fill the Boot" and find events in your area here.
Sheriff Scott Israel and BSO Fire Rescue take part in the Fill the Boot Drive!

Founder's Day
Happy Birthday, Joseph Young! The founder of Hollywood had his birthday this month and to celebrate, the Hollywood Historical Society hosted the annual Founder's Day, a tribute to the city that reflected on its creation and growth. This wonderful event at the historic Hollywood Women's Club featured lots of fascinating facts about the city and how Hollywood came to be. Mayor Josh Levy and relatives of Joseph Young were on hand as guest speakers. Thank you to all who attended.
Members of the Hollywood Historical Society pose with a car from the era when Hollywood was founded!

Florida League of Cities
Hollywood was proud to welcome the Florida League of Cities for their 2018 conference! Hundreds of representatives packed The Diplomat Beach Resort for three days of discussion on municipal issues and solutions. Like our Broward League of Cities, the Florida League of Cities is a group that advocates at the municipal level for local policies designed to help residents of each community. Broward County is proud to work with our cities and municipalities across the state on important issues that require cooperation and coordination. We hope everyone enjoyed Hollywood Beach!
The welcome sign at the Hollywood Diplomat champions warriors of "Home Rule."

Pembroke Pines City Hall Selfie Day
Pembroke Pines was lit up with civic engagement this month! City Hall Selfie Day is a national event that encourages visitors, staff, and elected officials to show their civic pride and snap a photo at city hall. Engaging with local politics is very important, and Pembroke Pines really did great! Elected officials and visitors were snapping great pictures all day, and starting a discussion on incredibly important issues facing the city!
Commissioner Angelo Castillo takes part in City Hall Selfie Day in Pembroke Pines!

Hallandale Beach – BETTER CITY FOR PETS
Woof woof! Hallandale Beach has been awarded a $20,000 grant as a "Better City for Pets!" This grant will engage pet owners about training and provide wonderful local programming for your loving animal. It will also provide infrastructure services like spay/neuter and adoption options. Thank you to Commissioner Michelle Lazarow on her hard work in supporting this grant. Hallandale Beach is about to be the best for your dog or cat!
Congratulations to Hallandale Beach!

Contact Us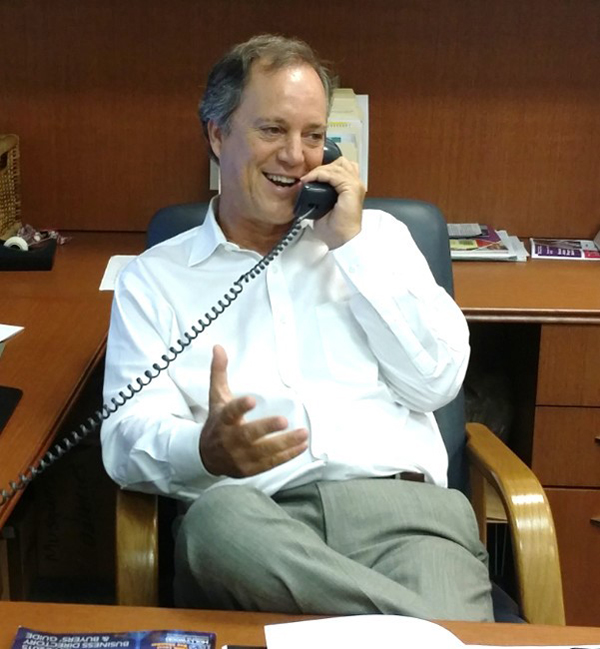 Our District office is conveniently located in the lobby of the Hollywood Branch of the Broward County Public Library at 2600 Hollywood Blvd, next to Hollywood City Hall. This office is open for your convenience Monday through Friday from 10AM to 4PM. If you would like to schedule an appointment, or you have a great idea, suggestion or an issue that needs my attention, feel free to call me at 954-357-7790 / 7006 or send me an email at bfurr@broward.org.
County Commissioner Beam Furr District 6
Broward County Commission | 115 S. Andrews Ave. Room 412 | Fort Lauderdale, FL 33301
Email - BFurr@Broward.org | Website - Broward.org | Phone: 954-357-7006