Greetings,
Summer is officially here, and things are heating up in Broward County! The County Commission is on recess until August, but progress in Broward never takes a vacation. We look forward to a productive summer of events, conversations, and service. Here are some "hot" items burning up in Broward County this month!

School and Community Safety Taskforce
Over the past several months, I served as co-chair, alongside Mayor Mike Ryan of Sunrise, on the School and Community Taskforce, which was formed in response to the tragic shooting at Marjory Stoneman Douglas. We worked with the Broward League of Cities and were comprised of agencies from all around the County including law enforcement, school board, and municipal officials. Our intention was to produce a report on what needed to be done to improve our entire school and community safety capability. The final report was released in May and featured insight on how everyone involved could coordinate better, and what steps we need to take to make our schools safer. This taskforce worked well because various agencies, such as the Children's Services Council, the County, the Cities, and the Broward School Board were open and honest with their information. I look forward to continuing work with all involved to make sure our children are safe in their schools.
Thank you to everyone who shared information for this Taskforce – it is
an important step in keeping our schools and community safe.

Transportation Surtax
Transportation continues to be near the top of everyone's mind – you probably have time to think about it while stuck in traffic. With Broward County continuing to grow, we will have a question on this November's ballot on our transportation enhancement plan. This ballot question will ask you to approve a one-penny transportation surtax for extensive enhancements and improvements. Our transportation plan includes 73 major intersection improvements, 46 miles of expanded roads, 40 miles of new sidewalks, 27,000 feet of drainage along roadways, 9 miles of resiliency improvements, 95 miles of greenways, and 75 miles of fiber optic cables that will be used for traffic light synchronization. You can learn more by visiting Broward.org/PennyforTransportation. Over the coming months, we will be making our way around the County to educate you on our plan, so be on the lookout!
The plan includes an extensive Fiber Optic Network which will allow us to have better traffic light synchronization and signal technologies in Broward County.

Hurricane Season
Hurricane season is here! Broward County has reached new agreements with the School Board and all municipalities to help with staffing our shelters. We welcome our new partners in this endeavor. We are all in this together, and we are all committed to making sure our shelters are ready for those in need and are better prepared than ever. This is especially important due to growing shelter demand and more shelters possibly being activated than ever before. This new partnership will help ensure our shelters will be well-run and have a knowledgeable and dedicated staff ready to help in case a storm strikes. Make sure to take stock of your supplies, and do everything you can to get ready for the season!
During Irma, we passed out supplies at places like Century Village Pembroke Pines.
This time, we are more prepared for a storm than ever.

New Habitat for Humanity Homes
I was proud to cut the ribbon on seven new homes in the Broward Municipal Services District. The Broward County Board of County Commissioners voted to create these homes as part of our efforts to revitalize the District. It is excellent to see this project already paying huge dividends. This neighborhood is going to be transformed by these homes -and most importantly, by these families. It was a really great event seeing so much joy it brought our community. Thank you to Habitat for Humanity for being our partner on this project.
Every new home received a homecoming gift with flour (so to never go hungry), sugar
(so life shall always have sweetness), and salt (so that life may always have flavor).
I added sunflower seeds, so that residents could always be surrounded by beauty.

BARC Opening
Broward County has opened our brand-new Broward Addiction Recovery Center. Too many of us know someone who has been affected by the horrors of addiction. Addiction affects everybody in the community. The new BARC is a state-of-the-art facility that offers better options for patients, as well as additional space so we can treat more people in need. This new facility is especially important because of the opioid crisis in Broward County. More than 500 people died last year from opioids in Broward– a number which is expected to repeat itself this year. Opioid abuse is a terrible disease that continues to grow in South Florida, especially among seniors and disabled residents. This new facility will help us combat this crisis moving forward. Thank you to everyone who attended, including former Commissioner Lois Wexler, who has been instrumental in this process.
If you know anyone who is in need of help, the new BARC is there to serve and provide care.

March for the Ocean
We know how important our beach and ocean are to our residents and ecosystem. Sustainability of that resource requires taking a second look at how we live and interact with the world around us. On June 9th, March for the Ocean was held on Hollywood Beach to do just that. The purpose of this event, which featured speakers, booths, and activities, was to raise awareness of ocean conservation and protecting our beaches and waterways. Thank you to SurfRider for putting this event together. It was great to see such a large crowd, including elected officials like Mayor Josh Levy and State Senator Gary Farmer.
With Mayor Josh Levy, Catherine Uden, and other activists at the March for the Ocean.

Sonny's 60th Anniversary
A Hollywood landmark, located in West Hollywood, celebrated its 60th anniversary! Many of you have eaten at Sonny's "Famous Steak Hogies". Sonny's has been an institution in Hollywood, and is one of its most famous, one-of-a-kind local businesses. And it's been at the same location, for decades. Founded by Sam Nigro, it is now run by his son John, ably assisted by family and numerous long- time employees. The milestone was celebrated with a terrific party and some delicious food. I was proud to present a proclamation declaring "Sonny's Famous Steak Hogies" Day in Broward County. Note: The spelling of "Hogies" was begun by John's father, Sam, and hasn't been changed since the business started.
John Nigro and the rest of the Sonny's team received a proclamation declaring
Sonny's Famous Steak Hogies Day in Broward County!

New Electric Buses
This month, Broward County took a major step toward sustainability. The Broward County Board of County Commissioners approved the implementation of five new electric buses, with a whole fleet planned for the near future. There are two sides to addressing climate change. Building resilient infrastructure is one, but the other is sustainability. Sustainability addresses the "cause factor" of rising temperatures, which are greenhouse gas emissions. Broward County is looking for every opportunity available to impact this side of the ledger and reduce our emissions. In doing so, we can help Florida improve from being 6th in the nation in emissions. These buses are a great start in reducing those emissions - and another checkmark for Broward's Climate Action Plan.
An example of electric buses that will soon be making their way around Broward.

Juneteenth
Juneteenth, also known as Juneteenth Independence Day or Freedom Day, is an American holiday that commemorates the June 19, 1865 announcement of the abolition of slavery in the State of Texas. This year, Juneteenth was celebrated with a large festival at Attucks Middle School which brought out large crowds to honor this important and overlooked day in our American history. The event featured appearances from well-known athletes and musicians, as well as elected officials like Representative Shevrin Jones. Thank you to everyone who helped plan this wonderful event!
Star NFL Player Jabaal Sheard of the Indianapolis Colts celebrates Juneteenth in his old neighborhood!

Pembroke Pines Mayor's Kid Day
This June was the annual Pembroke Pines Mayor's Kids' Day! This Day gives young people in Pembroke Pines the chance to meet local officials and learn about civics and businesses in their area. It featured an all-day scavenger hunt that led to some samples and deals at local businesses. It's great to see young people engaging with their local community!

Hallandale Beach Green Initiatives
Hallandale Beach residents now have an opportunity to become more sustainable and make an impact on our environment. The Hallandale Beach Green Initiatives Program gives information about sustainability programs and resources to all residents and employees. It is a valuable first-step towards more sustainable living. Check it out!

Hollywood Chamber Legislative Update
It is important that we keep local residents and businesses up-to-date on the laws being passed in Broward County. This month, at the Annual Chamber Legislative Update, we updated the Hollywood Chamber of Commerce and a large group of local residents and businesses on what kind of legislation is at work in Broward. I spoke about the importance of transportation, solid waste, early childhood education, and more. As always, never hesitate to reach out to my office if you have questions about what Broward County does for you!
With State Senator Gary Farmer and State Representative Joe Geller at the Legislative Luncheon
– thank you to the Hollywood Chamber of Commerce!

New Circ Hotel/Restaurant
The brand-new Hollywood Circ Hotel and Olivia Restaurant are now open in downtown Hollywood! This project is part of the continued growth and renovation of Young Circle. It is always a pleasure to see new places to eat open in downtown Hollywood. The ribbon cutting was great, and it was nice to see elected officials like Mayor Josh Levy out there to open it up.
Hollywood Mayor Josh Levy speaks at the opening of the beautiful new Circ Hotel in Hollywood.

Immigration Rally
The images of children who were separated from their families and put behind chain-linked fences broke the hearts of millions of Americans over the past month. On behalf of the Children's Services Council, I wrote an op-ed and read a statement at a rally on these saddening developments. Broward County is dedicated to providing care and resources to every vulnerable child, no matter where they come from or why they came. We have a responsibility to look out for the youngest and most in-need among us. I was proud to read this statement on behalf of CSC. You can read the op-ed here.
Broward County is dedicated to empowering and protecting our children.

Richard Blanco
It was an honor to introduce Richard Blanco at the Florida Alliance for Arts Education Conference. Mr. Blanco is famous for reading a poem at President Obama's Inauguration – only the third poet to ever read at a Presidential inauguration. Born in Cuba, he has won awards all over the world for his fantastic writing. He read an impassioned poem about being an immigrant and coming from a broken family – a story that resonates with importance in these difficult times. Thank you for visiting South Florida and helping to promote arts in schools!
It was an honor to introduce Mr. Blanco as he read his poems. There wasn't a dry eye in the room.

Pastor Joe Johnson
Our community has lost a true advocate and beloved leader. Reverend Joe Johnson was a giant of Hallandale Beach, and of Broward County. He was the pastor at Greater Ebenezer Baptist Church for many years, during which he became one of the most noted community service leaders in the region. He also worked for decades for IBM, and served as volunteer chaplain for the Hallandale Beach Fire Department. Over his many years of service, he fought tirelessly to uplift communities in need and provide passionate consultation to those who needed his positive spirit in their lives. He is survived by his wife Emma, three children, and four grandchildren. He will be missed.

Happy Fourth of July!
Happy Fourth of July to you and your family! I hope you have a wonderful day of celebration, filled with good food and fireworks. Remember to stay safe on the roads, and be careful to heed fireworks safety tips!

Contact Us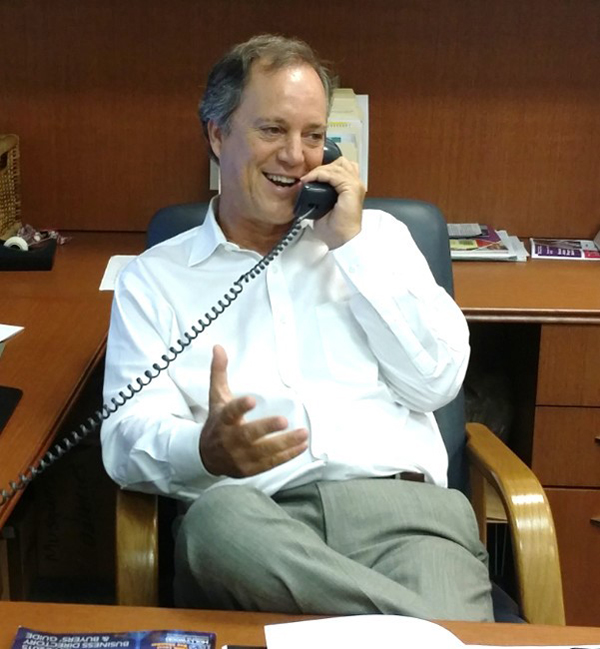 Our District office is conveniently located in the lobby of the Hollywood Branch of the Broward County Public Library at 2600 Hollywood Blvd, next to Hollywood City Hall. This office is open for your convenience Monday through Friday from 10AM to 4PM. If you would like to schedule an appointment, or you have a great idea, suggestion or an issue that needs my attention, feel free to call me at 954-357-7790 / 7006 or send me an email at bfurr@broward.org.
County Commissioner Beam Furr District 6
Broward County Commission | 115 S. Andrews Ave. Room 412 | Fort Lauderdale, FL 33301
Email - BFurr@Broward.org | Website - Broward.org | Phone: 954-357-7006