Greetings,
These last few days of October have left many of us heartbroken from the recent events in Pittsburgh. That tragedy, coming on the heels of divisive national news and bomb threats that emanated from South Florida, has many people wondering - what is going on with our society?
There is no doubt that we are at a critical point in our history. It is important to remember the values this country was founded on and has long cherished. Tolerance of our differences and freedom of expression are essential to a free society. We need to come together as one nation committed to our American democracy. I would like to see that message coming from the top, but I know that it needs to start with each one of us and how we interact with each other. It's time to listen and understand one another's perspective, instead of shouting. It's time to recognize what we have in common, building on what we share when we are working out our differences. That's what I'm going to try to do and I hope you'll join me. Peace.

Election
It is hard to believe that the midterm election is finally upon us, but it is. On Tuesday, November 6th, you will have the opportunity to vote in a historically important election. Almost every election cycle we say that this is the most important election of our lifetime. But this election, that saying is truer than ever before. We are living through a time of an incredibly heated division and debate. This is a chance to get through all the noise and let your voice be heard. If you are upset about toxic algae in the water, or about healthcare costs, or about attacks on the press, or about gun safety, or about any other major issue affecting our state, this is your chance to hold your political leaders accountable.
Many of you have probably already voted by mail or at an early voting site. But others may like the excitement of election day, and plan to vote in person on November 6th. Before you cast your ballot, make sure you know where you're going by clicking here. Make sure to bring your voter registration card and a photo ID. If you have any problems, the helpful poll workers will be happy to assist you. Take advantage of the free bus rides we will be offering on November 3rd only, to all Broward residents heading to the polls for early voting.
It is a very extensive ballot this year. Don't let that keep you from voting on every item! The Governor and U.S. Senate may get the headlines, but the other candidates and questions listed on the ballot have an immense impact on our everyday life. There are twelve Constitutional amendments, eleven County Charter Review questions as well as judges and School Board races. In addition, there is a question to establish an Affordable Housing Trust Fund, and a major question on transportation that needs your attention.

Amendment 4
I want to take a moment to talk about one of those Constitutional amendments you will have the opportunity to vote on - Amendment 4. This amendment would restore the right to vote for anyone who has a felony conviction and has served their time, excluding those who have committed murder or sex crimes. Florida is one of four states whose Constitution permanently disenfranchises citizens with past felony convictions. This policy bars more than 1.6 million Floridians from exercising their Constitutional right to vote. Florida has by far the highest disenfranchisement rate in the country, impacting 10 percent of the adult population, including one in five African-Americans in the state. The majority of the people who are currently disenfranchised are for non-violent crimes. If Amendment 4 passes, it would give these residents the opportunity to become full citizens with their fundamental voting rights once again.
These are the Amendments that you will see on your ballot this year.
Please note that Amendment 8 has been removed from the ballot.

Transportation Plan
This year's ballot also includes an important vote on our County transportation plan, which I wrote about last month. You will find this question on Page Six of your ballot on the left side. This is your chance to revolutionize transportation in Broward County. This plan is designed to reduce traffic congestion in Broward County, and bring our public transit into the 21st century. The plan includes a major expansion of Paratransit in Broward County, adding many more buses and routes for our TOPS service. Broward is stuck in traffic. This is your opportunity to shift gears and put Broward County in the fast lane.
I have been teaming with County Administration and staff to educate voters around the County on our plan, from homeowner association meetings to community groups. This includes appearances on Channel 10 - WPLG and on CBS 4 with Jim DeFede. I wrote an OpEd for the Sun-Sentinel that you can read here. I want to share this OpEd as a good way to gain deeper perspective on this issue based on my strong personal feelings – it is not to tell you how the County wants you to vote. If you want to learn more yourself, visit broward.org/pennyfortransportation.
Thank you to Assistant County Administrator Gretchen Cassini for joining me on Channel 10!

Affordable Housing Trust
Another important question on this year's ballot is the Broward County Charter question regarding the creation of an Affordable Housing Trust Fund. This could be a very big change on one of the most important issues in Broward County today. If approved, it will create a "lockbox" for money in the County budget that is reserved ONLY for affordable housing. To be clear, this does not create a new tax or fee. We are supposed to receive Sadowski Funds back from the state for affordable housing purposes. But the Sadowski Fund has been raided time and time again, and we haven't received our fair share. If approved by the voters, this creates a lockbox on the local level. Over 50 percent of Broward County residents are cost-burdened after home and transportation costs. The cost of living is getting higher as Broward County continues growing. This Affordable Housing Trust and the transportation referendum are designed to potentially work together to help alleviate these significant costs.
Broward County has one of the highest cost burdens for housing in America.

Regional Climate Summit
This month marked one of the most important events of the year as Miami-Dade County hosted the 10th Annual Southeast Florida Regional Climate Leadership Summit which provides a platform for officials from Broward, Palm Beach, Miami-Dade, and Monroe Counties to discuss regional approaches to climate change. The two-day summit was filled with presentations from scientists and conversations with public officials, including a very productive roundtable discussion. The Climate Compact, signed by all of these counties, is a commitment to reduce greenhouse gases and offer solutions toward sustainability. We've shifted from debating the reality of climate change to creating a collective legislative agenda that tackles some of these daunting tasks. There is, however, a need for greater awareness and civic engagement because this challenge will involve every single one of us living here. A report by the United Nations Panel on Climate Change found that if we do not change our ways by 2030, we will pass the "point of no return". The time for action is now.
I was glad to be joined by regional elected officials and top climate scientists
for another year of important discussions and action.

Red Tide Update
Broward residents were rightfully concerned this month after red tide organisms were discovered off Broward County beaches. Fortunately, all of the red tide was in "low" or "very low" concentrations, with many samples collected throughout the month. There were no beach closures and no immediate health threat. At this point, it appears all red tide organisms are gone from Broward beaches. However, we should always be concerned that something like this can happen. This is not just a Gulf issue. Our water quality, from the Atlantic to Lake Okechobee to the Gulf, is connected. Water quality requires a full state effort and conscious action from individuals, government entities and corporations in Florida. Despite the all clear, we must remain vigilant and be proactive about protecting the quality of our water.
A map of where red tide was concentrated as we moved into October. Since then,
east coast red tide concentrations have dropped significantly.

Read for the Record
This month marked another one of my favorite events in Broward County – the annual Read for the Record! Nationwide, children and adults engage in Read for the Record, designed to stimulate interest in reading. There's no better way to get a child interested in reading than by reading with them yourself. This year's Read for the Record was, indeed, record-breaking, with over 40,000 copies of the book distributed in Broward alone. It was a great time reading to students at Gulfstream Early Learning Center for Excellence in Hallandale Beach. I encourage everyone to keep reading and get ready to be part of setting another record next year!
I was joined by Children's Services Council Executive Office Cindy Arenberg Seltzer and Congresswoman Debbie Wasserman Schultz for a great Read for the Record!

Commissioner LaMarca Farewell
October 23rd marked Commissioner Chip LaMarca's final meeting as a Broward County Commissioner. Commissioner LaMarca has been with us since 2010, representing District Four in Northeast and Coastal Broward. Along the way, he's left many good memories and achieved many accomplishments for District 4 and for all of Broward County. I know I speak for the rest of the Commission when I say it has been a pleasure working side by side with Commissioner LaMarca. It was a lovely ceremony with many great guest speakers, and even a couple of gifts! Thank you for your service, Chip.
Thank you Commissioner LaMarca!

South Florida and Treasure Coast Regional Planning Council
I participated in a joint meeting of the South Florida Regional Planning Council and Treasure Coast Regional Planning Council this month. It was a packed agenda, but it was also a pleasure to welcome our regional partners to Broward County for a day of productive conversation. Many issues that intersect among our counties, from transportation to the environment, were discussed. I led a discussion on coral reefs and environmental resiliency. Commissioner Nan Rich led a conversation on affordable housing. All of these critical challenges require a regional effort, and this continued partnership with the Treasure Coast will allow us to encompass all of Southeast Florida moving forward.
Elected officials from Broward, Miami-Dade, Palm Beach, and Martin Counties
teamed up for a discussion on our coral reef.

FITCE
The annual Florida International Trade and Cultural Expo (FITCE) took place this month, and this year's event was better than ever. Leaders from nations around the globe and officials from South Florida were in attendance to discuss our valuable exchange of ideas and businesses. I was honored to give opening remarks. In a growing, globalizing world that is increasingly interdependent, events like FITCE and the connections they create are more important than ever. A big congratulations is in order for Commissioner Dale Holness, who did such a great job organizing this event. Thank you to all the dignitaries who attended.
Countries from all over the globe were represented at this year's FITCE.

Pines Village
I was pleased to see such a great turnout at the Pines Village Civic Association meeting this month. Pines Village is Pembroke Pines' historic center, and it is always great meeting with community members from the area. This meeting featured important discussions on water and sewer lines in Pine Village, making sure that residents have proper piping and water treatment systems in place. We also discussed the Broward County transportation referendum and the Affordable Housing Trust Fund. I encourage everyone to attend their local civic association meetings and get involved in your neighborhood!
I was joined by Pembroke Pines Commissioners Tom Good and Angelo Castillo at this wonderful discussion.

Lights On After School
Learning doesn't stop when the bell rings. This month, I read a proclamation on behalf of the Children's Services Council for Lights on Afterschool Day. This annual event is designed to raise awareness about the importance of providing substance-filled afterschool programming for our children. We have made high quality aftercare a priority in Broward County. It was a pleasure to present this proclamation to students and teachers at a wonderful event in Franklin Park. Thank you to the Children's Services Council for their continued focus on Broward's children.
Dancing on stage with Stanley C. Panther and local students!

Mayor's Gala
A great big thank you to everyone involved in the 2018 United Way of Broward Mayors' Gala. Generous donations made at this event raised funds for the very worthy programs the United Way of Broward offers to our community. From the services they provide for our homeless veterans, to their highly respected Reading Pals program that brings together volunteers to work one-to-one with students in our schools, I was honored to be a part of this celebration. I am humbled to have received an award at the Gala along with my co-honoree, Colin Brown of JM Family Enterprises. It was a great crowd that gathered for a great cause. Thank you to everyone who attended!
Thank you to Colin Brown of JM Family Enterprises and Kathleen Cannon of the United Way for all you do.

Award-Winning Broward
Broward County has won 14 National Association of Counties (NACO) awards, and for the sixth year in a row, the most National Association of County Information Officers (NACIO) awards in the country at 34. Broward won a total of 48 different awards across many different agencies from Libraries to Parks to Environmental Planning and much more. Programs like the Water Resources program from Environmental Planning, our Active Learning Center from Libraries, our Upland Mangroves Management at Port Everglades, our Children Service's Administration brochure from Public Communications, and many more were recognized. Broward County is one of the fastest growing and most diverse counties in the country. It makes sense we are leading on progressive, forward-thinking programs that make life better for our residents.
Congratulations to all the winners!

Skip Campbell
Broward County has a heavy heart this month after the loss of a legend. Skip Campbell, the current Mayor of Coral Springs and a former State Senator, passed away suddenly this month at 69. Senator Campbell was a giant of both the legal and political world in South Florida. In addition to being a long-time prominent trial attorney, he also was a respected legislator who helped pass critical bills protecting the environment and jobs while a Senator. Coral Springs will miss his passionate and dedicated leadership as Mayor. Our thoughts and prayers are with his family and friends.

Happy Halloween
Happy Halloween! You may have enjoyed horror movies and haunted houses this month, but there's something more scary than ghosts and ghouls: people not exercising their right to vote! This opportunity is a privilege and the fundamental backbone that makes us Americans. Not doing so brings a new meaning to the word "boo!" So, make sure you let your voice be heard – remember to vote on November 6th! My office is ready to assist if you have any trouble locating a polling place or voting.

Contact Us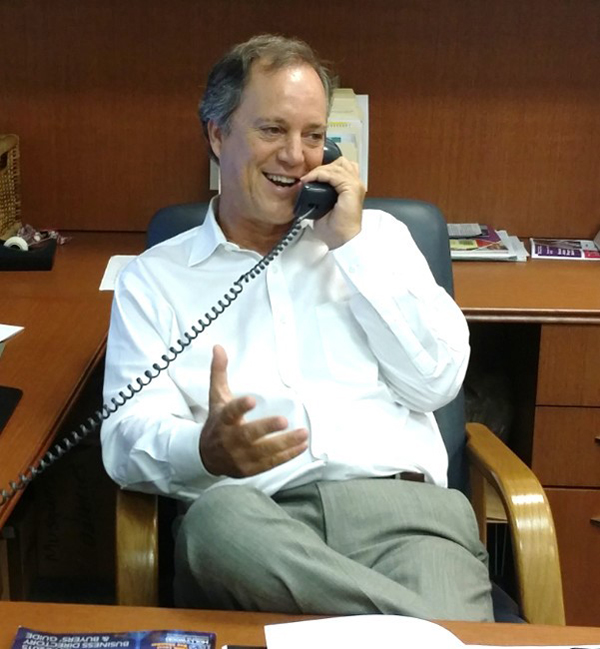 Our District office is conveniently located in the lobby of the Hollywood Branch of the Broward County Public Library at 2600 Hollywood Blvd, next to Hollywood City Hall. This office is open for your convenience Monday through Friday from 10AM to 4PM. If you would like to schedule an appointment, or you have a great idea, suggestion or an issue that needs my attention, feel free to call me at 954-357-7790 / 7006 or send me an email at bfurr@broward.org.
County Commissioner Beam Furr District 6
Broward County Commission | 115 S. Andrews Ave. Room 412 | Fort Lauderdale, FL 33301
Email - BFurr@Broward.org | Website - Broward.org | Phone: 954-357-7006