Greetings,
Autumn is in the air, and while the leaves might not change much in Florida, Broward County is always working to shake things up and make positive progress on behalf of our residents. Here are some items to "fall" into over the next few weeks!

Thank You
I am truly honored to have been re-elected to serve as your District 6 County Commissioner for the next four years. I look forward to continuing my work with residents of Hollywood, Hallandale Beach, and Pembroke Pines as we continue to make District Six a wonderful place to live, work, and play. I am excited to continue working on ambitious projects and bold solutions for the environment, child care, our economy, and more.
I couldn't have done it without Team Beam!

Hollywood Community Redevelopment Agency
Broward County recently reached an agreement with the City of Hollywood that will allow millions of dollars in refunded CRA money to be used for affordable housing projects in low to moderate income (LMI) areas. This agreement allows some of the money refunded from the Beach CRA to the County to be used for affordable housing in Hollywood. The Beach CRA District has had big success clearing slum and blight from Hollywood Beach. Now we can redistribute some of those funds throughout the city to provide home rehabilitation and affordable housing assistance in neighborhoods that need it. Too many residents spend more than 30 percent of their monthly income on housing, and 52 percent of residents in Hollywood meet the national standard for Asset Limited and Income Restrained (ALICE). This agreement will help rebuild homes and revitalize neighborhoods. We hope that this plan for Hollywood can become the model for affordable housing programs throughout the County.
The shaded areas on this map are LMI census tracts in Hollywood that will be eligible to
receive leftover CRA monies for affordable housing assistance.

Coastal Resiliency Study
This week, we received the Broward Climate and Coastal Resiliency Study from the US Army Corps of Engineers. The study projected sea level rise out to 2050, and found that residents should expect two feet of sea level rise over the next 30 years. This would mean serious tidal flooding in areas along the coast and quite far inland, with even higher tides during King Tide season. The study recommends that we raise our seawalls to four feet by 2035 and five feet by 2050 to mitigate tidal flooding. The Army Corps of Engineers is considering an update to the Central and South Florida Flood Control Project for the first time since 1948, which will provide valuable insight into how we can further make Broward County more resilient.
With such a risk from flooding, the time to act is now, not later.

Transportation ILA and What You Need to Know
On November 6th, Broward County residents will have a chance to take their transportation future in their own hands. I've written before about how voters in Broward will cast their ballot on our transportation enhancement plan. Over the next month, County staff and elected officials, myself included, will be making their way around the County and throughout District Six to have conversations with residents about our plan and what they can expect if it passes. I encourage you to be on the lookout for any of these events in your area, and to attend and ask questions. You can always visit PennyForTransportation.com to learn more about the plan and view projects in your city. You will learn more about how this plan is designed to reduce traffic congestion and improve connectivity in Broward County.
A major threshold was reached this month when every city in Broward County, with the exception of Lazy Lake, voted to be part of an interlocal agreement that stipulated how funds from the transportation enhancement surtax would be equitably distributed. This is a major step towards creating a true partnership on the shared issue of transportation.
On our website, you can find projects in your city, learn about the plan, and explore our interactive map!

9/11 Memorial
The September 11th Tribute Ceremony at the Fort Lauderdale-Hollywood International Airport was incredibly moving. Seventeen years ago, our country was rocked by this tragedy. It is a testament to our strength as a nation and as a people how we stuck together and remained strong in the wake of an attack. CEO/Director of Aviation Mark Gale and many others gave great speeches as part of this wonderful tribute. Thank you to all who participated.
At the 9/11 Tribute with Director Mark Gale and first responders.
Thank you for what you do to keep us safe.

Budget FY19
Good news: Broward County has completed our FY2019 budget process, and there are many exciting programs and new ideas that will receive devoted funding. This year's budget includes increased funds for our libraries, beach renourishment, our E911 communications system, water treatment programs, and much more! The goal for the Commission every year when we vote on the budget is to make sure your tax dollars are being spent in efficient ways that help improve our community and your quality of life. If you want to read more about the budget, visit Broward.org/Budget. You can always contact my office if you have any questions!
A look at how funds will be distributed throughout Broward County's departments in FY19.

Wear Orange Day
Nobody in Broward County should go to bed hungry, yet too many of our residents DO. September 13th was Wear Orange Day in Broward County to raise awareness for the issue of hunger. Feeding South Florida sponsors this event every year, and it is an opportunity to talk about this important issue. All Broward County employees were encouraged to wear orange and donate canned goods. As you can see from the picture below, they were up to the challenge! Thank you to all staff and residents who participated. Feeding South Florida is still looking for food donations, and you can learn more about how to get involved here.
Thank you to all the employees who participated and donated!

Read for the Record
Evidence shows that students who read at grade-level by third grade are more likely to graduate high school, seek higher education, and stay out of trouble. Thursday, October 25th is the Annual Broward Reads for the Record event. This event brings together millions of people each year in classrooms, libraries and community centers across the US to read the same book on the same day. Read for the Record inspires adults to read with children. It spurs policymakers and organizations to take action towards transformative change in early education, and places books in the hands of children across the country. I am proud to say that the Children's Services Council, which I chair, will be distributing 40,000 books to children in Broward County on this special day. This year's book is "Maybe Something Beautiful" by F. Isabel Capoy and Theresa Howell, with illustrations by Rafael Lopez. I invite you to get involved in this important and enjoyable event. If you are interested in volunteering to read, sign up at handsonbroward.org.
Read for the Record is a great time every year, and this year will be no exception.

Center for Hearing and Communication
On September 13th, I presented a proclamation for the "Center for Hearing and Communication Day" in Broward County. The Center for Hearing and Communication is an organization dedicated to providing the best treatment and care to our residents who are deaf or hard of hearing. Broward County takes care to be a place that is accessible to all those who have a disability. This includes our residents with hearing loss and deafness. Thank you to Dr. Margaret "Peggy" Brown and her staff who have helped thousands of residents disabled by hearing loss or deafness.
Thank you to Dr. Brown and staff at the Center.

School Library Recognition
Broward County students, now more than ever, have an easier way to access the resources of our libraries. The BCL Digital Direct Library Card is a dual-use, digital library card that permits student access on all online resources, databases, and learning programs of Broward libraries. Thirty thousand students have already registered for the card, and many more will sign-up as it becomes available to all Broward students. Having access to all of BCL's digital resources will open minds and expand the educational toolbox for our students. NOW is the time to sign-up!
I spoke to the Broward County School Board about the Digital Direct Library Card as they passed
a resolution supporting it for all students. This is a great step forward for our students.

Fill the Boot
Last month, we wrote about the "Fill the Boot" drive in Broward County. During the month of September, I presented a proclamation to Broward Sheriff Fire Rescue Officers and the Muscular Dystrophy Association (MDA) honoring their great work in raising funds during Fill the Boot month. Since the start of this year's drive, BSO Fire Rescue has managed to raise thousands of dollars in funds for those in need. With this collaboration between First Responders and great researchers at the MDA, we are going to make major progress in treating and curing muscular dystrophy. Thank you to all who contributed!
Thank you to Jeancee Washington and the officers who attended for your work on Fill the Boot!

APA Panel
When we think about our South Florida regional planning and infrastructure, we think more about roads than coral reefs. But our Southeast Florida Reef Tract is one of the most important elements in our region! That's why I joined the American Planning Association (APA) for their panel "No Reef, No Treasure", to discuss the value of our coral reef and what we can do to protect it. The reef is a valuable economic engine and environmental barrier that is essential to South Florida's future. We must work on whatever solutions are available to us to protect it.
I was glad to join the American Planning Association to speak about "Florida's National Treasure."

National Center for Families Learning Conference
Broward County was proud to host the National Center for Families Learning Conference on September 24th. This important conference focuses on innovative strategies and practices in family literacy and learning, two-generation education solutions, and parent and family engagement. It was great to see the Conference taking place right here in South Florida, and the program was exceptional. I was happy to share opening remarks to welcome participants.
People from all over the country converged on Broward County for this important conference!

Hallandale Beach Walk to School Day
October 10th is the annual Walk to School Day in Broward County, and Hallandale Beach is doing it big! Walk to School Day is an initiative sponsored by the Broward Metropolitan Planning Organization to raise awareness around multimodal transportation, and to encourage residents to step out of their cars and utilize sidewalks, bike paths, and more. These changes help us conserve energy and save money! It is always a great feeling getting somewhere on foot. Not only does it save gas, but it is also great exercise! Hallandale Beach residents should meet at 6:30AM at the corner of SW 4th Street and SW 8th Street, near Ingalls Park. Hope you can make it!
This is going to be a great experience for Hallandale Beach residents!

Pembroke Pines Veteran Employment Expo
Thank you military veterans! Pembroke Pines recently hosted their fourth annual Veteran's Employment Expo. This was a great chance for those who served our country to find great opportunities. The Expo was be held October 2nd from 10AM to 2PM at the Southwest Focal Point Community Center, 301 SW 103 Avenue in Pembroke Pines. For more information on how to follow up with great jobs for those who bravely served, call 954-450-6888.
There was lots of great opportunities for those who served our country. Can't wait until next year!

Contact Us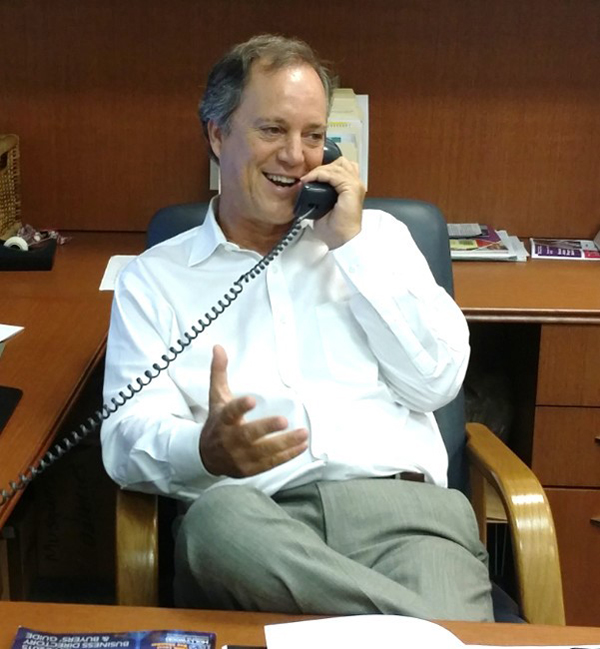 Our District office is conveniently located in the lobby of the Hollywood Branch of the Broward County Public Library at 2600 Hollywood Blvd, next to Hollywood City Hall. This office is open for your convenience Monday through Friday from 10AM to 4PM. If you would like to schedule an appointment, or you have a great idea, suggestion or an issue that needs my attention, feel free to call me at 954-357-7790 / 7006 or send me an email at bfurr@broward.org.
County Commissioner Beam Furr District 6
Broward County Commission | 115 S. Andrews Ave. Room 412 | Fort Lauderdale, FL 33301
Email - BFurr@Broward.org | Website - Broward.org | Phone: 954-357-7006