Greetings,
In these confusing times, I continue to be inspired by the strength and solidarity of Broward County residents. As we continue to grapple with the COVID-19 pandemic, we are lucky to have first responders, nurses, doctors, teachers, and other local heroes leading the charge to keep us safe and keep us healthy. To all of those working in an essential business – thank you for your service. As we continue to monitor the situation and take precaution, I am confident in Broward County's ability to respond with resilience.
Read on below to find out more about Broward County's response to the COVID-19 crisis and some helpful resources.To jump right to a particular section, click one of the links below.
We will make it through this crisis by taking care of each other and providing support. While we continue to practice social distancing, remember to never distance your love for your family, friend, and neighbor. Let us try to stay positive and keep our eyes focused on getting through this safely.
Broward County is still operating under emergency orders that are meant to keep our residents safe. Residents should still wear masks and gloves whenever possible, and non-essential businesses remain closed. You can find a list of all Broward County Emergency Orders here. Residents should try to stay home and shelter-in-place as much as possible for the safety of their families and their fellow residents.
Broward County has begun a cautious reopening process for certain recreational amenities. A new Emergency Order has been released that reopens some parks, boat ramps, golf courses, and condominium/apartment pools, with restrictions. You can view a copy of that order by clicking here. When residents use any of these amenities, they must still follow all social distancing rules, including wearing masks and gloves, disinfecting their areas, and limit group sizes to ten or less. Certain features like basketball courts and other shared sporting amenities remain closed within our parks. Please take the time to enjoy our beautiful parks and the wonderful South Florida fresh air with your family. But make sure to stay safe, no matter what activity you partake in.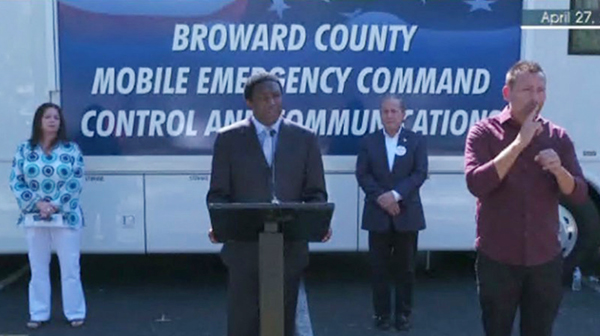 Broward County Mayor Dale Holness held a press conference to announce the
cautious reopening of some County recreational amenities.

Broward County is now offering in-home testing for COVID-19 for certain Broward County residents! Broward County is partnering with the Florida Department of Health for in-home and mobile testing for residents that are homebound elderly or individuals with disabilities who are experiencing COVID-19 symptoms. The program was launched May 6th and is available Monday to Friday. Individuals who believe they may qualify for an in-home test can call 954-357-9500 for a pre-assesment. We hope this program serves as a model of expanded testing for our residents moving forward.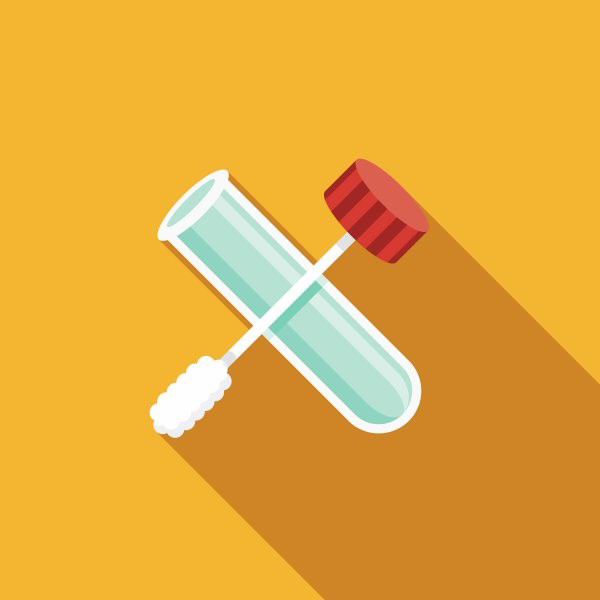 More testing options are coming to Broward County residents.

Testing is becoming more widely available to residents throughout Broward County. Drive-through testing is now available at CB Smith for all residents exhibiting symptoms, not just those in certain vulnerable populations. You MUST make an appointment by calling 954-276-4680. Broward Health has testing available at Central Broward Park – you can call 954-320-5730 to set up an appointment there. There is additional drive-in testing at Festival Marketplace in Pompano Beach (call 954-320-5730) and Holiday Park in Ft. Lauderdale (1-800-209-7919). There is also walk-up testing available at the Urban League of Broward County in Fort Lauderdale – call 954-412-7300 for an appointment. There is additional walk-in testing available at the Cleveland Clinic in Weston by appointment at 954-659-5951. If you are awaiting test results and think you may have COVID-19, please make sure to self-isolate to protect others around you.
A flyer for the testing options provided by Broward Health.

Broward County is still open for business, with many of our services being provided remotely for the health and safety of our residents. These services include pet adoptions, permits, licensing, tax collections, and much more. You can click on this link for helpful information on all the County Services that are available online. As always, you can contact my office at 954-357-7006 or bfurr@broward.org for further assistance.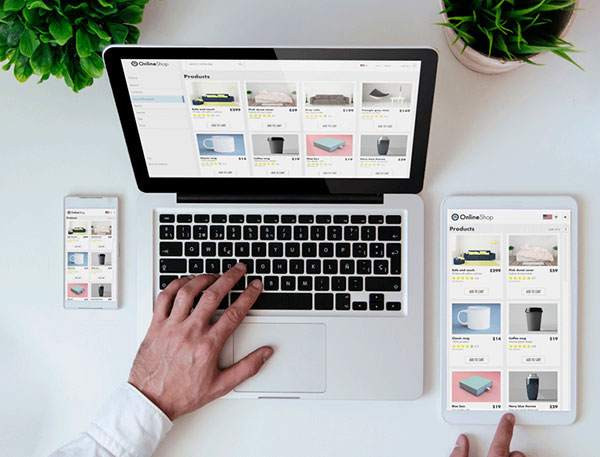 Now, you can practice social distancing and still interact with County services!

For ten days each year, the 10 Days of Connection Initiative challenges the entire community to break down silos and engage in acts of connection to build empathy, to increase understanding, and to refocus on our shared humanity. The 10 Days of Connection takes place in Miami-Dade and Broward counties from May 1st through May 10th. The 2020 experience has been adapted to virtual or physically distanced activities as our community navigates the challenge of the COVID-19 pandemic, a time when our connection with each other is more important than ever. Through the 10 Days of Connection Initiative, Broward Reads partners and the Children's Services Council of Broward County are teaming up for daily read-alongs with author, Brad Meltzer. Each day will feature the story of a different American hero, as pictured below. Broward County Libraries are making electronic and audio copies of these titles available to library patrons. There has never been a better time for our children to take time out of their day to read out loud, appreciate the value of a good book and recognize our heroes. Mark your calendar for May 8th, for a live streaming read-aloud program with Brad Meltzer! You do not want to miss this – it is going to be a wonderful experience for children and adults alike. To learn more and sign-up, visit https://ww.cscbroward.org/read-along-brad-meltzer.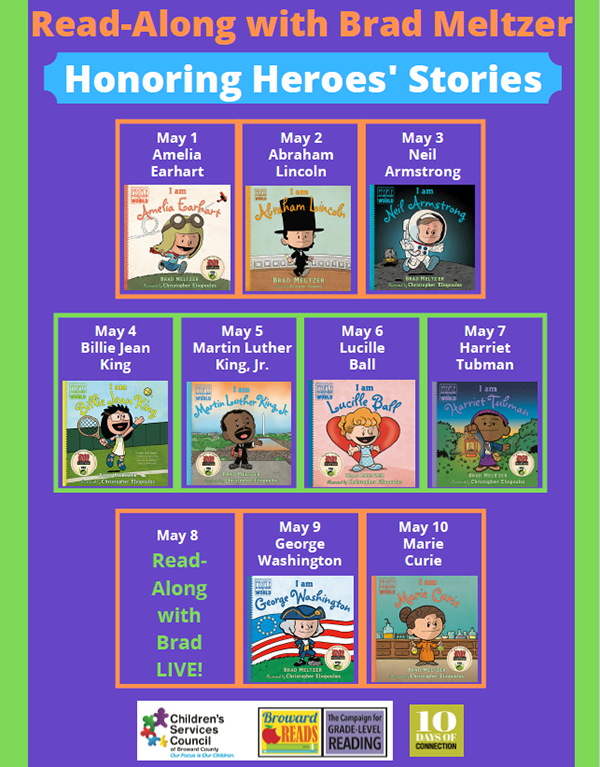 Broward County libraries remain closed, but our online resources and e-media are still available! In fact, our statistics show that the past month has seen a record-breaking number of e-books and other e-media checked out in Broward County. Residents are taking advantage of their time at home to check out great books and catch up on those shows and movies they may have missed. To access e-media, click here. You can also use our other Online Resources for research as well. A record-setting number of students are also making use of Broward County Library resources through the access provided by Broward County Public Schools and the Library for Life card program. There has been a 68% increase in students using our library platforms over the past month! Parents can join with their children for live read-alongs with librarians on the Broward County Library Facebook page by clicking here.
There has never been a better time to check out e-media from Broward County libraries!

Free Childcare for First Responders and Essential Personnel
If you are a frontline hero working to save lives and keep us all going, you should not have to worry about the availability of childcare. That is why FREE childcare for any child up to the age of 13 is being provided for any first responders and essential workers during the COVID-19 pandemic, regardless of family income. While we all know of the heroic efforts of doctors, nurses and police officers, this program also includes many essential workers that are often unsung heroes. Hospital and laboratory personnel including housekeeping, accounting and admitting, as well as security personnel in a variety of settings are also eligible. To learn if you are eligible as outlined in the Governor's executive order, learn which child care programs are participating and fill out the application, follow this link to the Early Learning Coalition of Broward County at elcbroward.org/coronavirus. Thank you for your continued service to our community.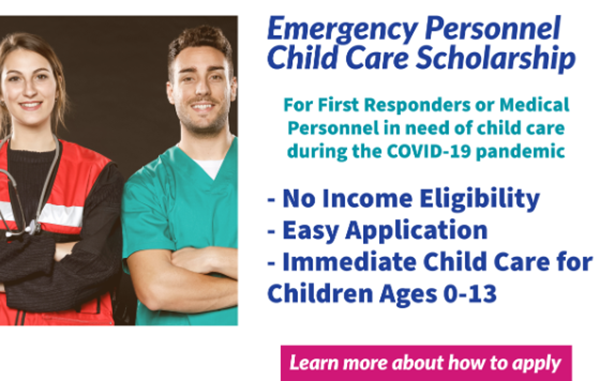 First responders should take advantage of this well-deserved resource!

Free and fair elections are the fundamental bedrock of America – and that freedom is in jeopardy due to the COVID-19 pandemic. We cannot have an election when millions of our residents are forced to choose between their health and their vote. In Broward County, we are going to do everything we can to make sure that residents can vote without worrying about putting their health on the line. That is why we should ensure that every resident who requests a vote-by mail ballot can receive one. We also will be working with the Supervisor of Elections on an outreach campaign to encourage more residents to sign-up for vote-by-mail.
Now is the perfect time to sign-up to receive a vote-by-mail ballot. It is very easy – just click here and you can sign-up and have a ballot sent to your home for every election cycle for two years. Make sure to exercise your right to vote this year in perhaps the most important election of our lifetime!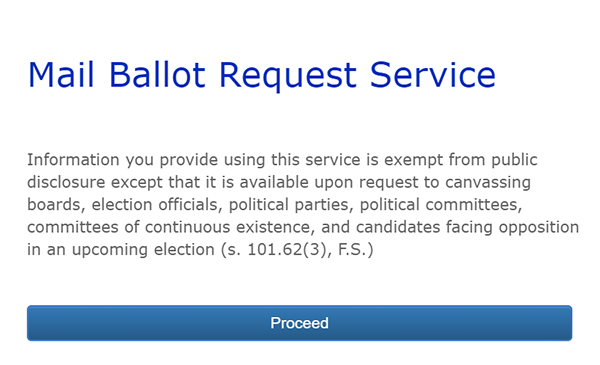 This will pop up as soon as you log-on to the Broward Supervisor of Elections website.

Broward County librarians and other staff are available to assist residents who are having trouble with Florida's unemployment and reemployment process. Consider contacting your local Broward County library branch if you need help applying. As a reminder, you can find information on how to apply for reemployment assistance at https://covid19.floridajobs.org/. Broward County has also partnered with CareerSourceBroward to help meet this important community need and encourages residents and businesses, if their employment has been affected by COVID-19, to visit CareerSourceBroward.com/Coronavirus, a website that provides a list of local, state and national resources that can help, including instructions and links to apply for benefits. For additional information on resources and webinars available to small businesses affected by the COVID-19 crisis, visit Broward County's Office of Economic and Small Business Development Resource Page.

Please reach out to my office at 954-357-7006 or bfurr@broward.org if you need assistance applying.

The Greater Fort Lauderdale Alliance has launched Biz Help Broward, an initiative to help our local business owners get back on their feet during the COVID-19 pandemic. Biz Help Broward will provide resources such as assistance programs, webinars, agency contact information, and more for your business! You can learn more at bizhelpbroward.com.


For many residents, the financial and safety burden of COVID-19 has made acquiring food difficult. Broward County's Family Success Centers are working with the Area Agency on Aging (formerly ADRC) to provide food deliveries for seniors that help residents receive affordable food in a safe way. The United Way of Broward County continues to support 25 Project Lifeline Food Pantries as well as providing funding support to Feeding South Florida, the School Board of Broward County, Flipany and others.
Family Success Center staff is also assisting many of our residents in applying for the federal Supplemental Nutrition Assistance Program (SNAP), which is an invaluable resource during these trying times. To access assistance on SNAP applications, please click here. If you need assistance with the application process, call 954-357-7006.
Many community organizations are helping residents receive fresh produce
during the COVID-19 pandemic.

April 22nd was Earth Day, and the celebrations were a little different this year. Thousands of people did not take to the streets. The signs and protests were moved online to Zoom. But that does not mean it was any less important. In fact, the COVID-19 pandemic is a reminder of just how important Earth Day is. It has highlighted just what happens when government does not prepare proactively for a crisis. Our federal government was not prepared for COVID-19 – and it is even less prepared to handle the challenge of climate change. Local governments have stepped in to fill in the gaps on both, but we need real leadership from all levels of government to truly combat climate change. The COVID-19 pandemic has also highlighted just how much spending time outside in our environment means to our mental and physical health. For many during this time of crisis, the daily outdoor walk or bike ride might be the only solace they find. All of us miss the parks and beaches that make South Florida so beautiful, even as we recognize that we are safer at home. I hope that staying indoors is a stark reminder of how much we treasure our natural environment, and the need to be good environmental stewards.
Happy Earth Day!

The 2020 Census is still on, and it feels more important than ever in the wake of COVID-19. The Census is what makes it possible for resources to be distributed properly to residents throughout the country, especially in times of crisis. That is why it is so important we have a Complete Count of all residents. We are looking to boost the response rate throughout District Six and make sure that Pembroke Pines, Hollywood, and Hallandale Beach are at the top in counting their people and getting the funding and representation they are due.on top of Broward County. You should have received an invitation to complete the Census with a specific code to enter online. It takes about five minutes, and is as easy as can be. If you don't have the code, you can complete your census by entering your address after following this link. For general questions or to learn how to respond by phone, visit census.gov.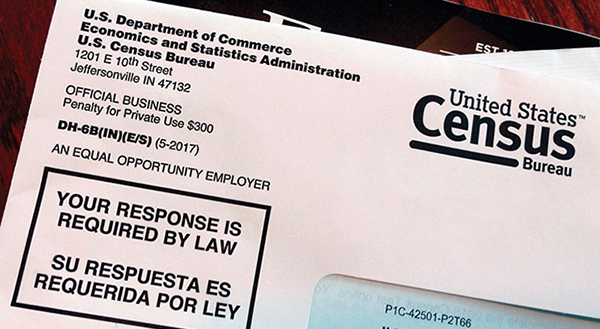 You should have received a letter like this in the mail to fill out the 2020 Census.

Broward College Learning Opportunities
The COVID-19 pandemic does not mean that our residents should stop the quest for lifelong learning and degree advancement. Broward College is offering online courses, classes, and degrees during this crisis. Many of these opportunities are in essential fields like healthcare, and some of them are even free! You can learn more about these opportunities through informationational webinars by clicking here.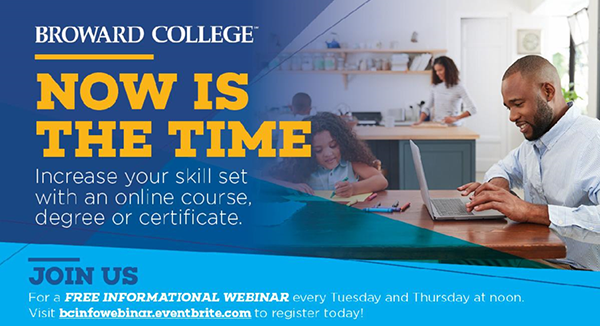 We lost a titan, leader, and legend of Broward County in State Representative Kristin Jacobs. I also lost a good friend and an inspiration. Kristin was one of the most dedicated public servants in Broward County's history. As both County Commissioner and State Representative, we were fortunate to be represented by such a passionate advocate for our community and our environment. She leaves behind a legacy of great works we will continue to build upon for decades to come – specifically when it comes to the critical issues of climate change and our environment. Her passion, joy, and optimism will be deeply missed by all of us.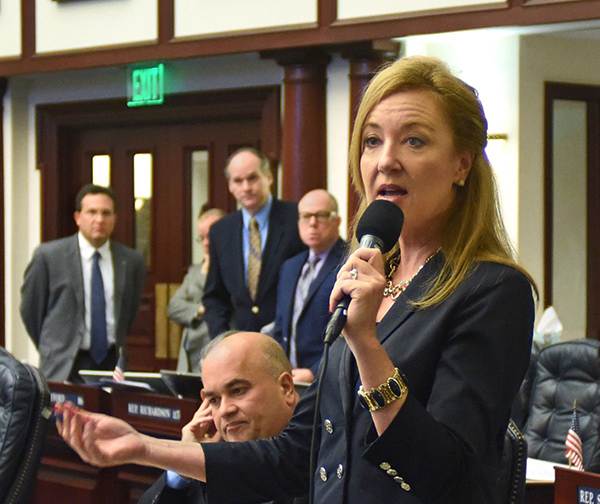 Contact Us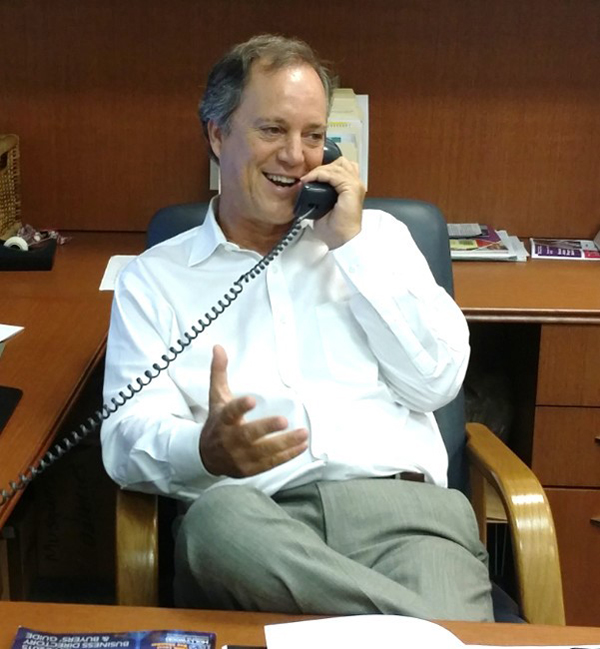 Our District office is conveniently located in the lobby of the Hollywood Branch of the Broward County Public Library at 2600 Hollywood Blvd., next to Hollywood City Hall. This office is open for your convenience Monday through Friday from 10AM to 4PM. If you would like to schedule an appointment, or you have a great idea, suggestion or an issue that needs my attention, feel free to call me at 954-357-7790 / 7006 or send me an email at BFurr@Broward.org.