Greetings,
A new year is upon us, and I am excited to see what 2019 brings! I know it will be another exciting year in Broward County, and as you'll read below, there's a lot on our list that we are looking forward to accomplishing. Read on for a "countdown" of items you need to hear about this month!
Happy New Year
2018 was an extremely busy and productive year in Broward County. We passed a major transportation referendum, took big steps on affordable housing, raised wages, improved childcare, and much, much more. But for me, the most indelible memory of 2018 came a few days after the tragic shooting at MSD, when thousands of people gathered for a rally to call for change. Where young students, only a few days removed from the terrifying tragedy, stood up and led the charge for a better future. What began as a rally in Broward County turned into a national movement, with millions from across the country calling out in one voice for real change..
That all started right here. And it started here because our young people are incredibly brave leaders, and they are supported by a Broward community that shares their courage. That same courage and strength of community will empower us in 2019. We intend to continue our work on environmental, child care, and transportation issues, and we have submitted goals for the year to the new Mayor. Stay tuned for more updates!
I hope everyone had a wonderful, celebratory New Year's Eve. Now, let's get to work!
Students like Emma Gonzalez and all of the MSD family inspired the entire country,
and it started right here in Broward.

Volunteer for Homeless Point-in-Time Count
Every year, Broward County completes our "Point-in-Time" count to provide an accurate survey of homeless residents in our community. Volunteers are needed from January 23rd to January 26th to ensure the most accurate possible results! The annual count is an invaluable tool in identifying those residents who are in need of our assistance and finding out more about the challenges they are facing. The count not only tells us who the residents struggling with homelessness are in our community, but also where they are concentrated, what they are like, and why they are unsheltered. This gives us a solid foundation to take action, and it has proved essential in previous initiatives, whether tackling veteran homelessness or moving residents in the encampment in front of Main Library to shelter. If you are interested in volunteering, please contact Shira Fowlkes at pitvolunteers@brhpc.org or visit the Point-in-Time website.
We hope to have many volunteers for this year's Point-in-Time Count.

Solid Waste in Broward County
Broward County has taken a major step forward toward creating a comprehensive solid waste program. An interlocal agreement was passed by all the cities who have collective ownership in property (Alpha 250) that has been recommended as a site for a recycling center. Recommendations on how to reach a 75 percent recycling rate and creation of an independent or dependent district are part of upcoming discussions we will have with our municipal partners. Where our garbage goes and what becomes of it is no longer an issue we can ignore. There are economic and environmental concerns at stake, and the collaboration between county and cities is very promising.
Speaking at a workshop of the Broward League of Cities regarding Solid Waste and Recycling.

Climate Change Task Force
With a new Mayor comes new board selections for our County Commissioners, and I look forward to continuing to serve as Chair of The Children's Services Council, as well as a member of the Broward Metropolitan Planning Organization and the South Florida Regional Planning Council. This year, I have also been appointed to the Climate Change Task Force, which I will co-chair with Commissioner Nan Rich. 2019 will be a year of many challenges, but the biggest one we must take serious action on right away is climate change. Another year may have come and gone, but we can't keep saying "another year" when it comes to climate change.
2019 has to be the year we take major steps forward to create a world that is more sustainable and resilient. We can't wait for federal or state solutions. Locally, we face unique challenges from rising sea levels and temperatures. The time has come to create a "resiliency trust fund" which would set aside a dedicated revenue stream for projects like seawalls, electric car infrastructure and curbing greenhouse emissions. Our future depends on what we do now. Stay tuned over the coming year, as we plan to keep you up-to-date on all the actions we are taking to protect South Florida's environment for generations to come.
I previously served as the Chair of the Climate Change Task Force in 2016,
and I am excited to rejoin for 2019!

Washington Park Toy Giveaway
The Holidays are about giving. Every year, Nadine McCrea and the Community Enhancement Collaboration (CEC) do their best to make sure most every child in the community gets to have some joy during the holiday season. This year, the annual Toy Giveaway at Washington Park was bigger than ever, with 100+ kids coming out to receive toys. Many community leaders were on hand to assist. Thank you everyone who gave back this holiday season, whether at this event, or one of many other volunteer opportunities throughout Broward County.
Thank you Nadine McCrea and the CEC for this wonderful array of gifts!

Beach Renourishment Public Discussion
The Segment III Beach Renourishment Project is designed to bring sand to renourish 7.2 miles of critically impacted shoreline in Hollywood, Hallandale Beach, and Dania Beach. The project, beginning in 2019, will bring 123,000 cubic yards of sand to improve and protect our shoreline. If you are interested in learning more about the Segment III Beach Renourishment, there will be a public discussion with Broward County and the US Army Corps of Engineers on Wednesday, January 9th at 6:00pm at Anne Kolb Nature Center's Mangrove Hall, 751 Sheridan Street, in Hollywood. This is a good opportunity to ask questions and learn a little more about this important project.
The area in Broward County that will be renourished under the Segment III restoration.

Chip-A-Tree Program
Do you have a holiday tree you haven't thrown away? Don't just toss it out! Broward's Chip-A-Tree program is running through January 14th. If you bring in your undecorated holiday tree, it will be chipped down and used for landscaping in Broward County parks. This is a better, more beautiful way to dispose of your tree! Last year, more than 5,100 trees were recycled and reused under this free program, so hopefully this year is even better. Participating parks where you can drop off a tree are as follows:
Brian Piccolo Park & Velodrome, 9501 Sheridan St., Cooper City 33024; 954-357-515

C. B. Smith Park, 900 N. Flamingo Rd., Pembroke Pines 33028; 954-357-5170

Easterlin Park, 1000 N.W. 38th St., Oakland Park 33309; 954-357-5190

Fern Forest Nature Center, 201 Lyons Rd. South, Coconut Creek 33063; 954-357-5198

Markham Park & Target Range, 16001 W. State Rd. 84, Sunrise 33326; 954-357-8868

Plantation Heritage Park, 1100 S. Fig Tree Lane, Plantation 33317; 954-357-5135

Reverend Samuel Delevoe Park, 2520 N.W. Sixth St., Fort Lauderdale 33311; 954-357-8801

Snake Warrior's Island Natural Area, 3600 S.W. 62nd Ave., Miramar, FL 33023; 954-357-8776

Tradewinds Park & Stables, 3600 W. Sample Rd., Coconut Creek 33073; 954-357-8870

Tree Tops Park, 3900 S.W. 100th Ave., Davie 33328; 954-357-5130

T.Y. (Topeekeegee Yugnee) Park, 3300 N. Park Rd., Hollywood 33021; 954-357-8811

Vista View Park, 4001 S.W. 142nd Ave., Davie 33330; 954-357-8898

West Lake Park, 1200 Sheridan St., Hollywood 33019; 954-357-5161
This is a free and renewable way to get rid of your holiday tree!

Hallandale Beach Straw Ban
Effective January 1st, the City of Hallandale Beach is implementing a ban on plastic straws as part of the "The Last Straw" campaign. This new ordinance is designed to shift away from damaging plastics and toward bio-degradable and paper straws that are much better for our environment. The ordinance bans the sale and distribution of plastic straws within the city, and the use of plastic straws on the beach. To learn more about this new rule, click here.
The new ordinance is effective as of January 1st!

Pembroke Pines Jazz Concerts
The spirit of New Orleans is making its way to Pembroke Pines with some great jazz music at the annual "Jazz in the Pines" free Sunday concerts at the Charles F. Dodge Center! Jazz in the Pines will feature outstanding performances from some of the finest jazz artists around, as well as live painting artists. This is a really great opportunity to come out and experience some fun in your city, and a chance for the kids to get exposed to some excellent music and the arts!
I hope to see you at some of these very exciting concerts!

Events at Hollywood Library
Are you looking for some fun in Hollywood to kick the New Year off right? Then come down to Hollywood Library and join in on one of the many fun events happening in your community. Hollywood Library provides a free schedule of exciting events including salsa dancing lessons, financial services, resume building and book clubs, that will spice up your life. While you are there, you can check out a good book or movie, stop by the children's learning center with the family, and use the facilities to do research on a subject you appreciate. In 2019, I hope to see all our Broward residents taking better advantage of the wonderful resources and exciting events of Broward County Libraries!
Take better advantage of your local Broward County Library in 2019!

Living Wage
Broward County voted to raise the living wage for all Broward County employees and contracted employees to $13.27 an hour with health benefits, and $14.98 without health benefits. This is a way to make sure that entities like our airport and port are in line with other major facilities throughout the country. It is also a step in setting a standard that we hope can serve as a model for all businesses and organizations doing business in Broward County. We are attempting to set a high bar that eventually leads businesses in Broward County to raise their own rate. In January, we will be tackling the issue of health care benefits at a workshop which will be held January 8th at 12:30PM in Broward County Government Room 430, 115 S. Andrews Avenue in Ft. Lauderdale.
Our hard-working employees in Broward County departments like
the airport will receive a much deserved raise.

World AIDS Day
December 1st marked World AIDS Day and served as an occasion to raise awareness and promote testing for HIV/AIDs. We have come a very long way in Broward County and in the United States in treating and understanding HIV. We still have a way to go. If you know someone living with HIV or who wants to be tested, Broward County has a comprehensive program for care and assistance. The Ryan White Part A Program has made major inroads in combatting HIV in Broward and helping more people live a healthy life after diagnosis. For more information on this helpful program, click here.

Holiday Parties
This being the holiday season, there was a multitude of holiday parties to enjoy and reflect on another very productive year in Broward County. The Broward League of Cities did a terrific job this year in ensuring valuable collaboration between Broward's 31 municipalities fighting to protect their right to Home Rule. I had a great time seeing other elected officials from both the city and county level at their celebration. I also had the pleasure of attending the Broward Days year-end party. Broward Days works every year to make sure that Broward County has a voice and active role in Tallahassee politics. It was great to hear from our newly-elected Agriculture Commissioner and former Broward Days Chair, Nikki Fried, as she spoke about her goals and plans in this new role.
It is always an exciting time at the Broward League of Cities annual celebration!


Candy Cane Parade
Every year, Hollywood takes part in a classic tradition – the Candy Cane Parade! This parade has run for over 60 years and has become an icon of the city. This year, I was happy to participate again and wave to the crowds as we made our way down The Broadwalk. Due to the new City of Hollywood ordinance regarding plastic at the beach, all candy canes were handed out instead of thrown, meaning that I missed the chance to show off my Cy Young caliber arm. But it was still a great time, with awesome floats, great bands, and a huge crowd with tons of smiling faces!
I had a wonderful time rolling down Hollywood Beach at this year's Candy Cane Parade!

Contact Us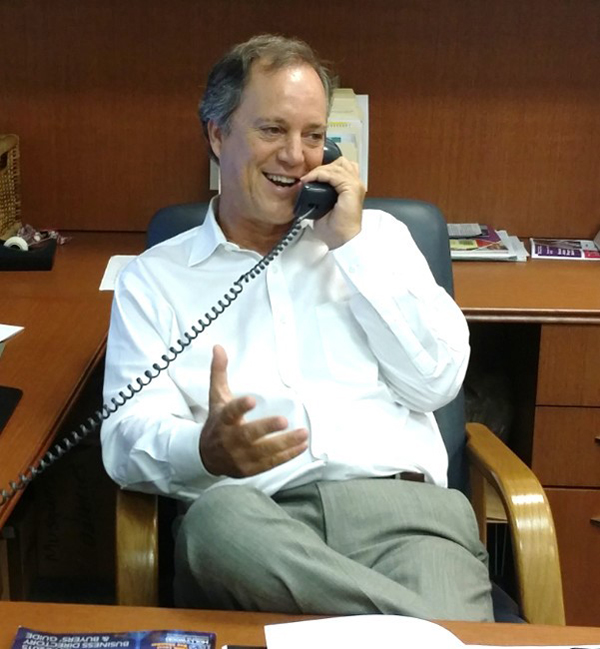 Our District office is conveniently located in the lobby of the Hollywood Branch of the Broward County Public Library at 2600 Hollywood Blvd, next to Hollywood City Hall. This office is open for your convenience Monday through Friday from 10AM to 4PM. If you would like to schedule an appointment, or you have a great idea, suggestion or an issue that needs my attention, feel free to call me at 954-357-7790 / 7006 or send me an email at bfurr@broward.org.
County Commissioner Beam Furr District 6
Broward County Commission | 115 S. Andrews Ave. Room 412 | Fort Lauderdale, FL 33301
Email - BFurr@Broward.org | Website - Broward.org | Phone: 954-357-7006