Greetings,
A new year is upon us – and a new decade! I know it will be another exciting year in Broward County, and as you'll read below, there's a lot on our list that we are looking forward to accomplishing. Read on for a "countdown" of items to kick-off the 2020s!
New Year
Auld Lang Syne! It is amazing how fast a year has come and gone. This New Year doesn't just mark a new year – it marks an entire new decade. The Roaring 2020s are here, and we have a lot to look forward to.

A new decade is an opportunity to reset and focus on our priorities as a shared Broward County community. What goals do we have as a people? What do we want to see out of government? With the 2020s just beginning, we have an opportunity to contemplate our vision for the next ten years and beyond to make Broward better than ever.

The 2020s should see government that is proactive in addressing problems. We have seen recently with pipe and infrastructure problems in places like Ft. Lauderdale what can happen if we set aside an issue for too long. We should be working to constantly identity what can be enhanced or fixed - and improving it to make this a better place to live, work, and play. Luckily, Broward County has the foundation to do that.

We can be proactive by thinking strategically and setting out clear blueprints for progress over the long-term. We have an Airport and Seaport Master Plan that will serve as the guideline to maximize growth, safety, and quality at our economic engines. This month, we hired a General Consultant for Transportation Services that will help us in crafting our transit routes and reducing traffic for years to come. We are bringing together multiple plans to best consider how to address the issue of affordable housing and homelessness in Broward County. These are just a few examples of how we can be thinking proactively while still adapting to our changing needs.

From my perspective, 2019 was a very productive year in Broward County. From the looks of things, 2020 is going to be even more exciting. I look forward to sharing that experience with you.
Many major things happened in Broward County in 2019 – including our residents standing up to say NO to oil drilling in the Everglades. Let's keep that unity in 2020!
Hollywood Housing
Hollywood just took significant steps forward in addressing affordable housing. Last year, the city signed an interlocal agreement with Broward County to allow CRA funds to be used for home rehabilitation projects and first-time homeowner programs. The idea was that we could improve neighborhoods, increase home ownership, and use these results to create a blueprint for affordable housing throughout Broward. This month, major progress was made in enacting this program in Hollywood. The County Commission passed an agreement to administer $1.5 million in funding for first-time homeowner assistance in the city. In addition, a ribbon cutting was held to celebrate the first home that was rehabilitated under the new program.

20 years ago, I worked with the owner of this house, Juliet McGriff, to organize our neighborhood and work with our neighbors to landscape nine blocks worth of Hollywood. Her house served as the staging area for us to bring together our community and make change to beautify our neighborhood. It is incredibly fitting that this major program in Hollywood is starting with her. We need to be investing in homes owned by people like Juliet to increase community engagement and buy-in from people living in the neighborhood. When people own their home and invest in rehabilitating them, they are laying down roots – and want to work to make the entire area a better place to live. This is a great start to a program that can serve as a model for the entirety of Broward County.
I was very pleased to join Juliet McGriff along with Hollywood Mayor Josh Levy for the ribbon-cutting on her beautifully rehabilitated home.

Climate Summit
This month was the 11th Annual Southeast Florida Climate Compact Summit, which brings together Broward, Palm Beach, Miami-Dade, and Monroe Counties for a regional discussion of climate change solutions. Some of the most major climate initatives in state history have come about due to this Compact and this Summit. That trend continued this year, as the Compact voted to recalibrate our Sea-Level Rise projection out to the year 2070, with over 40 inches of rise projected. This updated projection will then be considered for adoption by all four County Commissions, as well as many cities in our region. Adopting this new projection will allow municipalities to incorporate and embed sea-level rise in their planning for future development and infrastructure, which will better prepare our region for the impacts of climate change. During the Summit, as we discussed the new projections, news broke that entire neighborhoods in the Keys might have to be "given to the ocean" because of sea-level rise, with flooding beyond the point of livability. These are realities that we must include in our future policy calculations as we develop a blueprint for our future. If the Summit is any indication, we are up for the challenge.
The new sea level rise projections should be a wake-up call for action.

Transportation Op-Ed
Since the transportation referendum passed in 2018, how we will manage and improve our transportation system is a question at the top of everyone's minds. Recently, a conversation and debate has emerged regarding the role of the transportation surtax Oversight Board. I wrote an op-ed this month for the South Florida Sun-Sentinel to help clarify the intent of the Oversight Board and speak to its role in the surtax process. You can read that op-ed here. There is a way for us to allow the Oversight Board to operate with independence and diligence without building an entire separate bureaucracy. It is important to all of us that we get this right.
These are nine major corridors that will be a focus in the initial improvements under the surtax.

North Perry Airport
North Perry Airport has long been a major topic of discussion for many residents in Pembroke Pines and Hollywood. Over the past several months, Broward County has been working to approve the North Perry Airport Community Advisory Committee, which will allow residents, businesses, and other stakeholders to have input on how to make the Airport and surrounding areas the best they can be for everybody. We are currently looking for appointees to the Advisory Committee – if you are a resident in Pembroke Pines or Hollywood with a stake or interest in North Perry, please send your resume to bfurr@broward.org.
North Perry is a major economic engine for the South Broward community.

Big Read
Broward County's Big Read is one of the most exciting events our library system participates in every year – and 2020's edition could be the best yet. The Big Read is a National Endowment for the Arts Program that features events, discussions, and activities around a single book. This year's book is the brilliant choice "A Lesson Before Dying" by Ernest Gaines. A kick-off event for the Big Read will be held on January 10th at 5pm at the African-American Research Library in Ft. Lauderdale. A movie screening and paired discussion of the book will be held on January 11th at 2pm at the Hollywood Library, 2600 Hollywood Blvd. in Hollywood. See you there!
This one is definitely worth checking out!

Census 2020 Video
2020 isn't just important as an election year, or the start of a decade – it is also the year of the Census. The Census is absolutely instrumental in making our government and our democracy function. An accurate and complete count is needed to ensure that trillions of dollars in resources are allocated correctly. In addition, the Census also determines our Congressional Districts. I was happy to participate in a video on the 2020 which you can view here using the password "census123". To learn more about how the Census process is going to work, you can click here. Make sure you are and your family is counted!
Filling out the Census is of paramount importance!

Homeless Point in Time Count
Every year, Broward County completes our "Point-in-Time" count to provide a current snapshot by taking a survey of homeless residents in our community. Volunteers are needed for January 29th and 30th in order to provide the most accurate possible results! The annual count is an invaluable tool in identifying those residents who are in need of our assistance and finding out more about the challenges they are facing. The count not only tells us who the residents struggling with homelessness are in our community, but also where they are concentrated, what they are like, and why they are unsheltered. It is one of the most important elements of how we allocate resources and make a plan. If you are interested in volunteering, please contact Jessica Abou at jabou@brhpc.org or visit the Point-in-Time website.
These numbers show the results of the Point in Time Count over the past several years.

Seafarer's House
This month, I had the opportunity to tour the Seafarers' House in Broward County. The Seafarers' House is a safe, welcoming place for visiting mariners who come through our Port and our County. Many of our goods and services come because of the hard work of seafarers. The Seafarers' House provides an opportunity for mariners and their families to build a community. Thank you for giving me the chance to visit!
The Seafarers' House did a wonderful job collecting gifts this holiday season.

Backyard NatureScape Training
NatureScape Broward is a signature County program that allows homeowners to win awards for building beautiful nature into their homes and yards. For those interested in becoming more involved with improving the environment, NatureScape Broward will be hosting a special training on January 13th-January 17th for Habitat Stewards – residents who become specialists in caring for the environment and local habitats. The training will include field trips, hands-on interaction, and more. If you are interested, click here to learn more!
A map and information on Naturescapes in Broward County!

United Negro College Fund Luncheon
I was honored to attend the annual United Negro College Fund Luncheon in Broward County. For more than seven decades, the United Negro College Fund has not just provided financial assistance for students to attend college, but it has also fostered students' abilities to thrive, graduate and become leaders. The UNCF is a leading advocate for the importance of minority education and community engagement. This luncheon was very well-attended and featured powerful speeches that reminded us of the importance of access to college education. I look forward to partnering with the UNCF on initiatives that will provide access to high quality education for future leaders in our community.
I was honored to join my fellow County Commissioners and supporters from the business community at this event.

Chip-A-Tree
If you're like me, your holiday tree is still up! I am planning to take mine down this week – if you are too, don't just toss that tree out! Broward's Chip-A-Tree program is running through January 20th. If you bring in your undecorated holiday tree, it will be chipped down and used for landscaping in Broward County parks. This is a better, more beautiful way to dispose of your tree! Last year, over 5,100 trees were recycled and reused under this free program, so hopefully this year is even better. Participating parks where you can drop off a tree are as follows:
Brian Piccolo Park & Velodrome, 9501 Sheridan St., Cooper City 33024; 954-357-515
C. B. Smith Park, 900 N. Flamingo Rd., Pembroke Pines 33028; 954-357-5170
Easterlin Park, 1000 N.W. 38th St., Oakland Park 33309; 954-357-5190
Fern Forest Nature Center, 201 Lyons Rd. South, Coconut Creek 33063; 954-357-5198
Markham Park & Target Range, 16001 W. State Rd. 84, Sunrise 33326; 954-357-8868
Plantation Heritage Park, 1100 S. Fig Tree Lane, Plantation 33317; 954-357-5135
Reverend Samuel Delevoe Park, 2520 N.W. Sixth St., Fort Lauderdale 33311; 954-357-8801
Snake Warrior's Island Natural Area, 3600 S.W. 62nd Ave., Miramar, FL 33023; 954-357-8776v
Tradewinds Park & Stables, 3600 W. Sample Rd., Coconut Creek 33073; 954-357-8870
Tree Tops Park, 3900 S.W. 100th Ave., Davie 33328; 954-357-5130
T.Y. (Topeekeegee Yugnee) Park, 3300 N. Park Rd., Hollywood 33021; 954-357-8811
Vista View Park, 4001 S.W. 142nd Ave., Davie 33330; 954-357-8898
West Lake Park, 1200 Sheridan St., Hollywood 33019; 954-357-5161
Bring that tree in!

Veterans Assistance Services
You served us – now it is our turn to serve you. Broward County is helping to provide over $12 million in services to Veterans through our Veterans Assistance Programs. A specialized team of officers are on-hand to help veterans and their families get all of the benefits that they are entitled to, such as housing and education assistance. This year, Broward County has filed over 2,000 claims for these kind of benefits. To learn more, click here.
A map of locations to visit throughout Broward County for assistance.

Resilience Raffle
Now you can make your home more safe and resilient – and win prizes while doing it! The Broward Conty Environmental Planning and Community Resilience division needs your help assesing our infrastructure to better prepare for storms and floods. If you are a member of a community organization or group, take a moment to fill out this survey on hurricane response and recovery plans. This information will help a collaborative-effort to make us more resilient in the face of the next storm. All entries will be entered into the Resilience Raffle below!
Fill out the survery now to win!

Anne Hotte
The Greater Hollywood Chamber of Commerce saw a beloved leader retire this month. Anne Hotte, the long-time Executive Director of the Chamber, retired in December after years of dedicated service to our community. Under Anne's leadership, the Chamber worked passionately to grow Hollywood's economy and improve conditions for local businesses. I was proud to present her with a proclamation declaring "Anne Hotte Day" in Broward County. The Chamber remains in great hands under the leadership of new Executive Director Marie Suarez – I look forward to working together!
Congratulations on your incredible service, Anne!

Holiday Toy Distribution
The Holidays are about giving. Every year, Nadine McCrea and the Community Enhancement Collaboration (CEC) in the City of Hollywood do their best to make sure most every child in the community gets to have some joy during the holiday season. This year, the annual Toy Giveaway at Washington Park was bigger than ever, with around 100+ kids coming out to receive toys. Many community leaders were on hand to assist. There were also major toy distribution events in the City of Pembroke Pines and in Hallandale Beach. Thank you everyone who gave back this holiday season at this and other volunteer opportunities throughout Broward County.
Nadine McCrea seated with local activist Kris Kringle.

Candy Cane Parade
Every year, Hollywood takes part in one of the best South Florida holiday traditions– the Candy Cane Parade! This magical journey down the Boardwalk has run for over 60 years and has become an icon of the city. This year, I was happy to participate again and wave to the crowd. We must have set a record for the most Candy Canes we have ever passed out! As always, it was a great time, with awesome floats, great bands, and a huge crowd with tons of smiling faces!
Contact Us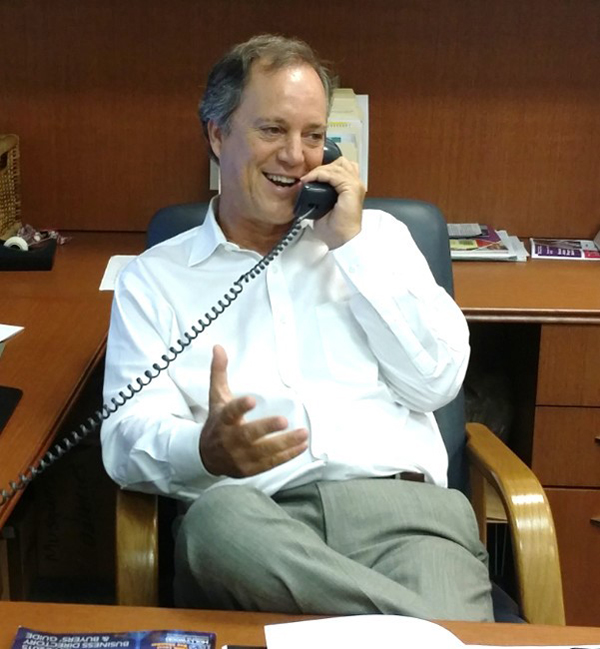 Our District office is conveniently located in the lobby of the Hollywood Branch of the Broward County Public Library at 2600 Hollywood Blvd, next to Hollywood City Hall. This office is open for your convenience Monday through Friday from 10AM to 4PM. If you would like to schedule an appointment, or you have a great idea, suggestion or an issue that needs my attention, feel free to call me at 954-357-7790 / 7006 or send me an email at bfurr@broward.org.
County Commissioner Beam Furr District 6
Broward County Commission | 115 S. Andrews Ave. Room 412 | Fort Lauderdale, FL 33301
Email - BFurr@Broward.org | Website - Broward.org | Phone: 954-357-7006