Greetings,
February may be the coldest month of the year, but that's not true in South Florida – especially with so many items heating up the agenda in Broward County. Spring is nearly here, so read on to find out what is in store as we "march" toward another busy month!

Everglades Oil Drilling
We received extremely disappointing news that a permit has been granted to drill for oil in our precious Broward Everglades. This disconcerting decision could impact our health, safety, and water quality. But we are not taking this lying down. We are encouraged, however, that the Florida Department of Environmental Protection is appealing the permit to drill oil in our Everglades, and Broward County is joining this suit and leading the fight to protect our most precious resource, our drinking water. This happened because community members from around Broward rose up. Leaders and organizations took part in a press conference in response to this dangerous attack on our Everglades. Many of our residents heeded the call and picked up the phone to let Governor DeSantis and the FDEP know they want no drilling. Time after time, Broward's residents have clearly shown they will fight to protect our environment and our water.
Miramar Mayor Wayne Messam and representatives from the Sierra Club and Democratic Environmental Caucus joined me at this important press conference.

Pinnacle at Peacefield
The ribbon was cut at the new Pinnacle at Peacefield development on Adams Street in Hollywood. While we usually don't highlight individual developments, this project has a particular place in my heart. When I first began as a City Commissioner in Hollywood back in 2000, this section of land in my neighborhood was overrun by drugs, broken homes, and poor conditions. One of my very first priorities was to replace the substandard housing at this location and improve this area so our residents could live in a safer, better place. Many options were considered over the year, and the substandard apartments were finally razed, leading to an 88 percent drop in crime. But a permanent solution that would provide more housing was still needed. It has been a very long time coming, but that solution is finally here with the Pinnacle at Peacefield. This is an affordable senior housing development that has modern, well-designed units, clean energy capability, and adaptability. Thank you to the people who have persevered over the years to get this done. Good things come to those who wait.
This project is a long time coming.

Broward Waterway Cleanup
Every year, residents from around Broward participate in the annual Broward County Waterway Cleanup. This event brings together dozens of volunteers to clean out our precious waterways and prevent the buildup of trash in these natural resources. The quality of our water is fundamental to what makes Broward County tick, and we need to keep that water clean to ensure that Broward continues to be the best possible place to live and visit. This is your chance to get involved! This year's cleanup will be held Saturday, March 2nd from 9am to 2pm in locations throughout Broward. To learn more and sign up, click here.
Last year had a record number of volunteers – let's clean up even more this year!

Oversight Board
When voters approved our major transportation surtax referendum in November, we made a promise that all taxpayer dollars spent would be thoroughly vetted and put through a rigorous approval process. I am glad to say we are off to a great start and have laid the foundation for a smooth, transparent process. This month, the Oversight Board that will vet all transportation surtax projects was officially formed and they have started having very productive meetings. This Board is made up of members from all walks of life, and I think they will do a great job vetting projects from all perspectives. I will keep you updated as more information is available on the surtax projects!

Coral Presentation
Protecting our coral reef is paramount to the future of South Florida's environment, and it is critical that Broward County works with our Miami-Dade partners on this issue. That is why I joined with other activists earlier this month to make a presentation on the reef and various diseases impacting it to the Miami-Dade County Commission. We share a reef that runs all the way from Martin County to the Keys. This reef helps sustain our ecosystems and boosts our economy. We must continue to develop regional solutions to help protect our regional treasure. This will be one of our top priorities going into this next state legislative session.
It was a pleasure to join Joanna Walczak and other activists in educating the Miami-Dade Commission about coral diseases

GO Bond Hollywood
March 12th marks municipal elections throughout Broward. There are several very important questions on the ballot in Hollywood. Voters will have the chance to approve General Obligation (GO) Bonds that will have a major impact on efforts to improve the city in the coming months and years. The vote will include $23 million in important resiliency projects, as well as major public safety upgrades and significant renovations to our parks and community centers. The plan is an investment in Hollywood's future, and it provides a path forward for greater economic development, community enhancement, and public safety.
You can learn more about the "Let's GO Hollywood" improvement proposal here, including viewing projects in your neighborhood. Residents will vote this March as part of a special election open to all registered voters in the city. You will vote at your normal polling place, and just need to present your ID!
Hollywood City Commissioners and organization leaders cut the ribbon on the Let's GO Hollywood campaign.

Legislative Priorities – Broward Days
Every year, at the beginning of the state legislative session, Broward County Commissioners make their way to Tallahassee to make our voices heard when major issues are considered at the state level. This year, I will be joining the Broward delegation at Broward Days March 12th and 13th to advocate on behalf of our residents. You can read all about Broward County's legislative priorities here, but one that I want to highlight is affordable housing, which we know is perhaps the most important issue to many of our residents (and people looking to move here). For the first time, we feel there is a chance that a large percentage of the dollars we send to the state to fund the Sadowski Affordable Housing Trust could be returned to Broward County so we can implement our own projects. We are working on affordable housing at the local level, as demonstrated by the article below about affordable housing in Hollywood, but we need to work with our state partners to make sure we maximize the opportunity.
Last year, I had the opportunity to speak at a panel at Broward Days, and I look forward to participating again this year.

Housing Kickoff – Hollywood
Hollywood is set for significant affordable housing projects that could be a model for the rest of the County. After a deal was struck between the City and County last October, the City Commission has now approved the guiding principles to allow some CRA funds to be used in areas of the City for home and neighborhood rehabilitation. The deal between City and County will redirect money from CRA areas that are doing well to areas outside of the CRA that need housing help now. Many CRAs are about to expire in Broward, and this could be a great way to think about their future and how to use funds to increase affordable housing. I am looking forward to seeing new housing opportunities in Hollywood very soon.
A map of the areas where affordable housing funding will be used.

Conservation Pays
Saving water is something we should all be striving for. Now you can do it while winning cash and prizes! Broward County is partnering with cities throughout Broward on the Conservation Pays game, which awards prizes to residents who conserve the most water. You can go online and complete surveys, quests, and trivia contests about water and how you use it, and win points that can be redeemed for some awesome prizes! This is part of Broward County's larger commitment to maximize the water we can save, which will have positive impacts on the environment and help us combat climate change. To learn more, click here.
Play Conservation Pays and Win!

Black History Month
Throughout the month of February, Broward County libraries had Black History Month programming that illuminated forgotten leaders of black history and explored this year's theme of African Migration. This programming occurred throughout the entire County and offered our residents the chance to get hands-on with history, watch incredible performances, and learn from fascinating guest speakers. We hope that this programming inspires our residents to check out books and special collections from our library that expands their knowledge.
Student-leaders in Hollywood participated in the Talented Tenth Poetry Slam and really impressed!

Countdown to Kindergarten
It may seem hard to believe, but the class of 2032 will soon be making its way to Broward County schools! This month is the always exciting Countdown to Kindergarten event, which welcomes Pre-K students and their parents as they prepare to set off on that incredible journey called the start of elementary school. This year's event is on March 9th at 10AM at Parker Playhouse, 707 NE 8th Street in Fort Lauderdale. Last year was really fun, I got to meet a new piglet friend! There are still a few seats available. If you know of a student entering Kindergarten in the Fall, call 754-321-1953. I hope some of you will join us this time around!
I made a new friend last year!

Groundhog Day
Every year our favorite groundhog Hollywood Phil pops up and looks for his shadow. And every year the answer is the same: six more weeks of tourism! That being said, we still love the tradition of Groundhog Day on Hollywood Beach! This year, Phil did not see his shadow, meaning that we are in for an early spring. I think most of us agree that spring has already sprung here, but that's okay. This event was still a great time, and it raised money for a great cause of sending our lifeguards to train and compete. Thank you to all who attended!

Hallandale Beach Job Fair
Resident of Hallandale Beach? Join Vice Mayor Sabrina Javellana at the first annual Jobs and Careers Fair on Thursday, March 28th from 10AM to 2PM at the Hallandale Beach Cultural Community Center, 410 SE 3rd Street in Hallandale Beach. This event will feature employers from around the County with valuable workshops and opportunities to meet and discuss employment options available right now. You don't want to miss out!

Senior Championships
On your mark, get set, fun! The City of Hallandale Beach Senior Championships are recreational games and activities for men and women ages fifty years and older. The activities are organized to be fun and a great way to meet other people and have an exciting experience. They will be held March 4th to March 8th starting at 9AM at Hallandale Beach Parks and Recreation Department, 410 SE 3rd Street in Hallandale Beach.

MERGE Virtual Reality Headsets – Hallandale
There is an incredible new technology available at our Broward County Libraries in the MERGE Virtual Reality Headsets. These amazing headsets allow users to go hands-on and interactive in ways never before seen with NASA, Google, Disney, National Geographic, and more. This is a fun and illuminating activity for the whole family! The headsets are available in District Six at the Hallandale Beach Library, 300 S. Federal Hwy in Hallandale Beach. For more information, click here.
You have to check these virtual reality headsets out!

COOPPA Installation
It was my honor to install the 2019 Executive Board at Century Village Pembroke Pines (COOPPA). Century Village is one of the largest, most diverse, and most influential communities in all of Broward County. Despite its size, it runs like a well-oiled machine because of the hard work of the Officers, Executive Board and others. These citizen leaders are critical in keeping COOPPA safe and strong. I look forward to working with the new officers on many new issues.
From left to right: Maria Mas, V.P., Janet Levin, Exec. Secretary, Wendell Ensey, President, Sunny Friedman, V.P.

Pembroke Pines Relay for Life
Every year, cities around Broward participate in the annual Relay for Life to raise money for cancer research, and few cities do it as big as Pembroke Pines. This year, Pembroke Pines will host Relay for Life on April 5th and April 6th at 6PM at Walter C Young Middle School track, which is located at 901 NW 129th Ave. For more information about how to get involved, click here.
A huge crowd was in attendance last year for Relay for Life!

Ambassador Lunch
I had the pleasure of speaking at the Ambassador Lunch held by the Hollywood Beach Civic Association and various condo groups this month about the important issue of resiliency. For those who live near to our beach, building resilient infrastructure is critical to the future. This is not just a safety issue. This is an economic issue, as resiliency has a direct impact on property values and bond rates. We cannot let this issue fall by the wayside – it has to be a top priority in 2019 and beyond. Thank you for inviting me and thank you to Frank De Risi for putting on a great event.
It was packed crowd at this year's Ambassador Lunch!

St. Patty's Day
One of our favorite Hollywood traditions is right around the corner! The St. Patrick's Day Parade winding its way through downtown Hollywood will be on Saturday, March 10th at 1PM. This parade brings out floats and performers from all walks of life, and is always a great time. The route runs down Hollywood Boulevard and Harrison Street as well as parts of Dixie Highway, so get here early to line up. And wear green!

Sandra Bernard Bastien
I would like to congratulate our friend Sandra Bernard-Bastien for being recognized by the City of Tamarac as a Champion of Community Involvement during the City's celebration of Black History Month. Sandra has worked for the Children's Services Council since its inception in 2001. She has served as the Chief Communications Officer for the past six years. As a Council member, I know of Sandra's work throughout Broward County. This proclamation was well deserved!
Congrats, Sandra!

Stoneman Douglas Anniversary
February 14th marked the one-year anniversary of the tragedy at Marjory Stoneman Douglas High School. We remember the 17 lives who were taken from us and we continue to grieve and pray with their families and loved ones. Many memorial events were well-attended, including the first Chris Hixon 5k Run in Hollywood, which raised thousands of dollars for a great cause. Mr. Hixon was the Athletic Director when my daughter played sports at South Broward, and it is easy to see why so many people were inspired by his courage. Thank you to everyone who participated.
Out of this tragedy rose the voices of students who continually inspire and enlighten us. These students are more than just testimonies of strength – they deserve to be treated as real political leaders, in charge of a movement for substantive policy change. The last year has seen a real sea of change when it comes to gun policy, largely because of these student-leaders. We must keep up that momentum. We cannot allow time to pass and forget about the urgent need for change, and the thousands of brave students fighting for it. Let's keep working with them to make our community safer.

Contact Us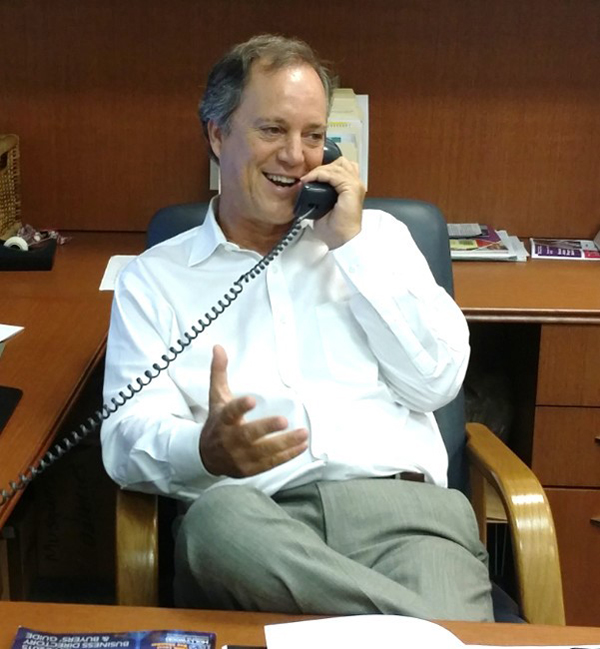 Our District office is conveniently located in the lobby of the Hollywood Branch of the Broward County Public Library at 2600 Hollywood Blvd, next to Hollywood City Hall. This office is open for your convenience Monday through Friday from 10AM to 4PM. If you would like to schedule an appointment, or you have a great idea, suggestion or an issue that needs my attention, feel free to call me at 954-357-7790 / 7006 or send me an email at bfurr@broward.org.
County Commissioner Beam Furr District 6
Broward County Commission | 115 S. Andrews Ave. Room 412 | Fort Lauderdale, FL 33301
Email - BFurr@Broward.org | Website - Broward.org | Phone: 954-357-7006