Greetings,
The last bit of cold spells are starting to fade already, and we are getting out the beads and green beer for St. Patrick's Day! As winter moves towards spring, the County Commission continues to stay busy making Broward County the best place to live, work, and play. Here are some items to watch as we "march" into the next month.

Closest Unit Response
Broward County is launching a very important component in our emergency communications infrastructure, as we roll out a system of "Closest Unit Response" with six Broward County cities participating by the end of the month. Closest Unit Response means that in a life-or-death situation, dispatch will send out any equipped, capable and available fire rescue vehicle within 2 minutes of the emergency, even if they are from a different municipality. For example, if someone has a heart attack in Hollywood, but the closest first responder is fire rescue from Pembroke Pines, that unit will be dispatched to help the person in need. This new system will save many lives in the years to come by making our process much more efficient and capable of responding to emergency needs. Closest Unit Response was first approved by county voters in 2002. This step is a culmination of years of planning, coordination, and training. It's anticipated all municipalities participating in the Regional 911 system will be online by the end of 2021. We are all glad it will be in place and saving lives in Broward County.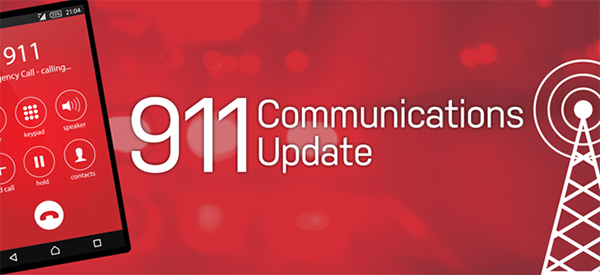 This is a transformative update to our 911 Communications System.

Student Volunteer Brochure
Over the past several months, my office has worked to produce a Student Volunteer Brochure to give our public high school students opportunities within Broward County government to complete their service hour requirement for graduation. The brochure features volunteer opportunities available to high school students throughout various Broward County departments. For example, the Brochure includes information on fostering an animal or volunteering at Broward County Libraries or serving as an Ambassador at our airport. The Brochure is laid out in an accessible way with contact information for each department and a copy of the form required for students to fill out prior to receiving service hours. This Student Volunteer Brochure will help identify ways to volunteer so that they can meet or exceed their minimum 40 hours of service requirement, while at the same time doing good for their community. Young people who participate are also getting a chance to explore career options and through their experience, learn about the services that County government provides. You can view a copy of the Brochure here.
We have printed and distributed 3,000 copies of the Brochure for Hollywood Hills High School, South Broward High School, and McArthur High School. At our most recent County Commission meeting, I presented the Brochure to my fellow Commissioners, who loved the idea and plan to bring it to high schools in their own district. Hopefully, we see many students take advantage of these opportunities moving forward!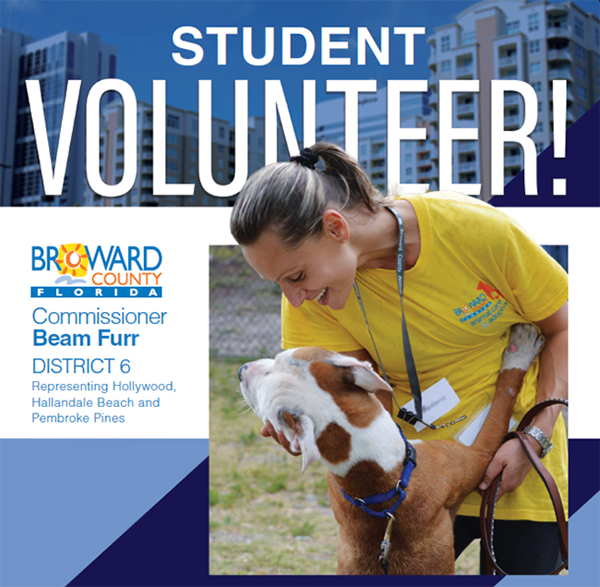 Senior Tax Exemption
Tax season is here! Broward County has officially approved an additional $25,000 homestead exemption for low-income seniors. The increase will boost the maximum exemption for low-income seniors (65 and older) to $50,000. This new exemption will help keep seniors in their homes and save them money to live a better life here in Broward County. Over 10,000 homes are expected to be eligible under this new exemption. To find out more about this exemption and other exemptions you may be eligible for, click here.
Other Exemptions
Some of the exemptions available to residents in Broward County.

Express Bus Service
All aboard! Broward County has officially launched five new state-of-the-art buses for our Express Bus service on I-75, going from the BB&T Center all the way to Miami International Airport. These new buses are a beautiful addition to our fleet, featuring high-speed Wi-Fi, better seats and amenities, and greater fuel efficiency. If you happen to catch one, you will be riding in style. Don't get stuck in all that Miami traffic – get out of your car and take advantage of the transit options Broward County is proud to offer.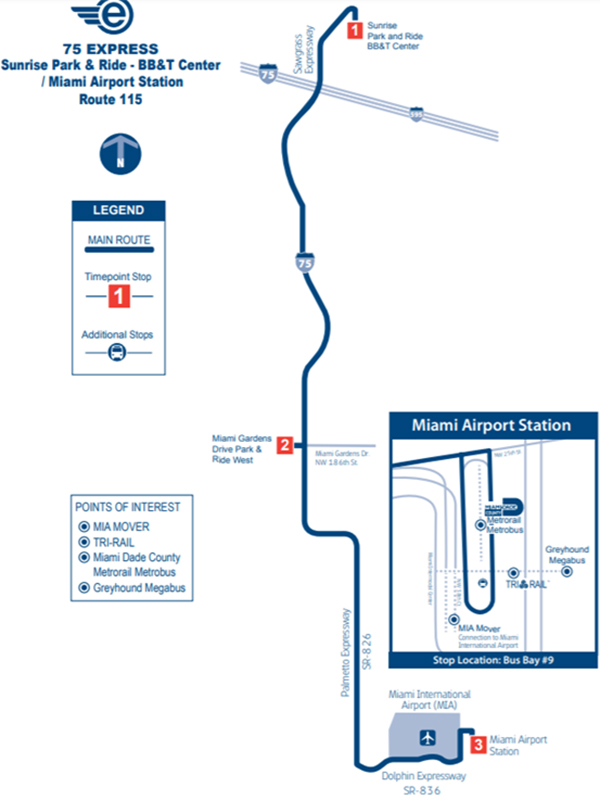 A map of the express bus service to Miami International Airport!

Surtax Projects
This month, surtax-funded staff at the Broward Metropolitan Planning Organization (MPO) released their rankings of municipal-requested capital surtax projects. As part of our Broward County transportation surtax referendum process, municipalities in Broward County submitted over 700 capital, rehabilitation, and maintenance projects specifically dedicated to improvements in their city. Over $100 million has been set aside over the next year to help implement some of these improvements. The city projects list includes many projects in District Six that are expected to increase multi-modal mobility and reduce traffic, including an extension to Pembroke Road that will likely have major positive impacts in both Pembroke Pines and Hollywood. You can view a list of projects by municipality by clicking here. As part of the Penny for Transportation implementation process, you will soon see an annual report from the Oversight Board that describes the expenditures and progress Broward County is making as we roll down the road towards major improvements. Stay tuned!

The rollout of municipal surtax projects is a major step in this process.

COOPPA Installation
Century Village Pembroke Pines is one of the bedrock institutions of our Broward County community. I was honored to have the opportunity to help install the new board and officers of COOPPA, which does such a terrific job leading the Century Village community and making sure that the residents have access to all the resources and information they need to make the most of their experience! Thank you for the opportunity to attend this "Dinner Dance" - I look forward to another very productive year working together.
Congratulations to the new COOPPA board and officers!

Southeast Florida Transportation Council
I am very glad to have the opportunity to serve as Broward County's representative to the Southeast Florida Transportation Council. This is the body that brings together the Broward Metropolitan Planning Organization with the Palm Beach Transportation Planning Agency and Miami-Dade Transportation Planning Organization for regional collaboration on mobility issues. This month, I attended my first meeting, which was very productive. One issue that was a topic of significant discussion was how we can improve north-south connections to leverage for funding, especially among University Drive/441 through the three counties. We also need to think about transit expanding interoperability across the three counties, especially when it comes to tickets and mobile apps. You should be able to use one ticket to get around in Broward, Palm Beach, and Miami-Dade County. By streamlining the process to get on and off buses wherever you are, more residents will want to participate in public transit throughout the region. We are not yet at our goal of full interoperability, but I am glad to hear we are making some progress!
I am looking forward to working with my fellow regional representatives from each County on SEFTC – Mayor Oliver Gilbert of Miami Gardens represents Miami-Dade County, and Mayor Maria Marino of Palm Beach Gardens represents Palm Beach County.

Angelo Castillo Honored
I was pleased to present a proclamation from the Broward County Commission to Pembroke Pines Commissioner Angelo Castillo, who was honored by the Jewish Center of Pembroke Pines, at their Anniversary Dinner on Sunday, February 16th. The day was recognized by the County as the Pembroke Pines Jewish Center 1st Journal Day, and joined with them in honoring Commissioner Castillo. The Pembroke Pines Jewish Center is a Broward County institution, and it was a great pleasure to have the opportunity to honor Commissioner Castillo at this event.
Thank you for all your hard work, Commissioner Castillo!

SBHS Beautification
Go Bulldogs! South Broward High School students and parents were hard at work this month for the first ever SBHS Beautification Day. More than one hundred volunteers joined together to spruce up the main entrance to the school with a fresh coat of paint, fresh mulch and the replacement of old landscaping with new native plants and bushes. This hard work went a long way towards making the school a more inviting place to visit and to learn. Thank you to all the volunteers!
Students were hard at work making South Broward a more beautiful place to learn.

Environmental Justice Symposium
As climate change becomes more and more pressing of an issue for Broward County, it is important to think about how we will combat the impacts and build resilience in a way that is equitable for all of our residents, not just the wealthiest among us. I was very glad to have the opportunity to present at the first-ever Environmental Justice Symposium at Broward College. We had the chance to discuss all that Broward County is doing to lead the fight against climate change and make a substantial difference right here on the local level. When we talk about environmental issues, it is poor and marginalized communities that are the most impacted. For example, residents in poor communities are the ones who are going to have the least resources to protect their homes from rising sea levels. That is why our Climate Change Task Force has an equity subcommittee that ensures those issues are taken into account when we are looking at flood maps, mitigation, adaptation needs, and more!
Thank you to Broward College for letting me speak about what Broward County is doing to build resiliency.

Solid Waste Working Group/Waste Management
Residents were rightfully concerned given the breaking news that Waste Management will no longer collect recycling in Broward County. While Waste Management has since walked back that decision, there is still reason to be concerned. Residents want to be able to recycle their paper in Broward County – and they certainly did not expect to potentially lose this privilege so quickly and with virtually no notice. This saga is just another illustration of the need for a comprehensive solid waste system in Broward County. Over the past several months, our Broward County Solid Waste Working Group has been working to get us to the point where we can have a comprehensive system and take care of this very important issue. The reaction that we are seeing from residents to this news is proof that people really do care about having a real solid waste system with recycling options. The next meeting of the Working Group will be March 16th, where we will discuss governing structures. We will keep residents posted as we move through this process.

We are hard at work making sure that Broward County residents have the recycling options they deserve.

Ocean Day
Ocean Day is almost here! The Cities of Hallandale Beach and Hollywood are co-hosting Ocean Day on March 28, 2020 at the Hallandale Beach Community Center. Ocean Day is a full day educational experience that will feature panel discussions about topics like seaweed blooms, corals in crisis, careers in marine science, lionfish and low-or-no nutrient landscaping, as well as fun activities and eco-friendly vendors. We are only in as good of condition as our oceans are. Our highest priority should be taking care of the oceans that sustain our society. We hope to see you there! For more information, click here.


TY Park Water Reuse
After years of planning, Broward County has received a major grant to develop a water reuse system at TY Park in Hollywood. The water reuse system would construct a water reclamation line for water delivery into TY Park from the ocean outfall, to the tune of .463 million gallons a day! This is a major regional project designed to save water that would otherwise be disposed offshore, to be reused for irrigation. This $500,000 grant will pay a substantial cost for the construction of this system. This is great news!
This water irrigation system will be a big benefit for TY Park!

Rebates and Grants
Broward County has received large ($100,000 each) grants from the South Florida Water Management District to increase two programs for water conservation. The Conservation Pays toilet rebate program encourages and incentivizes residents to switch to more water efficient toilets. Estimates are that millions of gallons of water are wasted every year in Broward County from toilets that are over 1.28 gallons per flush! You can learn more about it by clicking here. We also received a grant for the NatureScape Irrigation Program, which you can learn about by clicking here. This program encourages and incentivizes residents to invest in conservation friendly home and lawn irrigation methods. NatureScape is one of Broward County's most prominent environmental programs, and the irrigation element is responsible for saving thousands of gallons in water every year.
Call now about your toilet rebate!

Waterway Cleanup
Every year, residents from across Broward participate in the annual Broward County Waterway Cleanup! This event brings together over 100 volunteers to clean out our precious waterways and prevent the buildup of trash in these bodies of water. The quality of our water is fundamental to what makes Broward County attractive, and we need to keep that water clean in order to ensure that Broward continues to be the best possible place to live and visit. This is your chance to get involved! This year's cleanup will be held March 7th from 9am to 1pm in locations throughout Broward. To learn more and sign up, click here.
Hope to see you at this year's Waterway Cleanup!

Voting – March 17th!
Election day is almost here! Don't forget to go vote on March 17th in the Presidential Primary. If you live in Pembroke Pines, you also have municipal elections on that day for Mayor and several Commission seats. Exercise your right to vote and let your voice be heard!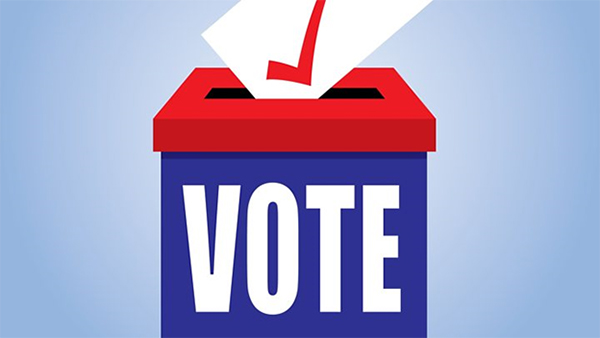 Mayor Justin Flippen
Broward County is saddened by the sudden death, at the young age of 41, of Wilton Manors Mayor, Justin Flippen. Mayor Flippen was an excellent leader for the Wilton Manors' community. He was a trailblazer for Florida's only all-LGBTQ Commission. Above all, Mayor Flippen was incredibly kind, hard-working, and caring. It was a pleasure to have known him and a genuine joy at each occasion I had to work with him. I had the chance to speak with him just a few days before he passed, and he was proud of the work that was getting done in his community. He will be sorely missed.
Contact Us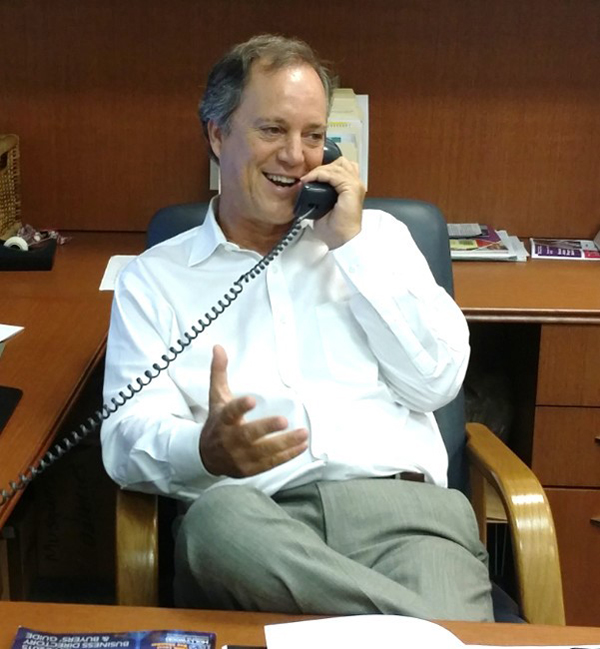 Our District office is conveniently located in the lobby of the Hollywood Branch of the Broward County Public Library at 2600 Hollywood Blvd, next to Hollywood City Hall. This office is open for your convenience Monday through Friday from 10AM to 4PM. If you would like to schedule an appointment, or you have a great idea, suggestion or an issue that needs my attention, feel free to call me at 954-357-7790 / 7006 or send me an email at bfurr@broward.org.
County Commissioner Beam Furr District 6
Broward County Commission | 115 S. Andrews Ave. Room 412 | Fort Lauderdale, FL 33301
Email - BFurr@Broward.org | Website - Broward.org | Phone: 954-357-7006