Greetings,
It's February! This month we celebrate Black History and we celebrate love. The year is young but we are off to a busy start here in Broward County, and the County Commission is hard at work on some of the most important issues facing our County. Read on for news you can use.
Oil Drilling in Everglades
Great news for our Everglades! This month, the State of Florida purchased and became the property owner of 22,000 acres smack in the middle of the Broward Everglades in order to prevent the land from being drilled for oil by a private company. This protects not only the integrity of the Everglades, but our drinking water supply as well. We have been hearing about this battle over this site in our Everglades for many months now – and we are all glad to see it end with a victory for the people of Broward County. This result came about due to the combined efforts of the Broward County Commission, which voted to ban fracking and introduced litigation, together with Pembroke Pines, Miramar, and other cities that passed supporting resolutions, and the many environmental groups like the Sierra Club that educated and elicited support from the general public. When we team-up like this, we can affect major change.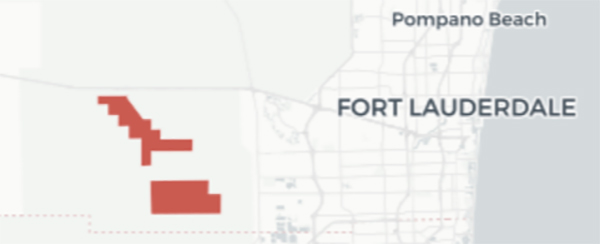 The area in our Everglades that was purchased and protected from oil drilling by the State.
EPermits One Stop
Do you ever need permits for work on your house or property – but you are tired of waiting in line or driving far to get them? If you live in Hollywood, that drive can be a thing of a past! The city has officially become the second municipality to take part in the Broward County EPermitsOneStop program, which allows for easy online application for permits. I expect other cites to sign-on soon. This is a centralized website that allows your permit to be reviewed and approved online without a drive to Government Center. This is a much quicker and more seamless process! Check out the website here.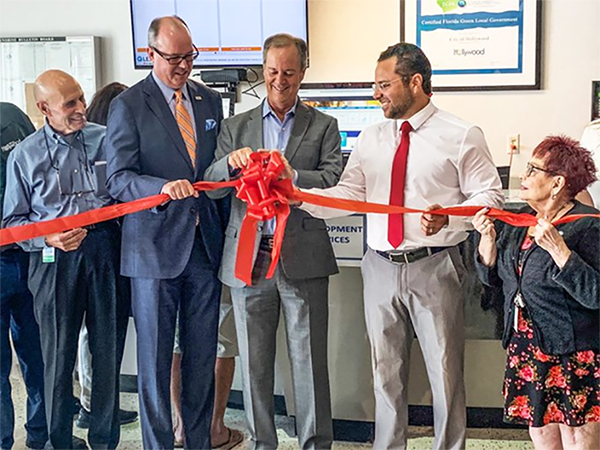 I was glad to join County Commissioner Lamar Fisher along with Mayor Josh Levy and Hollywood Commissioners Linda Sherwood and Dick Blattner for this event.

Convention Center
The Broward County Convention Center is expanding. We have booming economic engines with our Port and our Airport, record tourism, and low unemployment. It is only natural that Broward County take the next step by upgrading to a state-of-the-art convention center. The new Convention Center will feature upgraded and expanded facilities for conventions and conferences as well as a world-class hotel. I look forward to watching this expansion drive continued growth in Broward County!
A design rendering of the new Convention Center Hotel!

Youth Climate Summit
The year kicked off in inspiring fashion as hundreds of Broward County public school students participated in the county's second-ever Youth Climate Summit. The Summit featured workshops on science, civics, transportation, and much more. The workshops educated students on the different factors that impact our climate policy and how they could affect change. It was heartening to see so many enthusiastic students mobilize for an entire day centered on climate change. There is real energy from young people on environmental issues, and for good reason – they'll face the impacts of climate change more than any other generation before them, and their futures will be directly impacted in so many ways. We as elected officials would do well to listen to these young leaders and take action to preserve our home for their generation and generations to come.
Students check out drones used for experiments at the Youth Climate Summit.

Paris to Pittsburgh
Climate change is an issue that will impact all of us – no matter where we live or what we do for work. This month, I had the opportunity to speak at a showing of "Paris to Pittsburgh" – a new documentary focused on global climate change activists. This event was targeted to students at Broward College and hosted by the Democratic Environmental Caucus of Broward County. The title of the film is in reference to Donald Trump's quote upon pulling the United States out of the Paris Climate Accords - "I was elected to represent the citizens of Pittsburgh, not Paris." The film is an effort to refute that sentiment that Americans do not care about climate issues or the Paris Accords by focusing on the impacts of climate change in cities like Pittsburgh – and the grassroots activists leading the charge. The Mayor of Pittsburgh has promised residents he will continued to uphold the goals and values of the Paris Climate Accords. In fact, much of the change and effort on climate change is being made by local mayors and commissions. This movie is definitely worth checking out!
I was glad to join Dr. Samantha Danchuk for this event.

FEMA New Maps
Residents throughout coastal Broward are rightfully concerned about flooding, especially in light of the major flood event we had at the end of the year that impacted Hollywood and Hallandale Beach. The Broward County flood maps have just received an update that projects flood risk for individual homes and neighborhoods. With these new flood maps have also come new projections for flood insurance rates. FEMA and Broward County are teaming up for three Flood Risk Open House events which will give residents the opportunity to learn more about their risk from flooding and how their insurance may be impacted. An open house for the east side of District Six will be held February 6th at 4pm at Anne Kolb Nature Center inside the Mangrove Hall.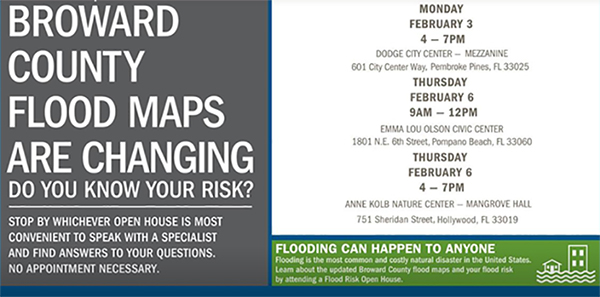 This open house is definitely worth checking out.

Adopt a Sweetheart
Looking for a perfect Valentine's Day companion? Come out to the Humane Society's annual "Adopt a Sweetheart" event! Adoption prices will be cut in half and all of these loving furry friends with be looking for a new home. They also feature free spay/neuter and vaccinations for all adopted pets. The event will be held February 14th – 16th at the Humane Society of Broward County, 2070 Griffin Rd. in Ft. Lauderdale.
One of the very good boys that will be up for adoption at this event.

New Bus Service
The Broward County transportation surtax is starting to pay very real dividends – especially when it comes to our bus service throughout Broward County. This month, Broward County transit revealed their new look and improved bus service, which includes mobile ticketing, WiFi on all buses, and expanded daily service with shorter wait times, including extensive new Express bus service. We are all glad to see this progress as Broward County Transit works to improve and innovate! Stay tuned for more updates!.
This ribbon cutting marks a new era for transit in Broward County!

Hallandale Beach – BSO
The City of Hallandale Beach just took a major step on public safety! The Hallandale Beach fire rescue department has now officially merged with the Broward Sheriff Fire Rescue team. This will allow for greater coordination and efficiency. I know the City is very excited about this development, and I know this new step will make Hallandale Beach and Broward County a safer place to work, live, and play! Congratulations!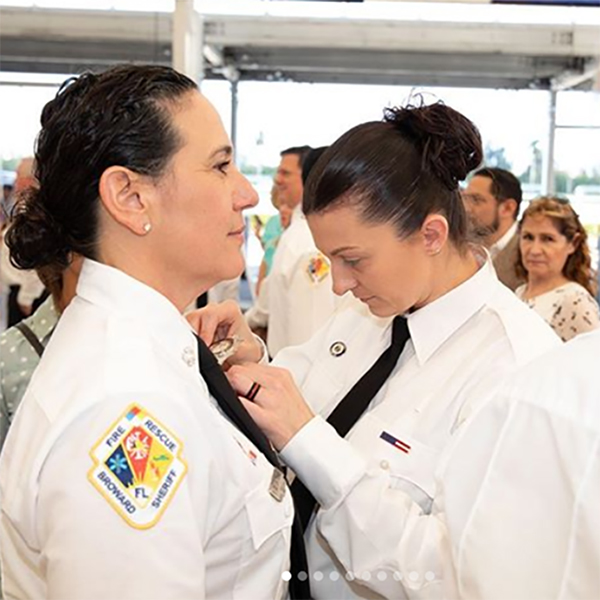 Hallandale Beach welcomes Broward Sheriff Fire Rescue!

Black History Month Poetry Slam
February marks Black History Month, and dozens of events are being held throughout the County to honor and celebrate it. One of them is in Hollywood at the 4th Annual "Talented 10th Poetry Slam"! High school students are invited to participate in this exciting event, where they will present poetry celebrating African-American history and reflecting on this year's poetry topic "African-Americans and the Vote" – a very important theme in this election year. The event will be held Thursday, February 11th at 5:30pm at Hollywood City Hall, 2600 Hollywood Boulevard, 33020. You can submit your poem here and compete for some awesome prizes!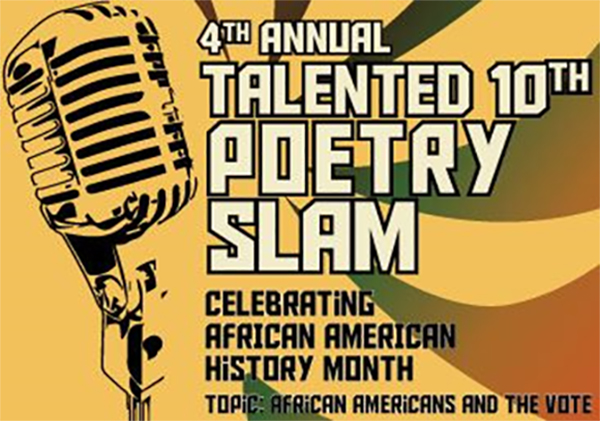 Hope to see you at the 4th Annual Talented 10th Poetry Slam!

Hallandale Chamber Board Installation
Congratulations to the Hallandale Chamber of Commerce on the installation of their new Board of Directors! The Hallandale Chamber is a relatively new organization, but in their short time in existence, they have become a powerhouse in the community. I look forward to watching the organization continue to grow and promote economic development in the growing city! Congratulations!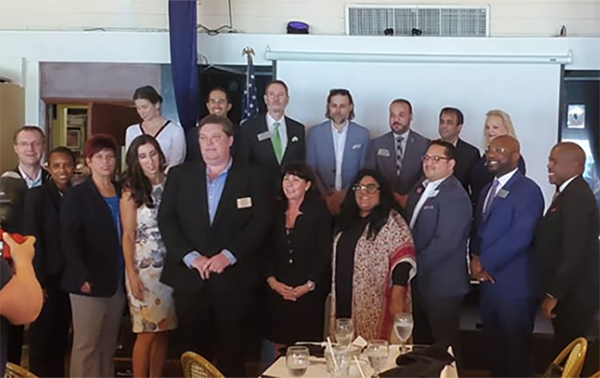 Young Israel Chabad
This month I attended the 30th Anniversary of the Young Israel Chabad in Century Village Pembroke Pines. I was very humbled to have been selected as the Special Guest of Honor for this event alongside Rabbi Joel Bagley and Tova Ben Yehouda. Although Young Israel Chabad is located inside Century Village and primarily serves Century Village residents, they are increasingly serving the surrounding community as well. Rabbi Bagley played a major role in the construction of the building nearly twenty years ago. In accepting his honor, he gave an account of his brave service during World War II. He still serves as an active member of the Board of Directors. Also honored was Tova Ben Yehouda, who was treasurer of the Shul for many years and continues to serve as an active member of the Board of Directors and Treasurer of the Sisterhood. The affair was well-attended and featured many elected officials and representatives. I look forward to a continued relationship with the Chabad.
Congratulations to Young Israel Chabad on the 30th Anniversary!

Hollywood Neighborhood Pride Work Skills Training Program
Hollywood residents! The city will be launching the first ever Works Skills Training Program as part of the Hollywood Neighborhood Pride Program. If you are a Hollywood resident looking to gain skills that could assist in gaining employment opportunities, these classes are well worth checking out. To learn more, you can click here.

North Central Civic Association
The North Central Civic Association is one of Hollywood's most active groups, and I was glad to have the chance to speak about all the progress that Broward County has been making. This includes our record-breaking growth with the Port and Airports! I was able to help answer some of the concerns about the Sunset Golf Course property – stay tuned for further updates on that important subject. Thanks to President Patricia Antrican and the rest of the group for having me!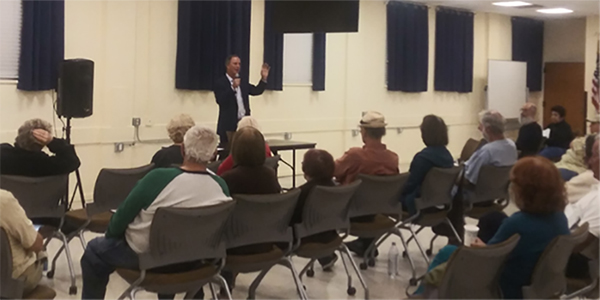 It was a great crowd – thank you for having me!

Ocean Day
Come out to Ocean Day to celebrate our incredible South Florida seas! The Cities of Hallandale Beach and Hollywood are co-hosting Ocean Day on March 28, 2020 at the Hallandale Beach Community Center. This full day educational experience will feature eco-friendly vendors, panel discussions about topics like seaweed blooms, corals in crisis, careers in marine science, lionfish and low-or-no nutrient landscaping, . Ocean Day is the product of a partnership between the City of Hallandale Beach, the City of Hollywood, Broward County, the Florida Department of Environmental Protection, Friends of our Florida Reefs, Sierra Club and the Hallandale Beach YMCA. Mark your calendar – you don't want to miss it! For more information point your browser to https://hallandalebeachfl.gov/1310/Ocean-Day4
See you at Ocean Day!

Hollywood Lakes Civic Association
Congratulations to the new officers and Board of Directors for the Hollywood Lakes Civic Association! I had the honor of installing the new board this month. It was a great crowd and I was glad to see so many people on-hand for the installation! President Terry Cantrell was also kind enough to give me a chance to speak to the audience about some big things happening in Broward County this month. Residents were especially interested to hear what Broward County is doing to combat flooding and build coastal resilience – these are absolutely critical issues in this area, and we need to be thinking of these kind of neighborhoods as we develop a resiliency policy. Thank you for inviting me.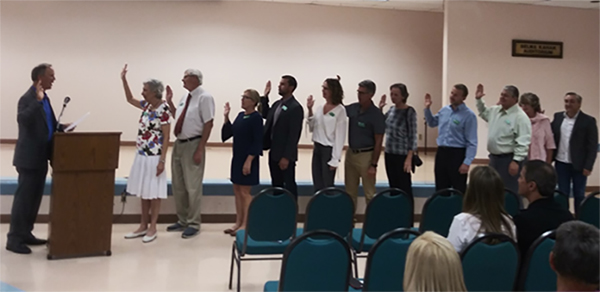 Congratulations to the new Hollywood Lakes Civic Association Board of Directors!

Super Coral Play
The Super Bowl has come to South Florida, and the Lombardi Trophy isn't the only thing on the line! A new initiative called "Super Coral Play" has been formally announced as part of the Super Bowl week of events. In honor of the length of a football field, special divers will work to plant 100 yards of new coral to restore our damaged reef. These "100 yards of hope" will be part of a year-long project focused on studying and repairing the reef, which is essential to our South Florida environment and economy. You can learn more about the coral reef initiatives at floridascoralreef.org.
Citizen Science Opportunity
Calling all citizen scientists! If you care about the quality of our night sky and want to get hands-on with science in your community, we need your input with the Sky Quality Monitoring Program! This program is designed to give us readings on reducing light pollution over time. All you need is a smartphone to take pictures and submit observations! Click here to learn more!
A look at how sky quality information gets incorporated using your smartphone!
Australian Open Champion
A huge congratulations to Pembroke Pines' own Sofia "Sonya" Kenin on winning the Australian Open, one of the four "Grand Slam" tournaments in tennis! Sofia grew up in Pembroke Pines and made the city her home, learning her dominant tennis form on the city's courts. It was amazing to watch someone from our own home go all the way to Australia and beat some of the most legendary tennis players in history. She has made Broward County and Pembroke Pines very proud – and I am sure this will not be the last Grand Slam she wins!
Congratulations!
Census 2020
The 2020 Census is right around the corner. On or about March 12th, you will receive a postcard with an internet address where you can complete 10 easy questions for each person in your household. For residents that do not have easy access to the internet, Broward County libraries are here to help make sure that everyone gets counted! Broward County Libraries are making their 38 locations and over 2,000 computers available to residents to take part in this critical part of our democracy! Remember, you can always learn more by visiting Census.gov.
A bookmark being distributed at Broward County libraries to help remind residents about the importance of the Census.
Voter Registration – Pembroke Pines
2020 is an election year, and our first big election of the year is coming right up! March 17th is the Presidential Preference Primary for registered Democrats and Republicans throughout all of Broward County. For Pembroke Pines residents, it also marks municipal elections – the city will be voting on Mayor and several Commission seats! Your local elections are perhaps the most important connection we have to the inner workings of our democracy. To vote in either election, you must be registered by February 18th! To check your registration status and polling place, click here. To request a Vote by Mail ballot, click here. We want to see record turnout this election!
Contact Us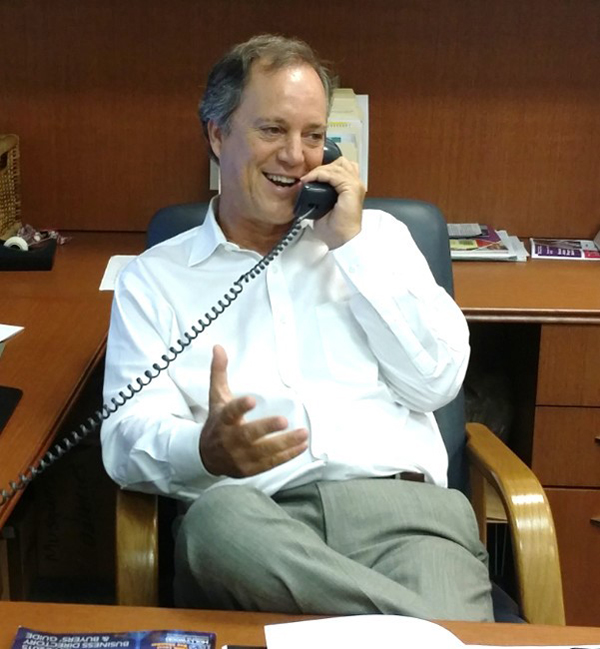 Our District office is conveniently located in the lobby of the Hollywood Branch of the Broward County Public Library at 2600 Hollywood Blvd, next to Hollywood City Hall. This office is open for your convenience Monday through Friday from 10AM to 4PM. If you would like to schedule an appointment, or you have a great idea, suggestion or an issue that needs my attention, feel free to call me at 954-357-7790 / 7006 or send me an email at bfurr@broward.org.
County Commissioner Beam Furr District 6
Broward County Commission | 115 S. Andrews Ave. Room 412 | Fort Lauderdale, FL 33301
Email - BFurr@Broward.org | Website - Broward.org | Phone: 954-357-7006