Greetings,
Summer vacation is almost over for our students and our County Commissioners! Our Broward County Commission recess ends on Tuesday, August 20th. We have a packed schedule as we move into the fall including the County's budget process. But even during the recess, there has been a lot going on during the dog days of summer! Here's some items to put in your backpack this month!

CSC Back to School Extravaganza
School is back in session! Thousands of teachers and students are getting ready for another school year in 2019-2020 in Broward County. This month, I participated in the Children's Services Council Back to School Extravaganza at Hallandale High School. This event raises funds to help send students back to school with all the supplies, outfits, and resources they need. Everyone deserves an equal chance at a great education, and we are dedicated to providing this opportunity at the CSC. There will be another CSC Back To School Extravaganza on Saturday, August 3rd at 10:00am at the Charles F. Dodge City Center, 601 City Center Way in Pembroke Pines. Remember – Broward County Public Schools begin on Wednesday, August 14th.
I enjoyed welcoming all the kids and parents with Hallandale Beach Mayor Adams, Assistant Principal
Sherman, and Sandra Bernard-Bastien of CSC during the Back to School Extravaganza.

Animal Care
Over the past month, our office has received emails and phone calls from residents throughout Broward County regarding our Animal Care and Adoption Division and our Animal Shelter. I want to provide an update on our no-kill goal and what progress is being made at the Broward County Animal Shelter. From April 2018 to June 2019, 13.4% of dogs entering and leaving the shelter were euthanized, compared to 22.4% the year prior to April 2018. That 13.4% figure is still too high. We have a no-kill goal, and we should not be satisfied until 99% of animals entering the shelter find a loving home and live a long life. But it is worth recognizing that significant progress is being made, with a drop of 9% in a single year. We will continue to make improvements to reach our no-kill goal as soon as possible. We have also taken significant steps to improve sanitation and quality of care/life for these animals. While this progress is promising, we recognize that improvements must be made. We will be adding five full-time kennel staff and eight part-time kennel staff to assist in this process. The Broward County Commission will be very carefully monitoring the situation at the Animal Shelter and keeping you updated on what is going on and how close we are to reaching our goals. We appreciate your feedback and concern, and do not hesitate to contact my office if you have further questions.
If you would like to help these beautiful animals find the loving family they deserve, consider adopting a dog or cat from our shelter! There are also fostering options available. The animals at Broward County Animal Shelter would make a wonderful, loving addition to your family. For more information, click here.
Just two of the beautiful pets that you can adopt at Animal Care!

Six Pillars
This month, I had the opportunity to give a presentation to the Greater Fort Lauderdale Alliance's Six Pillars Steering Committee. The Six Pillars program is dedicated to tying the most important issues in the community, like affordable housing and transportation, to the growth of business in Broward, through the Alliance. I have the honor of chairing the Resiliency Subcommittee of the Six Pillars program. During my presentation, I explained how a resilient Broward is fundamental to further investment and growth in Broward's economy. Resiliency is necessary to convince businesses to move here, keep property values high, and maintain our credit score. We need to show we are putting in the work to protect our assets. Our lives, homes, AND economy depend on it.
Thank you to the Greater Fort Lauderdale Alliance for
affording me the opportunity to discuss this critical issue.

School and Community Safety Taskforce
Since the tragedy at Marjory Stoneman Douglas High School, I have co-chaired the Broward League of Cities' School and Community Public Safety Taskforce together with Sunrise Mayor Mike Ryan. Last year, the Taskforce released a comprehensive after-action report, which you can read here. This report describes the numerous changes needed to make our schools and communities safer from gun violence. However, our work does not stop there. The Taskforce still meets frequently, and we will be presenting a second report in mid-August, describing changes we have implemented and new issues that must be addressed such as risk-protection orders. Please stay tuned as we continue to make safety the top priority for our residents, especially our children.
If you haven't had a chance to read the report, make sure to take a look.

Pines Village
During July, I had the chance to speak to the Pines Village Group Civic Association. This neighborhood is where the city of Pembroke Pines began. The Pines Village Group is one of the largest civic associations in District Six. They are always an energized and engaged group. During this conversation, I gave residents information on the Septic-to-Sewer conversions happening in the coming years in Pines Village, as well as the County's plans for North Perry Airport. Thank you for the opportunity to visit with you.
It was a packed house at the Pines Village Group Meeting.

50th Anniversary – Atlantic Crossing
July 19th marked the 50th Anniversary of John Fairfax's crossing the Atlantic in a rowboat, the first person in history to accomplish such an incredible feat. And just where did John Fairfax land to end his voyage? Our very own Hollywood Beach! This month, elected officials and community leaders from across Hollywood joined together to celebrate this incredible achievement. Mr. Fairfax's feat is proof that with enough hard work, anything is possible – and that sometimes those big dreams may come true in good ol' Hollywood, Florida.
The original news story from when John Fairfax landed on Hollywood Beach.

Budget – Resiliency Included!
With summer coming to an end, in the coming month the budget process will kick into full gear for Broward County and all the municipalities. There are so many important issues that must be considered during the budget process from our parks and libraries to affordable housing to transportation. We will be fighting for and keeping you updated on all of these priorities. Now more than ever, we need to take serious steps to address environmental resiliency and climate change and Broward County's proposed budget does just that. Our new "County Resiliency Program" sets aside significant funding for resiliency projects that includes a major study to assess our needs and lay the groundwork for future solutions. We hope this can serve as a model for Broward's municipalities and help us build a more sustainable future. If you are interested in learning more about the budget or letting your voice be heard, the first budget hearing will be Tuesday, September 10th at 4:30pm, in Room 422, in the Government Center, 115 S. Andrew Avenue, Fort Lauderdale.
A breakdown of how General Fund dollars will be distributed among various departments.

Energy Standards
In August, the Florida Public Service Commission will meet to discuss items on their agenda, including raising energy efficiency standards for utility companies. This spring, the Broward Climate Change Task Force, which I co-chair, passed a resolution supporting a raise of standards to .33% (that is one-third of one percent) which is the percentage increase in gigawatt hours saved. That is in line with the Southeastern United States average. Currently, our energy efficency standard of .06% is one of the lowest in the entire country. Energy efficiency programs are needed to reduce emissions and protect our environment. These new standards would save about $1.7 billion in energy production over 10 years, which would save each household $350 in benefits, or an average of $35 every year. We will be discussing this resolution at the August 20th Broward County Commission meeting, but since the Public Service Commission will begin meeting on August 20th, I want to speak in support of this resolution early.
Florida lags far behind other states when it comes to energy efficiency.

Cocktails for Humanity
For the third year in a row, I was proud to serve as a special guest bartender for the Broward County Library Foundation's Cocktails for Humanity, a wonderful pop-up experience designed to raise money for a great cause. This event, held at General Provision during Fort Lauderdale Artwalk, helped raise money for Broward Library's Summer Learning Programs, a wonderful service designed to stimulate literacy and active reading for young students throughout the County. As a former librarian, I can't think of a better reason to pour one out. The first time I did it, I was a little nervous, but now I feel like a pro! It was a great time with great people for a great cause. Thank you so much for everyone who donated and helped raise money for our libraries!
I had a wonderful time serving as celebrity bartender for this great cause,
alongside Hollywood Commissioner Caryl Shuham.

City of Pembroke Pines Awarded
Congratulations to the City of Pembroke Pines and Commissioner Iris Siple for winning the City Spirit Award from the Florida League of Cities. The award was given for the city's effort in the "Raising Positive Children" program which helps parents, educators, and community service agencies take positive steps towards addressing the mental health of children and teens. This is an incredibly important issue, and it is great to see the City of Pembroke Pines working hard to propose real solutions. I know the City and Commissioner Siple worked very hard on this program, so the award was well-earned. Congratulations!
Congratulations to Pembroke Pines on this excellent event!

National Night Out
Tuesday, August 6th is National Night Out Against Crime, one of the biggest events in Broward County. The National Night Out Against Crime is an annual event where communities around the nation gather for block parties and public events to show their neighborhood solidarity and in so doing, build a bond between citizens and law enforcement. For more information on this year's events and happenings in your neighborhood, please click here. I really hope to see you out there!
Last year was a great time, and I am excited to see what National Night Out has in store this time.

Hallandale Beach Styrofoam Ban
Starting October 1st, Styrofoam materials will not be allowed to be used or distributed on the City of Hallandale Beach's public beaches. This is an effort to keep their beautiful beaches clean and protect wildlife from harm. Styrofoam takes hundreds of years to degrade – much longer than plastic or other materials. This is a major step forward toward reducing marine debris!

Census 2020
The 2020 Census is rapidly approaching – we are less than 250 days away – and Broward County is hard at work ensuring that we have a complete count. Why is a complete count so important? The Census determines how legislative districts are drawn and how billions of dollars in resources are distributed to our residents. It is a Constitutional mandate and a backbone of American society. It is very important you fill out the form when you receive it, and help participate in your community to get others to fill them out as well. There are also paying jobs available with the Census, so if you want to learn more, please click here.
There are many jobs and volunteer roles at the broward.org/census2020 website!

Hallandale Beach Community Unity
The city of Hallandale Beach will be having their next event in their well-known
"Community Unity" series. Hope to see you there!

Water Crisis
Residents of Broward County were affected this month by a water main break that left thousands of residents without water. I commend the first responders, Broward County Public Works, and the City of Fort Lauderdale leaders who took charge and helped resolve this issue safely and as quickly as possible. Fortunately, most of District Six was only under a brief precautionary boil water notice – but that doesn't mean that it could never happen in Hollywood, Hallandale Beach, or Pembroke Pines. We should always be concerned about the quality of our drinking water, which is one of our most basic human rights. Moving forward, we should be working with contractors and utility companies to ensure that all safety procedures are being followed, and that we have an immediate plan in place to restore safe water to our residents.
These cities were impacted heavily by the water main break –
we have to make sure the system is working for all of our residents!

Apollo 11
During July, we celebrated the 50th anniversary of man walking on the moon. Many of us grew up with the space program; watching John Glenn's first orbit around the earth on black and white television in elementary school, all the way to "one giant leap for mankind." It gave us the sense that, as a people, we can accomplish whatever we put our minds to. We still can. But our goals must be clear and articulated, and a real investment of resources has to happen. We did not get to the moon with half measures. We had to move heaven and earth to make it happen, because it was worth it. It is time to put that same dedication toward tackling climate change, so we can continue walking on our Earth. We soared past the limits of human imagination when it came to space, let's do the same for right here at home.

Contact Us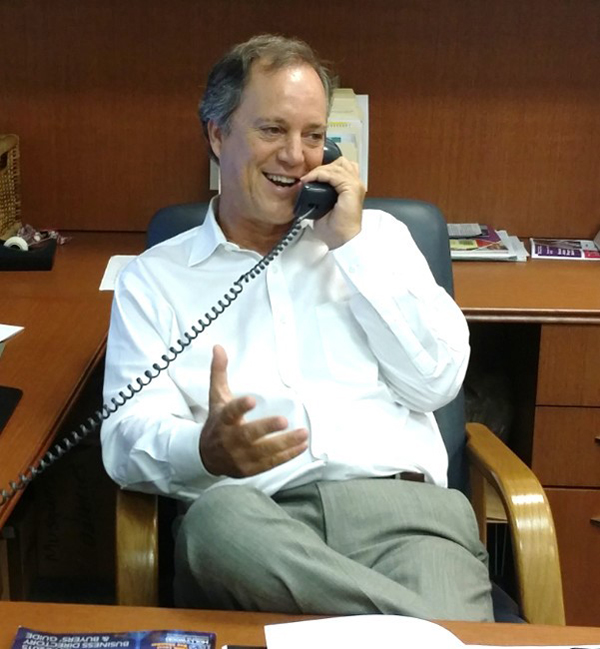 Our District office is conveniently located in the lobby of the Hollywood Branch of the Broward County Public Library at 2600 Hollywood Blvd, next to Hollywood City Hall. This office is open for your convenience Monday through Friday from 10AM to 4PM. If you would like to schedule an appointment, or you have a great idea, suggestion or an issue that needs my attention, feel free to call me at 954-357-7790 / 7006 or send me an email at bfurr@broward.org.
County Commissioner Beam Furr District 6
Broward County Commission | 115 S. Andrews Ave. Room 412 | Fort Lauderdale, FL 33301
Email - BFurr@Broward.org | Website - Broward.org | Phone: 954-357-7006