Greetings,
The Broward County Commission is officially on summer recess. We are, however, continuing to work through our budget process and prioritizing key issues for our residents. The early rains of June may have soaked Broward County, but they did not dampen our spirit or ability to get things done! As you will read below, we have a ton of major items still "pouring" in!

Solid Waste and Recycling MOU
Over the past year, I have been keeping you updated on solid waste and recycling in Broward County, and the recommendations of our consultants and working groups on what we should be doing. I am glad to announce we have finally taken the first steps on making these recommendations a reality. This month, the Broward County Board of County Commissioners voted to approve a Memorandum of Understanding between the County and Broward municipalities to work together on a comprehensive solid waste system. This MOU is the most significant step toward a countywide plan for solid waste in many years. The MOU affirms the County and cities' commitment to work together and put in solutions for a 75% recycling goal. This item now moves to the cities for approval over the coming months.
The landfill at Monarch Hill. Big changes to our solid waste system are coming!

Third-Grade Reading Scores
For the fifth straight year, Broward County Public Schools improved in 3rd grade English Language Arts scores on the FSA. During that time, the number of students reading at grade level has increased 8%, which is significant compared to the rest of the state. Broward ranks above the state average in these scores and is tied as the highest-scoring large district in the entire state! Third-grade reading ability is a key predictor of high school graduation and future success. That is why it is so important that we invest in early childhood literacy and foster a love of reading before kindergarten. Organizations like the Children's Services Council, Campaign for Grade-Level Reading, and the Broward County Commission have joined with the Broward School Board to champion early childhood education. This particular focus has led to promising results! That said, we still have a long way to go, and must continue improving.
Third-grade reading scores have improved by eight percentage points over the past five years.

Hollywood Tower
Over the past nine months, Broward County and the City of Hollywood have been working to find the ideal location to place the East Hollywood E911 Radio Tower. In discussions about whether to put the tower at West Lake Park or on top of the Circ Hotel, we have always tried to balance our commitment to public safety with residents' concerns. We have heard from dozens of concerned residents, and passions have occassionally been heated on both sides. This month, a compromise was struck between the city and the County. The two parties reached an agreement to hire a third-party, independent technical expert who will provide a final assessment on the feasibility, coverage levels, and cost of the two potential locations. Here's how it works: if the independent expert finds that coverage on the Circ Hotel meets or exceeds the standard for public safety purposes, the City of Hollywood has the option for the tower to be built on the Circ, provided that it pays any capital costs that are above what it would cost to construct the tower at West Lake Park. If the independent expert finds that coverage on the Circ Hotel falls below the standard for public safety, the city agrees to approve the site plan and have the tower be built at West Lake Park. This is binding arbitration, and the two parties agree to accept the findings of the expert.
Currently, the County and the city are in the process of retaining an independent expert agreed upon by both sides. The findings of the expert will then be produced within 45 days. At the same time, major progress is being made at other tower sites to get the system up and running and prepared for an early 2020 rollout. Towers in Parkland and Pompano Beach are now entering the final stages of completion. We will keep you updated as this process continues.
West Lake Park (left) and the Circ Hotel (right) are the two options that will be considered by the independent expert.

Energy Savings
Broward County is leading the charge when it comes to energy efficiency! This month, the Board of County Commissioners took action to implement its Climate Change Action Plan and make Broward significantly more efficient on energy and reduce our emissions. We will be implementing energy conservation measures at 60+ Broward County facilities. These measures are projected to save 8.3 million kilowatt hours of energy yearly, along with 2.9 million gallons of water! We also approved a partnership that will place solar panels on top of many prominent Broward County facilities including the West Regional Courthouse, Broward Addiction Recovery Center, and Animal Care and Adoption. These actions will help Broward County walk the walk when it comes to clean energy. We should be leading the rest of the country when it comes to climate actions, and this is a good start in reducing emissions.
A preview of what the solar panels will look like on Broward County facilities.

Transit Routes
Broward County has recently approved major upgrades to our public transit routes, and you will be seeing these improvements very soon. We have expanded service along 12 of our bus routes, which together constitute 19% of all public transit ridership in Broward. The improvements add additional buses and pick-up times to each route, dramatically reducing the amount of time you must wait for the next bus. This move will add 1,347 additional "service hours" every day, and 9,429 every single week! This is one example of how the transportation referendum approved in November will have a positive impact on Broward's transit.
A look at some of the route changes in both the eastern and western parts of District Six.

Airport Growth
There is incredible news out of our airport! Broward's Fort Lauderdale-Hollywood International Airport is once again the fastest growing large-hub airport in the entire United States! We set a record this year with 35.9 million passengers, which is an increase of 10.6% over the last fiscal year. We are in the top ten in North America for international passengers, with more passengers than LaGuardia, Tampa, Phoenix, and San Diego combined! This is the fifth consecutive year of double-digit growth for our airport. It signifies the outstanding work Broward County is doing to make sure our airport grows and becomes an international hub to match our diverse community. We are flying high!
New Air Service in 2019 (so far)
Some of the new destinations that airlines will fly to and from FLL this year!

Pride Month
June marked Pride Month in Broward County and throughout the country. During Pride, we celebrated our LGBTQ community, and reflected on the progress we have made over the decades. This year's Pride was especially impactful, given that it is the 50th anniversary of the Stonewall Uprising that launched the modern LGBTQ Rights Movement. Pride Events took place all over Broward, including the Stonewall Parade in Wilton Manors which drew more than 40,000 people!
Congratulations to the Hollywood LGBTQ Council on their very successful launch this month!

Dunes
A lively public meeting was held in Hollywood on the status of dunes on Hollywood Beach and the city's Dune Master Plan. The meeting allowed the Dune Master Plan Task Force to hear input from Hollywood residents about what they want to see from dunes on Hollywood Beach. Dunes are critical to help prevent rising sea levels and erosion, and we should be looking at how we can best distribute dunes throughout Hollywood Beach. These dunes will also protect our economic investments in homes and businesses along the beach. With that in mind, it is important for the safety and economic future of Broward County that we establish a dune infrastructure. It is also important to make sure dunes are incorporated in the Segment III Beach Restoration project, which is bringing more than 125,000 cubic tons of sand from Port Everglades to Hallandale Beach, including all of Hollywood Beach. This meeting served as a productive start to the process, but I expect additional discussion to continue in the future.

Florida Alliance for Arts Education
I was recently honored to receive the Florida Alliance for Arts Education Leadership Award for 2019. This recognition came as a result of the leadership and support of the Board of Broward County Commissioners for the establishment of an arts integration training facility at Gulfstream Early Learning Center. This facility houses the Broward Teaching Artist Credentialing Project (BTAC). BTAC is the only program of its kind in five counties, training artists how to work effectively with teachers and helping them integrate the arts into their lesson plans. Why? Because research shows it's a powerful way to reach students. Over the coming years, Broward County will reap the benefits of the work being done at the Gulfstream Early Learning Center and our Cultural Division's arts integration facility.
Thank you to the Broward County Cultural Division, including Grace Kewl, for all your hard work on this project at Gulfstream.

Village Square
Broward College's Village Square Discussions bring together leaders in all fields to have civil debates on the issues that define and often divide us. This month, I was glad to attend the Village Square's discussion on Immigration in America. It was an enlightening conversation about a difficult topic that has inflamed passions over the past several years. In the spirit of a good debate, all sides were aired, attacked and defended. These discussions are wonderful in promoting civic (and civil) discourse. I encourage everybody to attend one of these events. You will walk away grateful that people can still converse, listen and discuss even the most intractible of issues.

Century Village Latin American Club
Century Village Pembroke Pines has one of the most vibrant Latin American Clubs in all of Broward County! This month, I had the privelege to speak to this passionate group of people about issues impacting our community. This included providing information on resources like Hurricane Prepardness Guides and the Vulnerable Population Registry. Thank you to the President of the Latin American Club, Hilda Rodriguez, for her incredible work in making this organization thrive. If you are interested in attending a meeting, they are held every first Friday at 1pm, in one of the many rooms located in Century Village's Clubhouse. There will be no meetings during the summer months, but don't miss their Fall comeback.
Expect to see some dancing at Century Village Latin American Club!

Gretchen Cassini Award
Congratulations to our Assistant County Administrator Gretchen Cassini on being named the "Woman of the Year" by Women in Transportation! Gretchen was given the responsibility to lead the planning and coordinating of the campaign to pass the transportation referendum last November. She did a wonderful job and made the process as thorough, smooth, and enjoyable as possible while I served as Mayor. Broward County is lucky to have her continue in a leading role as the referendum turns into action over the coming months and years. Congratulations, Gretchen!
I joined Director of Environmental Protection and Growth Management Director Henry Sniezek to watch Gretchen Cassini accept her award. Congratulations, Gretchen!

Pembroke Pines Walking Audit
The Broward Metropolitan Planning Organization (MPO) teamed with Pembroke Pines residents and staff to conduct a walking audit that brings significant insight for better multimodal transporation in the city. The walk occurred on University Drive from Pembroke Road to Taft Street, and was designed to provide resident input and perspective on how to make this corridor better for walking and bike riding. I look forward to seeing these findings translated to action in the MPO's future plans!

Hollywood Chamber of Commerce Legislative Update
Every year after the end of legislative sessions, elected leaders who represent Hollywood present a legislative update to the Hollywood Chamber of Commerce. I had the opportunity to serve on that panel this year and provide the perspective from the County Commission. This legislative session was a bit tough on Broward – we received less money than we requested on several major projects, and saw severe funding cuts to our public education. That said, there were some victories, particularly when it came to the environment, including more funding for our Everglades. We plan to use this environmental momentum to push our priorities further in the coming year.
I was honored to join State Senator Gary Farmer and State Representatives Shevrin Jones, Joe Geller, Chip LaMarca, and Evan Jenne at this informative recap.

FLLibrary
A new library is taking flight in Broward County! The brand new FLLibrary at Broward's Fort Lauderdale-Hollywood International Airport is now open between Terminals 3 and 4. At the FLLibrary, you can surf the web, charge your devices, relax with a book, or watch a movie. There are also QR Codes that can be scanned at the library to access free books and movies for your flight! Make sure to check it out next time you fly.
We can't wait for you to check it out!

Conservation Pays
Congratulations to Hollywood resident Elaine Cooper on winning 2nd place in the Broward County Conservation Pays contest! Conservation Pays encourages residents to save water through innovative technniques. The "Play Conservation Pays and Win!" contest featured trivia questions about water management and more! Dozens of people participated, but only five won prizes – and District Six came in second place! Congratulations, Elaine!

Hollywood Branch Library
There is some very exciting programming coming up this month at the Hollywood Library! Three major programs for adults are coming to your library, and they will be excellent opportunities to learn and socialize, particularly for young adults. You can Bond With Books, learn to make greeting cards, or practice the ukulele! These are just a taste of the exciting programs happening throughout the year at your local library.

Animal Adoption
There's no better time than this summer to adopt a furry friend from Broward County Animal Care! Animal Care and Adoption has dozens of beautiful dogs and cats that would make an incredible addition to your family. They're just looking for a happy home! So what are you waiting for? For more information, click here.
Just two of the beautiful pets that you can adopt at Animal Care!

Hallandale Beach Toilet Rebates
Are you a Hallandale Beach resident interested in making $100 just for flushing your toilet? Now you can! The city is teaming up with Broward County Water Partnership to promote WaterSense toilets, which are much more efficient and sensible for your water bill. If you get a WaterSense toilet today, you receive a $100 rebate! For more information, check out conservationpays.com.

Fourth of July
Happy Fourth of July! As we celebrate America's Independence Day, I hope we all take time to reflect on the values that make us united as Americans. That sense of community defines our country, and it will be on full display during celebrations this July 4th! For residents in Hollywood, you can view the fireworks at Hollywood Beach starting at 9pm. Make sure to get a good view early and have a snack! In Pembroke Pines, you can take part in the celebration at Pines Recreation Center Festival Grounds, 7400 Pines Boulevard, from 6pm to 9pm! In Hallandale Beach, the annual Fourth of July Freedom Fest at Gulfstream Park will conclude with fireworks at 9pm. Make sure to get out there and have fun with the whole family. And please remember – drive carefully, and make sure to use fireworks responsibly!

Contact Us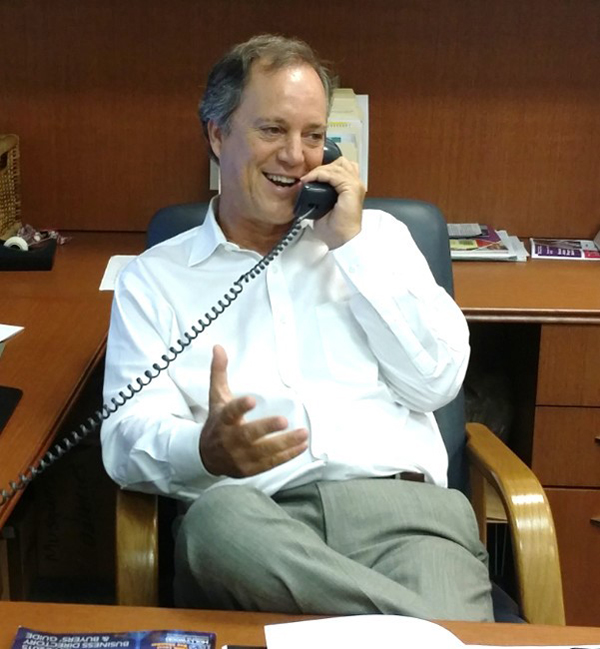 Our District office is conveniently located in the lobby of the Hollywood Branch of the Broward County Public Library at 2600 Hollywood Blvd, next to Hollywood City Hall. This office is open for your convenience Monday through Friday from 10AM to 4PM. If you would like to schedule an appointment, or you have a great idea, suggestion or an issue that needs my attention, feel free to call me at 954-357-7790 / 7006 or send me an email at bfurr@broward.org.
County Commissioner Beam Furr District 6
Broward County Commission | 115 S. Andrews Ave. Room 412 | Fort Lauderdale, FL 33301
Email - BFurr@Broward.org | Website - Broward.org | Phone: 954-357-7006