Greetings,
Spring has officially sprung, and flowers are not the only thing blooming in Broward County this month! It has been a packed and exciting time for the Broward County Board of County Commissioners, and we look forward to staying even busier in the months to come. Read on to "spring ahead" into some exciting items!
Oil Drilling in the Everglades.
The topic of oil drilling in the Everglades has continued to be at the top of everybody's minds this month, and for good reason. To make a long story short, Kanter Oil is still currently granted a permit to drill in a 6.8 acre spot in our Broward Everglades, and we have until April 3rd to refile for a rehearing on this case. If this fails, we still have many legal options, and Kanter still must come before the County Commission to discuss land use and zoning rules as well. This month, I joined Matt Schwartz of the South Florida Wildlands Association for presentations to the League of Women Voters and The Broward Democratic Environmental Caucus. It was encouraging to see how engaged residents were and how many people showed up, eager to continue the fight. We will keep you updated on everything that is happening with this case.
Speaking at a League of Women Voters event in Pembroke Pines on oil drilling in the Everglades

Animal Care Strategic Plan
Broward County is proud to announce that Broward's Animal Care and Adoption Division has just published the 2019 – 2021 Strategic Plan. This plan was created with extensive community input from the individuals and organizations who dedicate their time and energy to rescuing, caring for and helping find a home for our furry friends. The collaboration that took place to create this plan is a reflection of how we will only provide the best care via a collective, shared effort. This plan will help us continue our commitment to becoming a "no kill" shelter and make sure that animals in our shelter are treated better than ever before. We invite you to take a look and let us know your feedback.

General Obligation Bonds Pass
Good news in the City of Hollywood: The three General Obligation Bonds passed during the March 12th election, meaning that the city will be able to make valuable investments to improve Hollywood's future. A main thrust of these investments is over $20 million in resiliency projects that will help ensure Hollywood's long-term climate safety – as well as our economic prosperity and bond ratings. The GO Bonds passing also means that we are headed towards increased public safety and better community parks and golf courses. I look forward to seeing these investments pay off in the years to come. Thank you to everyone who came out and voted. Let's try to make turnout higher next time!
The GO Bonds passed in resounding fashion!

Climate Change Task Force
This month, I co-chaired the Climate Change Task Force alongisde my colleague Commissioner Nan Rich. This Task Force will help lead the charge on a more resilient and sustainable future here in Broward County. At this meeting, we discussed critical projects such as electric vehicle infrastructure, clean energy, solar projects, and resilient construction. Climate change is a bigger issue than ever before, and we have to meet the challenge of the moment. This is not a narrow issue – there is so much we have to do to both mitigate the impacts of climate change and reduce our emissions to make our planet more sustainable. The Climate Change Task Force is made up of people from all walks of life, and is going to be an invaluable source of advice and knowledge during these critical discussions. There are three committees of the Climate Change Task Force that will guide our discussion: Electric Vehicle Infrastructure, Social Equity, and City/County Collaboration.
I am excited to be chairing the Climate Change Task Force with my colleague Commissioner Nan Rich.

Broward Text 911
On April 2nd, Broward County launched our innovative Text to 911, which will allow residents in danger to text 911 for help in situtations where a call is not possible. It is important that if you can call 911, you should still do so. That is still the best way to route calls and get a rapid response. However, Text to 911 is helpful in certain situations such as when someone is deaf or hard of hearing or in a situation of home invasion or domestic violence where making a call is not possible. If you do have to text 911, make sure to provide your exact location. Remember, CALL if you CAN, TEXT only if you CAN'T.
Remember, CALL if you CAN, TEXT only if you CAN'T

Water Matters Day
One of my favorite events every year is Water Matters Day, and this was one of the best years yet! Water Matters Day is an all-day event featuring activities and discussions around the conservation of water. This year's theme was "Conservation – A Winning Strategy", which highlighted all the ways that conserving water is a worthy investment in all walks of life. Water Matters Day is where we give out the Emerald Awards to homes participating in our Naturescape Program! Each one of us can make a difference for the environment when we turn our home into a sustainable NaturseScape, so I encourage you to check out the website and participate in the program!
I joined Commissioner Steve Geller to give out some NatureScape Awards!

Broward Days
Every March brings the start of a new legislative session in Tallahassee, and with it Broward Days, a crucial event that allows Broward leaders to get face-time with state elected officials. This year's Broward Days offered a productive chance to meet and talk about some of the most important issues facing Broward County including affordable housing, the environment, education, and more. I was part of a panel discussion on the opioid crisis, and the steps we need to take to address this public health challenge head on. I look forward to following through on the conversations we had on Broward Days – and our residents should never hesitate to call their State Representative or State Senator to speak about an issue of importance to them.
Thanks to United Way for pulling together this important panel on opioids.

Countdown to Kindergarten
Broward's youngest generation is about to take a giant leap! This month was the always exciting Countdown to Kindergarten event.I had a really great time welcoming Pre-K students and their parents to Parker Playhouse as they prepared to set off to that incredible journey called the start of elementary school. It is hard to believe that the class of 2032 is already here, but these kids were fired up and ready for action. We can't wait to see what their future holds!
It was a massive crowd at this year's Countdown to Kindergarten.

St. Patrick's Day Parade
Top of the morning to ya'! This year's St. Patrick's Day Parade in Downtown Hollywood was as good as ever, with huge crowds and absolutely perfect weather. It was great to see so many people having a fun time, especially combat veterans from a local nursing home facility who marched in the parade with a group of great volunteers. Thank you very much to these men and women for their brave service. I can't wait to see everyone for another exciting parade next year!
Good throw, good catch!

Hallandale Beach Walking Audit
Hallandale Beach teamed with the Broward Metropolitan Planning Organization (MPO) to conduct a Walking Audit around major corridors of Hallandale Beach, specifically the corridors of Dixie Highway and Hallandale Beach Blvd. The goal of this Walking Audit was to gain residential feedback about how we can improve multimodal options and make these areas more walkable and bikeable The audit was paired with a Walkability Workshop to help outline concrete solutions to improve these corridors. Thank you to everyone who participated!
A look at what happens at a Broward MPO Walking Audit. Be on the lookout for opportunities in your neighborhood!

Leadership Hollywood
Leadership Hollywood is a one-day crash course in leadership and political affairs for ambitious, passionate Hollywood residents. This year's events gave the 2018 Leadership Hollywood class invaluable insight into how our County works, and what they can do in their community to make an impact. I spoke about how I got my start in politics by organizing my neighborhood in Hollywood to plant trees and make it a safer place to live. Everything begins on the local level. Thank you to those who organized this event, including Marie Suarez and Adam Geller.
Congratulations to Leadership Hollywood Class of 2019!

Hallandale Beach State of the City
Hallandale Beach is a blossoming city with potential to grow. This month I attended Mayor Adams' State of the City Address to learn more about these challenges facing the city. Hallandale Beach faces many of the same problems most of Broward County does – affordable housing, resiliency, and transportation along major corridors. I look forward to working with the city to find ways to make Hallandale Beach the best place it can be to live and visit.
It was a packed crowd to hear the 2019 State of the City!

City of Hollywood Housing Workshop
As a result of the City of Hollywood's Interlocal Agreement with Broward County, a substantial amount of affordable housing funds will be distributed throughout low to moderate income areas in the city that will help improve neighborhoods and incentivize home ownership. This month, the city had a public workshop that explained how non-profit organizations can obtain some of these funds to help address specific issues in their community. This was a chance for these invaluable partners to get hands-on and ask questions about this new program. Stay tuned for many more updates in the months to come!
Areas eligible for improvement are highlighted by stripes.

Pembroke Pines Day
Happy Birthday, Pembroke Pines! The annual Pines Day is coming up on April 27th from 12-6pm at the Charles F. Dodge City Center, 601 City Center Way in Pembroke Pines. This is always one of the most fun events of the year, with tons of activities for families like rides and games, musical entertainment, food, and much more. This year has an extra special treat, as the Frost Museum of Science will be bringing planetarium activities to Pines Day! You don't want to miss this!
The Frost Science Museum exhibit is going to be a blast!

Hollywood Chamber of Commerce
The Hollywood Chamber of Commerce has installed a new board for a new year, and I was very glad to have the opportunity to welcome in the new class and celebrate with yearly awards. The Chamber also honored Dr. Jennifer Jurado, Broward County's Chief Resiliency Officer, with a community award this month. This honor is very well-deserved, because Dr. Jurado is considered a leader in the fight against climate change and for a better, more sustainable future. We still have significant work to do, but Dr. Jurado has proposed policies that will move us forward in terms of resilience and sustainability. With her and her incredible team leading the way, Broward County will be a national leader in this generational conversation.
It was an honor to install the Hollywood Chamber of Commerce.

Yearly Commission Retreat
Every year, the Broward County Board of County Commissioners along with all of our division and department heads meet up for our annual retreat. This is a chance to discuss the most important issues facing Broward in a free-flowing discussion outside of the context of our regular commission meetings. Last year, the retreat featured much of the important groundwork for our successful transportation referendum. This year, discussion touched on even more topics. One in particular that I chose to highlight was solid waste. We are moving toward a Memorandum of Understanding with all the cities on a comprehensive solid waste system that could revolutionize recycling in Broward and help us reach our 75 percent recycling goal.
We are taking steps towards reaching our recycling goals in Broward.

Josie Bacallao Honored
Josie Bacallao has become an icon of the South Florida community as the President and CEO of Hispanic Unity of Florida. She has helped thousands of immigrants and first-generation Americans receive services and assistance. This month, I had the honor of presenting Josie a proclamation declaring "Josie Bacallao Day" in Broward County. This was very well-deserved – Josie has positively impacted the lives of many Broward residents with her leadership and tenacity. Congratulations!
In honor of Josie's contributions, we produced the first-ever Spanish Language proclamation in Broward County Commissions history!
Hollywood Arts and Culture Opening
The Art and Culture Center/Hollywood will be debuting the Early Voices Collaborative Exhibition, which will run from April 8th to April 21st. This exciting event features collaborative artwork from Pre-K students who are embracing arts at a young age. The event is intended to highlight the vital role the arts play in Pre-K education. The theme for this year is inspiration and literacy, and students were encouraged to make art about books that inspired them. There will be a reception April 11th from 4-7pm at the Art and Culture Center/Hollywood, 1650 Harrison Street for anyone who is interested!
The Early Voices Collaborative Art Exhibition

Volunteer Income Tax Assistance Available
Tax Day is almost here! Need help? Broward County is partnering with Hispanic Unity of Florida to offer Volunteer Income Tax Assistance (VITA) to residents in need of help. The VITA program is designed to help low to moderate income families maximize their benefits and identify tax credits that bring back value into communities that need them. For more information, visit the Hispanic Unity website.

Steve Cernak
Broward County's Port Everglades Director, Steve Cernak passed away after a long battle with cancer. This is very sad news for Broward County. Steve Cernak was someone who had a multitude of innovative ideas to make Port Everglades better than ever. If you look at the statistics from the past few years, it has worked. We are one of the fastest growing ports in the entire country. But Steve was so much more than that. He was an incredibly kind man, who nobody ever said a bad word about, even in the midst of heated agenda items or negotiations. That kindness and human grace showed through for the entire Port Everglades team, who are as much compassionate humanitarians as they are innovative managers. That is the kind of attitude we can always use more of, and that starts with the leadership of kind, good men like Steve Cernak. He will be missed.
Steve Cernak

Happy Passover and Easter
I would like to wish all of our residents a Happy Easter and Passover. No matter what you celebrate, I hope that the month of April brings blessings and good health to your families and communities. Enjoy the food!
Happy Passover and Easter

Contact Us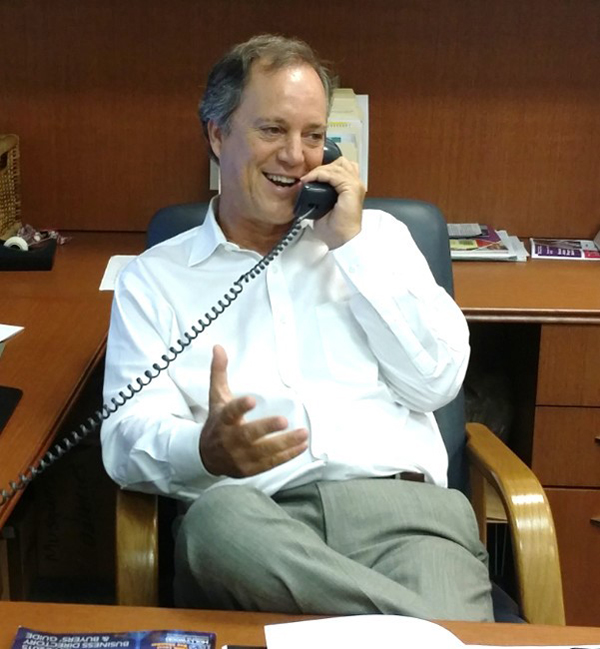 Our District office is conveniently located in the lobby of the Hollywood Branch of the Broward County Public Library at 2600 Hollywood Blvd, next to Hollywood City Hall. This office is open for your convenience Monday through Friday from 10AM to 4PM. If you would like to schedule an appointment, or you have a great idea, suggestion or an issue that needs my attention, feel free to call me at 954-357-7790 / 7006 or send me an email at bfurr@broward.org.
County Commissioner Beam Furr District 6
Broward County Commission | 115 S. Andrews Ave. Room 412 | Fort Lauderdale, FL 33301
Email - BFurr@Broward.org | Website - Broward.org | Phone: 954-357-7006