Greetings,
The Spooky season is finally over, and fall is in full swing. I hope the holidays bring you joy and a chance to be together with your loved ones. In the meantime, big things are still happening in Broward County. Don't "leave" without reading the hot items below!
Affordable Housing Workshop
Affordable housing continues to be one of the most important issues facing Broward County, and with Broward continuing to grow and offer new opportunities for residents, we have to take real strides to address this problem. We have already taken positive steps – last November, voters approved the creation of an Affordable Housing Trust Fund that would sequester money within our budget solely for affordable housing projects. That money is already being put to use. At our November 5th meeting, we will be voting to approve $15 million in funds from the Affordable Housing Trust Fund for the creation of about 300 new affordable units, including in Pembroke Pines at University and Sheridan St.
This month, the Broward County Commission had an important workshop that allowed our County Commission to share ideas and solutions to create more affordable housing in Broward County. A major idea that was discussed was giving density bonuses when developers created new affordable units along major transit corridors. In doing so, we can create a greater volume of units while linking them directly to transit routes and commerce centers, increasing use of public transit and investing in business.
Home ownership rates throughout the Country are on a steep 20-year decline. We need to make the investments to reverse this trend.
One thing we really need to be looking at is increasing home ownership. When people buy a home, they become stakeholders in their neighborhood. This creates buy-in, where homeowners work to improve their homes and the areas in which they live. We also see higher rates of citizen-participation within these communities, which helps bring resources and solutions into an area. Eventually, this creates a cycle where homeowners are fighting on behalf of their neighbors, their block, their street, and their entire neighborhood – and getting results.
Within Broward County, the "hottest" neighborhoods in terms of new home sales are mostly concentrated in low-to-moderate income areas that could use reinvestment. Several of these areas are in District Six, including 33020 in Hollywood, 33024 in Pembroke Pines, and 33023 in Hallandale Beach. What we are seeing is many of the homes in these areas being purchased either by developers or AirBnb/rental owners. This lowers the rate of first-time home ownership and subsequent buy-in. We need for these "hot" areas to be hubs of young families purchasing homes and working to make their neighborhoods better for the reasons listed above.
In Hollywood, we are already seeing how various solutions can make a real impact. Using the funding in the ILA agreement worked out last year with the County, Hollywood has already received more than 300 letters of interest for the first-time homeowner program and more than 100 home rehabilitation applications, focused solely in low-to-moderate income areas. The hope is that this can be a model for the rest of Broward County to use moving forward.
Information from the affordable housing workshop that is very relevant to what is happening in neighborhoods in District Six.

Solid Waste
October was a huge month for Broward County, as we took a big step forward on the critical issue of solid waste. We had a meeting on comprehensive solid waste in Broward County which was attended by elected leaders from every municipality in Broward, as well as almost every County Commissioner. Solid waste is not always the sexiest issue, but it is one of the most important local governments face. This meeting was productive reflecting on the findings of the Arcadis report and how we can reach a 75% recycling rate here in Broward. This meeting provided an invaluable opportunity to talk about governing structures and the composition of the new solid waste working group that will help facilitate decision making. It helped us determine what to do to follow-up on the Memorandum of Understanding all the municipalities and the County signed during the summer. On November 18th, we will be having another major meeting to determine the composition of the solid waste working group. This working group will be responsible which recommendations on solid waste will come to fruition, and how they will be implemented. Stay tuned!
A summary of the next steps and recommendations from our solid waste consultant.

Read for the Record
One of the best events of the year is almost here! November 7th marks the 2019 edition of Read for the Record, which will be bigger than ever! This year's book is "Thank You, Omu!" by Oge Mora, which has won both this year's Caldecott Award and Coretta Scott King Award. Read for the Record brings together millions of people each year in classrooms, libraries and community centers across the U.S. to read the same book on the same day. The current world-record for the most people reading the same book at once is 1.9 million – a record will be broken this year with the help of 40,000 Broward students and adult volunteers. There are still opportunities to read available, and I invite everyone to join in and participate! If you are interested in volunteering to read, sign up at handsonbroward.org.
Join us in this year's Read for the Record!

King Tide
The final week of October marked another King Tide week in Broward County, and it was a doozy. I joined other elected officials, community leaders, and volunteers for a King Tide Walk in Hollywood, and got to see first-hand the rising water level. I have lived in Broward County for most of my life. We have always had to deal with King Tides – but there is a marked difference these days. This has become the new normal. I appreciated that so many leaders and scientific minds – including citizen scientists – took the time out for this walk so we can be prepared for the challenges we face from King Tides moving forward.
Citizen student scientists helped us measure the water level at the King Tide Walk.

Joint Planning Council Meeting
Regional cooperation is critical to South Florida's continued improvement, and this month provided a very valuable opportunity for that at a joint meeting of the South Florida Regional Planning Council and Treasure Coast Regional Planning Council. This meeting was a chance for representatives from Broward, Miami-Dade, and Monroe to meet with our allies in Palm Beach, Martin, St. Lucie, and Indian River Counties for a discussion on issues that we can collaborate on such as transportation and affordable housing.
I presented on a plan to reauthorize the National Flood Insurance Program with needed affordability protections. The National Flood Insurance Program expires on November 21st. Southeast Florida has 15% of the entire national portfolio of flood insurance policies, with over $180 billion in value insured. However, rates are continually on the rise, jeopardizing affordability for most customers. It is essential that the NFIP is reauthorized this November with specific controls in place to keep costs low. FEMA has announced the new Risk Rating 2.0 assessment program that will determine rates for single-family households by determining each property's unique flood risk. In Southeast Florida, hurricanes and rising sea levels certainly raise that risk rating, thus raising rates when the changes go into effect in October 2020. That's why we need cost controls to keep insurance rates from ballooning for Florida costumers. We can take action to help reduce the rise in rates. Keeping flood insurance rates low by encouraging coastal infrastructure resiliency is something every coastal county should be looking at.
I appreciated the opportunity to speak to elected leaders from seven Southeast Florida counties.

Highlights from Surtax
We are about to reach one year since Broward voters approved the one-penny transportation referendum. Since it passed, we've already seen major progress on putting these funds to use. In 2019, we added over 2,000 hours of new bus service, 146 new paratransit vehicles, 20+ electric buses, 147 new Wi-Fi equipped buses, 50 bus shelters, and upgraded signal technology. Coming in the next few weeks, look for the launch of our new mobile ticketing app and expanded community bus service. All this only marks the beginning of the transportation improvements in Broward that will expand public transit and reduce congestion. You can learn more on Twitter @BrowardMobility or at facebook.com/browardmobility. The Penny for Transportation website has also been updated with fascinating videos and interactive materials.
Check out this article on how Broward County is working to synchronize our traffic signals and make your commute faster!

Pines Village
It is always great to have the opportunity to speak to residents at the Pines Village Civic Association, and this month was no different. One thing I focused on this month was Florida Power and Light's Storm-Secure underground power pilot program. This program would bring power lines in select areas underground to protect these lines from damage and disability during and after a major storm or hurricane. The Pines Village/West Hollywood area is included as one of the neighborhoods in the pilot program, which will bring many of the lines in this area underground. If it works, this pilot project could help create a plan to protect power lines from storms all over Broward County. I also appreciated the opportunity to talk about other critical issues facing the area, including formation of the North Perry Airport Advisory Committee, which will be officially created very soon, as well as the conversion from septic to sewer in this area. Thank you for inviting me to speak!
It takes a Village - Brianna Canales, the student creator for the new Pines Village logo with the Pines Village Board of Directors, school principal and art teacher!

Autumn Leaves Gala
Camp Live Oak held their first annual Autumn Leaves Gala this October. Camp Live Oak is a non-profit organization dedicated to providing a nurturing setting for children to develop a foundational love for nature. Each year, hundreds of children benefit from the lessons and support of Camp Live Oak through its outdoor camps and classes. I was honored to receive the "Protector in Policy Award". My fellow recipients included Kimberly Correia (another South Broward Bulldog!), who received the "Youth Taking Action Award", as well as the Whitecloud Family, who were honored with the "Environmental Impact Award." Thank you to Camp Live Oak Director Ken Evans for all your incredible work in running the organization.
I was honored to be selected along with fellow recipients – Kimberly Correia and Richard Whitecloud.

MLK/Washington Park
Big improvements are coming to two of the bedrock institutions locally. On November 5th, the County Commission will be voting to approve Park Bond funding for improvements and renovations at the Martin Luther King Jr. Community Center and the Washington Park Community Center, both located in Hollywood. The funds will be used to complete a variety of improvements including refurbishing the weight room, floors and wall padding for the gymnasium at each location. These are important community institutions, and I am glad to see they will be receiving the funding they need to thrive.
This month also marked the second annual Taste of Washington Park Celebration. It was an amazing opportunity to spend some time with residents of the neighborhood while eating delicious food prepared with care right in Washington Park, including the best cornbread and BBQ you can find anywhere! Thank you as always to Nadine McCrea for her wonderful leadership – and great cooking.
Every year, funds and donations are collected for Thanksgiving and holiday food drives by the Community Enhancement Collaboration in Washington Park!

Hallandale Beach Resiliency
The City of Hallandale Beach is taking a major lead on resiliency and sustainability programs and is creating a model for other municipalities in Broward County! This is demonstrated by the Green Initiatives Program, a new department that is led by Alyssa Jones-Wood. The great work the city is doing through the Green Initiatives Program includes the adoption of their Sustainability Action Plan which sets out goals and potential legislation on sustainability. The Green Initiatives Program is also working on collatoratives for water and energy conservation, as well as hosting frequent events and educating residents about local sustainability practices and ordinances. You can find all of this information, including the Action Plan, upcoming events, and a monthly Green Initiatives Newsletter, by clicking here. Keep up the great work!
The Green Initiatives Program in Hallandale Beach is demonstrating sea-level rise through interactive exhibits like this one.

Italian American Civic League
On October 28th, on behalf of Broward County, I had the pleasure of presenting a proclamation to the Italian American Civic League of Broward, recognizing their 70th anniversary. The proclamation was presented to Paula Guerrieri, the first woman to serve as President of the organization, and Rocco Maniaci, its Vice President. Also pictured is City of Hollywood Commissioner Linda Sherwood, who made a similar presentation on behalf of the City of Hollywood. Close to 200 people attended and were treated to a scrumptious dinner and entertainmemnt. I wish them a Cento Anno greeting.
Congratulations on your 70th year!

Art for the Earth
There was incredible art on display for a great cause this month in Broward County. Talented artists from all over Broward and the rest of South Florida took part in Broward's first ever "Art For the Earth" event at The Frank Gallery in Pembroke Pines. This was an art show dedicated to raising awareness about climate change and environmentalism through the lens of art. The event featured paintings, poetry, and performance art. Both our environment and our arts are the fundamental bedrocks of Broward County, so this combination could lead to some amazing things. Thank you to all the artists who participated!
Just a few of the great, environmental paintings on display at Art for the Earth.

FITCE
The annual Florida International Trade and Cultural Expo (FITCE) took place this month, and this trademark event continues to grow in Broward County every year. Leaders from nations around the globe and officials from South Florida were in attendance to discuss our valuable exchange of ideas and businesses. I was honored to introduce a panel on how to bring an international business here to Broward County. In a growing, globalizing world that is increasingly interdependent, events like FITCE and the connections they create are more important than ever. Thank you to Vice Mayor Holness and the staff at the Office of Small Business and Economic Development, who did such a great job organizing this event.

Bus Schedule
Residents recently brought to my attention an issue with the Broward County bus schedule for Route 6 and Route 7. The existing schedule caused delays for passengers as they transferred to a connecting bus. I am happy to report that with input from the traveling public and the assistance of Tim Garling, Deputy Director of Broward County's Transportation Department, the route schedule was changed to improve synchronization of the connecting bus routes. The amount of times the buses come on these two routes has been increased to eliminate the long wait times when they are not synchronized. The change will take effect on January 12th, 2020. Be on the lookout!
The Route 6 map.

Hollybrook Senior Expo
This month brought the annual Hollybrook Health Fair and Senior Expo, which is always a great event! This event is an opportunity for residents to not only have a vital health checkup, but to also learn about all the fun and fulfilling opportunities in their community. This is one of the many fulfilling programming opportunities provided by Hollybrook every year. Thank you to all who participated. Don't forget to get your flu shot!

Hard Rock Ribbon Cutting
Hollywood made the national news this month with the opening of the brand-new Hard Rock Hollywood, also known as the Guitar Hotel! The opening two-day ceremony featured appearances from elected officials and business leaders and a performance by Maroon 5. The new hotel is hard to miss and lights up the sky at night. Moving forward, it is important that we track how this venue impacts businesses and traffic in the surrounding area. We want this to be a shining star for Hollywood – and we hope it can get there in a way that benefits all of our residents. In the meantime, look for this new landmark when driving west or on State Road 7 / US 441!
This is quite the sight now lighting up Hollywood!

Happy Thanksgiving
I want to wish all residents in District Six and all of Broward County a very Happy Thanksgiving. Thanksgiving is a time that we are reminded of all that we share with family and friends and all that we have to be thankful for. I hope you enjoy good food and closeness, with your family and loved ones. I encourage all residents to consider volunteering some of their time this Thanksgiving season to help someone less fortunate at events like food drives and the like. You can find out about those opportunities by clicking here.
Contact Us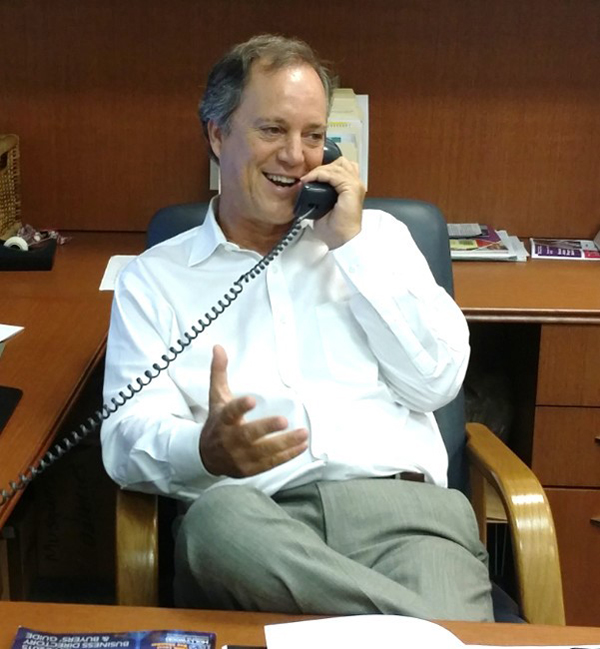 Our District office is conveniently located in the lobby of the Hollywood Branch of the Broward County Public Library at 2600 Hollywood Blvd, next to Hollywood City Hall. This office is open for your convenience Monday through Friday from 10AM to 4PM. If you would like to schedule an appointment, or you have a great idea, suggestion or an issue that needs my attention, feel free to call me at 954-357-7790 / 7006 or send me an email at bfurr@broward.org.
County Commissioner Beam Furr District 6
Broward County Commission | 115 S. Andrews Ave. Room 412 | Fort Lauderdale, FL 33301
Email - BFurr@Broward.org | Website - Broward.org | Phone: 954-357-7006