Greetings,
The leaves may not change color in South Florida, but big changes are always underway in Broward County. As you will read below, there are a lot of exciting things going on in Broward. The County Commission just approved the FY20 budget, and is set to consider several major items in the coming months. Read on to find out about some items to "fall" for this month!
Transportation Surtax Communications Plan
Since Broward County voters passed our major transportation referendum last November, we have been making significant progress on implementing a plan that will revolutionize how we get around in Broward County. This month, a new communications platform for the Penny for Transportation plan was launched to keep residents up-to-date on projects and progress in their community. You can learn more on Twitter @BrowardMobility or at facebook.com/browardmobility. The Penny for Transportation website has also been updated with fascinating videos and interactive materials. Follow along and stay informed on how we are going to get Broward out of traffic and into the fast lane.
Follow @Browardmobility for updates on expanded service like the one above.

Solid Waste in Broward County
Over the past several months, every municipality in Broward, along with the County Commission, has been asked to consider a Memorandum of Understanding that will reaffirm our shared commitment to work together on a comprehensive solid waste system. This Memorandum has now been signed by all the parties, meaning we can start moving forward on solid waste solutions and reaching a 75% recycling rate. Over the next year, we will be coming together to form a working group, determine a system of governance, and plan for what kind of facilities may be needed. The next step is a meeting on October 14th, when Broward County and every municipality will join together to define how we move forward.
The estimated composition of all solid waste in Broward County,
per the final consultant report.

Read for the Record
One of the best events of the entire year will be here soon – the annual Read for the Record! This event brings together millions of people each year in classrooms, libraries and community centers across the U.S. to read the same book on the same day. This year, Read for the Record will be held on Thursday, November 7th. The current world-record for the most people reading the same book at once is 1.9 million. That record will be broken this year with the help of 40,000 Broward students, bolstered by partner organizations like Broward Reads, the Children's Services Council, and the School Board of Broward County. For many students, this will be the only book they have – and it is always worth it to make sure students have a book to take home. This year's book, "Thank You, Omu!" by Oge Mora, which has won both this year's Caldecott Award and Coretta Scott King Award. I invite everyone to join in and participate! If you are interested in volunteering to read, sign up at handsonbroward.org.
It was an honor to meet Oge Mora, the author of the award-winning book "Thank You, Omu!" that was selected for this year's Read for the Record!

UN Climate Week
Are we doing enough to combat climate change? Are we doing all we can to preserve our planet for future generations? These are the questions that Greta Thunberg made us all think about when she spoke at the UN. If we are being honest with ourselves, the answer to these questions is no. But it isn't too late to change that. All the scientific evidence shows we need to invest much more than we are in ideas like clean energy and sustainable infrastructure. Serious issues deserve serious consideration and resources. Otherwise, we are letting millions of young people like Greta down.
The UN Climate Summit was a positive start. National leaders from across the planet dedicated their time to work collectively on an issue that goes beyond borders and boundaries. The United States should be the leader at the table – but instead, we have pulled out of the Paris Climate Accords. Counties like Broward are stepping up to fill in the gap. It is time to re-enter the Accords and dedicate ourselves to combatting climate change.

Children's Literature Conference
This month, Broward hosted the 32nd Annual Conference on Children's Literature. This incredible event brought authors, activists, and educators together for a discussion on how we can encourage more young people to read and develop a love of literature from an early age. All the evidence shows that developing early reading skills and literacy is essential to future success. We can start developing those skills by fostering a love of reading in our children through the power of stories. I was excited to see a large, diverse group of authors in attendence at this event, telling stories from an intersectional perspective across demographics. This included a major celebration of Latinx authors for Hispanic Heritage Month. Thank you to everyone who attended!
It was great to meet Angela Dominguez and Oge Mora, two of the exceptional authors featured at the 32nd Annual Children's Literature Conference.

Artists for Climate Science
Broward County artists are uniting to help combat climate change! Talented artists from all over Broward and the rest of South Florida will be taking part in Broward's first ever "Art For the Earth" event. This is an art show dedicated to raising awareness about climate change and environmentalism through the lens of art. Art For The Earth will be held on October 17th at 6pm at 601 City Center Way in Pembroke Pines. You do not want to miss this!
Don't miss this exciting event!

Animal Care Strategic Plan
Broward County Animal Care and Adoption has released a new update to their Strategic Plan, which keeps track of the progress that our shelter has made and what still needs to be improved. You can read the update here. Broward County is showing positive growth in many areas, including better training of volunteers and expanded adoption efforts. There are also areas of needed improvement, including the number of pets being spayed/neutered. Our spay/neuter program is essential to helping us achieve our no kill goal. We also will be looking at how we can better promote tag sales, which are important for the safety of the pets and a key source of revenue for our spay/neuter program. If you need to purchase or renew your pet's tag, you can click here to learn about your options to get that done.
Click here to learn more about Broward County's Animal Foster Program.

Civil Engineer Speech
I had an opportunity to deliver the keynote address at the American Society of Civil Engineers this month. At first I thought I was an interesting choice to speak to a group where everyone else, except me, aced calculus. The fact is that a good number of projects we are undertaking in Broward County need the expertise of civil engineers in order to make them possible. From our transportation surtax, to our solid waste system, to how we get rid of wastewater, to how we build resiliency – civil engineers are going to be on the frontlines of Broward County's future. It was great to hear their ideas and get a sense of what these smart minds are thinking in terms of engingeering solutions to Broward's top issues. There is great opportunity here in Broward for civil engineers – I look forward to our work together!
I appreciated the opportunity to speak to this innovative and hard-working group.

Hurricane Update
Broward County may have been spared the worst of the damage from Hurricane Dorian, but we are still deep into hurricane season. That means we must stay aware and prepared if another storm should threaten us. Broward County residents should take action now to get ready for the balance of hurricane season, which ends November 30th. I strongly encourage you to sign-up for the AlertBroward Emergency Notification System. AlertBroward provides residents critical information about evacuations, open shelters, potentially dangerous roads and conditions, office openings and closings, and more. You can sign up by texting "AlertBroward" to 888777. If you have special medical needs, should also take the time to sign-up for the Vulnerable Population Registry, and make sure to make a shelter and evacuation plan. You can sign up for the Registry or find your nearest shelter by dialing 311. All residents should follow the warnings, stock up on supplies, and sign-up for those alerts! As always, you can contact my office if you have questions or concerns about preparing for a hurricane.
A map of the Broward County evacuation zones. Do you know your status?

Offshore Oil Drilling/Paddle Board Interview
There's a first time for everything, and this month I had my first experience on a stand-up paddleboard at Hollywood Beach! This adventure was not just a good time – it was for a good cause. It was a great discussion with enviornmental activist Catherine Uden of Surfrider (on offshore oil drilling and keeping our oceans clean.) Offshore oil drilling is a threat to our environment and our economy. We need to be investing in clean energy instead of potentially polluting our energy. I was pleased to the see the United States House of Representatives passed H.R. Bill 205 that would ban offshore oil drilling throughout the entire country. I encourge you to contact your United States Senators to encourage them to support this bill. Thank you for having me out there, Cat!
Not too bad for a first-timer!

High School Volunteer Service Hours Brochure
This time of year, high school students are looking for a way to meet those service hours requirements. That is why we are bringing together departments within Broward County government to create a brochure for high school students that will give them great volunteer opportunites and help them earn their service hours in a fun and fulfilling way! This includes everything from helping as a reading buddy at our libraries, leading tours at our parks, assisting customers at our airport, and much more. If you have a student in high school, tell them to look for that brochure in their school very soon!
All students must make sure to have a copy of this application completed prior to beginning a volunteer service opportunity.

Hollywood Cardboard Boat Race
And now for something totally different! Families looking for a good time should check out the Hollywood Cardboard Boat Race. This super fun event will bring together families and friends to build cardboard boats on site at the Hollywood Marina and then race them! You get to pick a team name, design your own boat, and much more. The event will be held October 12th at 1pm at 700 Polk Street in Hollywood. Pre-registration ends on October 3rd, so make sure to get your spot in line! Find out more information here.
Last year's race was very fun. This year should be even more exciting!

Peter Bluesten Park Ribbon Cutting
A ribbon cutting was held to celebrate the opening of the brand-new, remodeled Peter Bluesten Park in Hallandale Beach! The residents of Hallandale Beach gave themselves a gift when they approved the bond measures that made this park possible. That is a long-term investment that will pay major dividends for years to come as residents enjoy wonderful experiences at Peter Bluesten Park. This park means a lot to me personally – I grew up in Hallandale Beach, and this park was a focal point of the neighborhood, the perfect place to spend hours with friends, playing tennis and other sports. We are very excited to see this new facility open, and I know a whole new generation of kids and their families are going to make the most of it! Check it out – it is located at 501 SE 1st Avenue in Hallandale Beach.
It was great to have such a large crowd on-hand for the ribbon cutting of this magnificent park.

JOBtober Fest
Are you looking for a great job in Broward County? You don't want to miss the JOBtober Fest hosted by the Broward County Human Resources Division! This event will give residents looking for a career the opportunity to network with county agencies and find out more about the opportunities available. It will be held on Friday, October 4th from 11am-5pm at Broward County's Main Library on the 6th Floor, 100 S Andrews Ave. in Fort Lauderdale. For more information, please contact careers@broward.org or call 954-357-6020.

Hallandale Beach Coastal Cleanup
I was glad to see residents from all over Hallandale Beach take part in the city's annual Coastal Cleanup. The beaches of Hallandale Beach are a treasure of the region and a key part of what makes Broward County so special. Keeping our beaches clean is an essential part of our quality of life. Thank you to the City of Hallandale Beach for hosting this event, and all the residents who turned out to make the beach look better and safer for our marine ecosystem.
Thank you to everyone who helped keep Hallandale Beach clean!

Halloween
Boo! Halloween is almost here, and there are plenty of fun events coming in District Six and throughout Broward County. Hollywood will be closing Harrison Street from Young Circle to 9th Avenue for the massive annual trick-or-treating event on the night of Halloween. This is always a great time for kids! Pembroke Pines will be hosting their "Booville" event on October 30th at 6pm at the Charles F. Dodge Center, as seen in the flyer below. In Hallandale Beach, Gulfstream Park will be having large parties and festivities both the weekend before and the day of Halloween. Remember - even if you are dressed as a ghost, don't act ghoulish! Stay safe and be smart on the roads this Halloween. Have a wonderful time with your family!

High Holidays
I would like to wish all of our residents a "Shanah Tova" and "Tzom Kal" for Rosh Hashana and Yom Kippur this month. I hope everyone has a good start to the new year, with an easy fast and time to reflect with your family.

Contact Us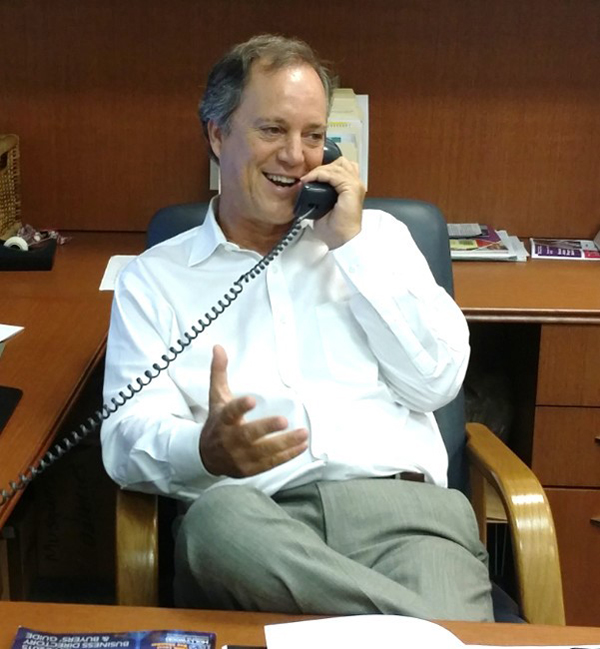 Our District office is conveniently located in the lobby of the Hollywood Branch of the Broward County Public Library at 2600 Hollywood Blvd, next to Hollywood City Hall. This office is open for your convenience Monday through Friday from 10AM to 4PM. If you would like to schedule an appointment, or you have a great idea, suggestion or an issue that needs my attention, feel free to call me at 954-357-7790 / 7006 or send me an email at bfurr@broward.org.
County Commissioner Beam Furr District 6
Broward County Commission | 115 S. Andrews Ave. Room 412 | Fort Lauderdale, FL 33301
Email - BFurr@Broward.org | Website - Broward.org | Phone: 954-357-7006