Greetings,
Over the past month, COVID-19 (Coronavirus) has become a global pandemic the likes of which none of us have seen in our lifetime. Broward County, along with the entire state of Florida, is now operating under a State of Emergency as we take dramatic steps to address this crisis. This includes a county-wide "stay-at-home" recommendation and closures of all non-essentials businesses.
During a crisis, residents look towards their government for assistance and answers. This pandemic has seen local governments across the country step in to fill in the gap and help how they can. In that spirit, this issue of my newsletter exclusively features information regarding COVID-19.
Read through this newsletter to find information to assist your family, neighbors, and friends. To jump to a specific section, please click the links below.
To be clear, COVID-19 must be taken seriously. It is a dangerous disease that has now taken more American lives than the attacks on 9/11. Beyond following the emergency orders issued by the County and the State of Florida, the best thing we can do is follow all of the recommendations given by medical experts at the Center for Disease Control to stem its spread and keep ourselves healthy. Please, consider staying home as much as you can. Even if you are not sick yourself, you still can transmit the disease to vulnerable populations.
Even as we take this seriously, we should not panic. We must stay calm and continue to take the appropriate steps. The public and private sector are working together to provide the best possible response for all Broward County residents. Resources are coming available to aid both public health and the economy.
Many of our residents will hurt financially because of COVID-19. Our heart is breaking for those who have lost jobs and lost income. The economy, however, can be brought back from the dead. Human lives cannot. A job can come back, no matter how hard the temporary circumstances. But someone's beloved grandparent, or best friend, or partner – they cannot be brought back. So please take care in looking out for one another and thinking about the people around us who could be hurt.
Most importantly, we have to support each other. This virus is not stronger than our collective will. Even as we are social distancing, Broward residents are coming closer together than ever. We are supporting each other, entertaining each other, and providing love to each other. With that spirit, we will get through this.
You can interact with these CDC guidelines and learn more about potential symptoms.

Information
For up-to-date information on the Coronavirus, residents should visit Broward.org/Coronavirus. This website serves as Broward County's one-stop center for relevant information during the crisis. You can also call 954-357-9500. This number is your one-stop shop for help, but you can also find information on the many community partners Broward County funds to offer assistance for our residents by clicking to Find A Service. Broward County regularly releases Snapshot updates (pictured below) for an accessible look at the newest Coronavirus information. You can follow Broward County on Twitter to learn more. Residents should also follow the Florida Department of Health at @HealthyFla, and view their website.

Update #19 on COVID-19
As most of you are aware, County Administrator Bertha Henry issued Emergency Order 20-03 on Thursday, announcing a "Shelter-in-Place: Safer at Home" policy for residents. Residents are strongly urged to remain home other than to engage in essential activities. The Order also clarifies the list of businesses identified as "essential," and defines "essential" employees. The Broward.org/Coronavirus website has been updated with the new information.
April 7th County Commission Meeting
To promote social distancing and avoid risk of additional spread of COVID-19, the County Commission's regular meeting and Public Hearing on April 7, 2020 will NOT be open to physical attendance by members of the public, the media or general County staff. Only County Commissioners and those County employees required to attend the event at the express direction of the County Administrator, County Attorney or County Auditor may be physically present at the meeting and Public Hearing. Interested parties can view the meeting in a variety of ways, including webcast, broadcast and live streaming on social media. Viewing Options
Members of the community who wish to speak at the April 7th Commission Meeting must utilize a new remote public participation option. This option promotes social distancing, while still offering interested parties the opportunity to participate in matters coming before the County Commission. In order to comment on an item remotely, you must have access to the internet (to register), a working email address (to receive your confirmation code) and a telephone (to dial into the meeting). For instructions on how to participate and links to the registration website, visit RegisterToSpeak.Broward.org.
Call Center Activity
The COVID-19 Call Center, a partnership between Broward County and the Florida Department of Health, is taking calls from the public from 8AM to 8PM seven days a week. Since March 21st, Broward County call takers have handled a total of 4,028 calls, and referred 553 callers to the Health Department after performing an initial over-the-phone assessment.
Residents and visitors are reminded to continue to follow health official recommendations for personal protection, including social distancing.
For the latest updates, visit FloridaHealth.gov, email COVID-19@flhealth.gov or call the COVID-19 Call Center at 954-357-9500. To learn what Broward County is doing, visit Broward.org/Coronavirus.
This update prepared by the Broward County Office of Public Communications
These regular "snapshots" are being released by Broward County.

Closures and Regulations
In response to the COVID-19 crisis, Broward County has released an Emergency Declaration closing all non-essential businesses in Broward County. The order includes all the exempted businesses. The order also recommends that gatherings be restricted to 10 or less people, with at least six feet of distance whenever possible.
The County has also issued an Emergency Order strongly urging residents to "shelter in place" and only leave their home to go to work at an essential business or to get food and supplies. Many municipalities have put their own orders in place regarding stay-at-home rules. The State of Florida has put a similar order in place for the entirety of Florida through the end of April.
Restaurants are closed for sit down business, but some are still open and running for takeout and delivery. I encourage residents to consider ordering takeout and supporting our local restaurants and service workers! It is important to note that grocery stores are still open as well. Please do not hoard supplies – we have to look out for our neighbors. Publix has special shopping hours for seniors, 7AM to 8AM on Wednesdays.
Broward County government is still open and ready to serve our residents. Our employees are public servants and are doing a tremendous job leading our community and helping Broward residents as a bedrock of stability during this confusing time. Thank you for your service.
Mayor Dale Holness speaks at a press conference discussing the Emergency Orders.

Testing Centers
The Florida Department of Health has opened Broward County's first drive-through COVID-19 testing facility. It is located at the Park and Ride inside CB Smith Park, 900 N Flamingo Rd in Pembroke Pines. In order to be tested, residents must be exhibiting symptoms (cough or fever) AND be a medical professional, 65+, have a chronic condition, or recently have traveled internationally. You can make a reservation by calling 954-276-4680. More drive-through testing sites are expected to be opened soon. Broward Health also has testing available with a referral from a medical professional currently required in order to receive a test. You can call 954-320-5730 to set up an appointment.

The testing site at CB Smith Park.

Small Business Support
Our small businesses are the backbone of our Broward community. Unfortunately, the COVID-19 crisis has dealt a massive blow to many small businesses in our area. We want to do everything in our power to provide resources for our small businesses to get back on their feet and continue to serve our community. Several federal programs have been activated to assist small businesses and additional programs are yet come, but navigating the process can be confusing. Broward County's Office of Economic Development is here to help. There is no question that every small business owner who is considering options to support their business, stay afloat, rehire staff, or is having any business difficulty due to COVID 19, should participate in one of the Webinars being offered by the South Florida Office of the Small Business Administration. Enrollment for each webinar is limited in order to allow for questions.
You can find information on opportunities to register for a webinar as well as additional available resources by following this link to Broward County's Office of Economic and Small Business Development.

Unemployment
Many of our residents are facing unemployment due to the COVID-19 crisis. My office is available to assist residents in finding resources and applying for unemployment. Under the stimulus bill passed in Congress, unemployment benefits have been expanded to include an additional $600 a week for the first four months of unemployment, on top of the benefits already received from the state. There will also now be, for the first time, unemployment benefits available for self-employed residents, independent contractors, and those who work in the gig economy. Learn more about applying for unemployment.
The loss of a job can mean that families will have difficulty in maintaining their basic needs. Broward County's Human Services Department is here to help. Contact the Family Success Centers for assistance in applying for SNAP benefits (food stamps), questions about remaining in your current home / shelter and to learn about health and mental health support in Broward County. The Family Success Center located in District 6 can best be reached by calling 954-357-5650 between 8:30AM to 5PM.
You may also dial 2-1-1 for assistance. 2-1-1 Broward is the live, 24-hour comprehensive helpline, providing all people with crisis, health and human services support and connecting them to resources in our community.

Utility Shutoffs
Coronavirus is causing economic distress for many of our residents. In response, nearly every municipality in Broward County has committed to not shutting off utilities due to an inability to pay during the COVID-19 crisis. Many of these cities are also participating in forgiveness for overdue bills as well as payment plans. In addition, I submitted a resolution requesting that Florida Power and Light suspend utility shutoffs for residents and consider their own financial assistance programs. I am happy to report that they have committed to end utility shutoffs through the end of Broward County's Emergency Order.
Utility shutoffs will be suspended for Florida residents.

Food Banks and Supplies
Applying for SNAP (food stamp) benefits is the first step for families who may not have a secure food source. Our Family Success Centers help families in completing that application. Families may need to supplement SNAP benefits and we are grateful to the many food banks and delivery services that are operating and delivering/providing essential supplies and good food to members of our community. List of opportunities throughout Broward. Learn more about the feeding and supply centers throughout Broward County and the Children Service Council of Broward County's Together4Broward program.
A list and map of some of the food banks in the District Six/Southeast Broward area.

Libraries
Broward County Libraries are closed to the public in order to protect the health and safety of patrons during the COVID-19 crisis. With so many patrons stuck at home, they still want access to the wealth of resources that we provide. Fortunately, many of these resources are available online – and they are now easier to access than ever, as Broward County Libraries has officially launched our new patron interface and integrated system. Patrons can check out e-books, e-movies, online databases and journals, and much more by logging on to Broward.org/Library. This is a great way to access entertainment and knowledge from the safety of your own home. Take advantage of it!

Parks
Based on guidance from the state of Florida, Broward County has made the decision to close all County parks for the safety of our residents. We are having beautiful weather in South Florida this month, and with so many residents off work and cooped up, one of the best things you can do is go for a walk around your neighborhood and enjoy some fresh air!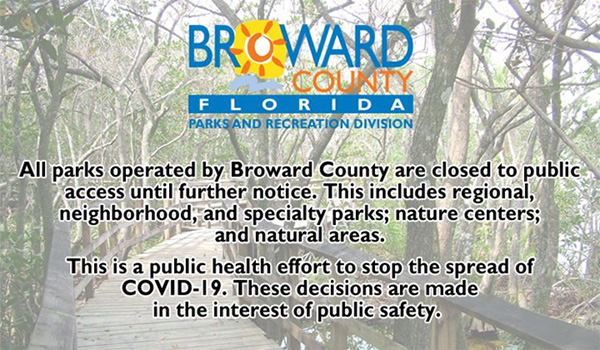 Transportation
Broward County Transit is still operating during the COVID-19 pandemic. We are taking major steps to make sure all of our buses and paratransit vehicles are safe and comply with all social distancing guidelines. We are also ensuring they are cleaned and sanitized so that residents feel comfortable riding. All bus fares are waived during the COVID-19 crisis. In addition, all buses will operate on a "Saturday" schedule from Monday to Saturday in order to accommodate changing ridership. Learn more.

Animal Care
Due to the COVID-19 crisis, Broward County Animal Care is now offering fully online adoptions! This Online Adoption Program is easy-to-use and optimized for residents to continue adopting beautiful animals, all while following social distancing protocols between the humans! Since this program has been implemented 84 pets have already found a home, in just one week! We also had an additional 22 pet rescues. The COVID-19 crisis is a time for us to slow down and consider doing things like adopting or fostering an animal. They need a home during this time, too, and they provide an immense comfort in our solitude. Pets bring joy to our life – and we need that joy right now, more than ever. You can learn more about the Online Adoption Program at Broward.org/Animal.

Census
Practicing self-isolation? Finding a little more time at home with nothing to do? Then take the time to fill out the 2020 Census! The Census process is not on hold due to the COVID-19 crisis. In fact, this pandemic is a prime example of why the Census is so important. An accurate and complete count of our population is how we determine how many resources are allocated to our County and to the various municipalities. These resources are especially important during a crisis like the COVID-19 pandemic.
You should have received an invitation to participate in the Census through the mail. This invitation has a URL and code to participate. If you can't find that code don't worry, you can choose to complete the survey by entering your address. It is important that you complete this for every person living in your household! You can go on Census.gov for more information on the completion of the process. As of April 1st, this is how District 6 is shaping up as we aim for a 100% count: Hallandale Beach 23.50%, Hollywood 33.7%, and Pembroke Pines is last of all municipalities in Broward at 19.20%.

Thank You
I would like to take a moment to say thank you to all those who are working so hard to keep our community safe, healthy, and supplied during the COVID-19 crisis. In these confusing and challenging times, we rely on those who are out there working for essential businesses and providing for our community. This is especially true of all the service workers who are in grocery stores, restaurants, delivery services, UberEats, Instacart, and much more. They are working harder than ever to make sure that our residents have the food and supplies they need.
We also must thank the true heroes of the COVID-19 pandemic – the medical professionals risking their own lives to work on the frontlines and save lives. Unfortunately, doctors and nurses across America have already been lost due to working on the frontlines to stop COVID-19. We have a responsibility to take care of our medical professionals and make sure they are supplied with all the resources they need. Over the course of this pandemic, our brave doctors and nurses are going to save countless lives.
Thank you to every person who is working hard to keep Broward going during this trying time and thank you to every person staying at home to increase the chances that our health care heroes will survive. We will get through this together.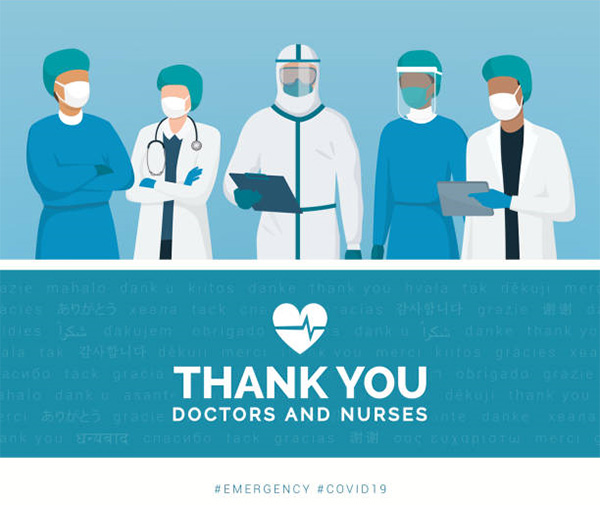 Contact Us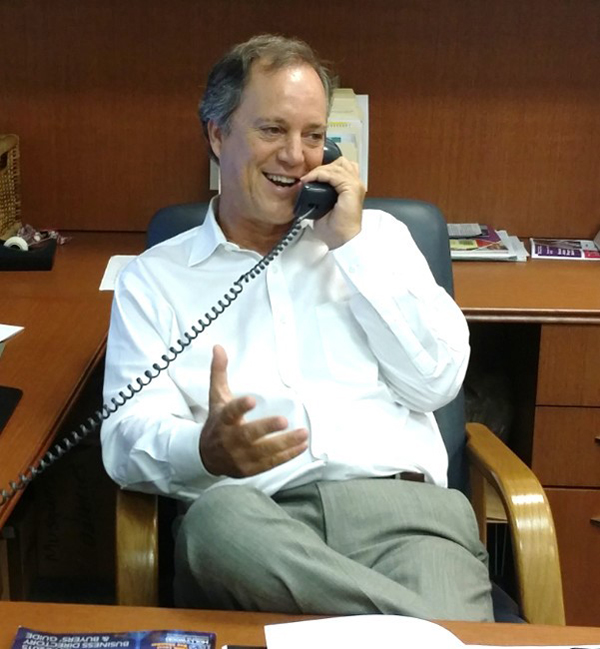 Our District office is conveniently located in the lobby of the Hollywood Branch of the Broward County Public Library at 2600 Hollywood Blvd., next to Hollywood City Hall. This office is open for your convenience Monday through Friday from 10AM to 4PM. If you would like to schedule an appointment, or you have a great idea, suggestion or an issue that needs my attention, feel free to call me at 954-357-7790 / 7006 or send me an email at BFurr@Broward.org.